Apple's iCloud does some things well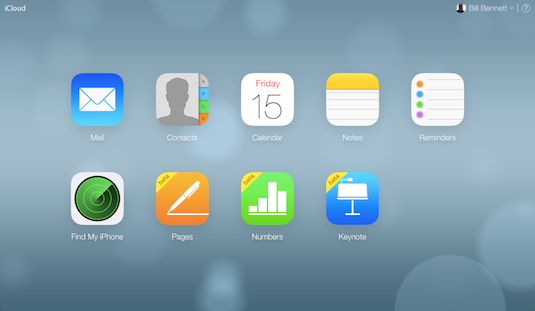 Apples's iCloud does some things well. It's the smoothest, smartest way of syncing contacts, notes, reminders and calendar items between Macs, iPads and iPhones. It can even do this with Windows devices.
iCloud sync works so well, you easily forget what is going on in the background.
You can also use iCloud to sync mail and bookmarks from the Safari browser. It's useful to be able to find the tabs that are open on, say, your MacBook when you are using the iPad.
iCloud also does a good job of syncing documents between iWorks apps on the same set of devices. You can use it to store Pages, Numbers or Keynote documents so you can later call them up on any Apple kit. There's a limited set of third-party applications that also use iCloud to store documents – I use iCloud with iA Writer.
As you can see from the screenshot above, there are web versions of the Apple apps, so you can even get at your iCloud files when using a Windows computer or an Android phone.
Searching iCloud
You can search iCloud from Apple's Spotlight on the MacBook. This is a good thing, but it's also essential because otherwise finding iCloud documents is difficult.
The documents are stored locally on the computer in ~/library/mobile documents, but the library folder is normally hidden from sight.
Digging out an old iCloud document usually means opening the app you created the document with, then searching in the open file dialogue. If you've hundreds of files that can be doubly hard if you can't immediately remember the file name. In other words, iCloud isn't as simple to use with documents as Microsoft's SkyDrive, Google Drive or DropBox.
A mere 5GB for free
Apple gives iCloud users 5Gb of free storage. That means a lot of low-calorie documents. You can shovel thousands of text documents into the account and still have tons of room left.
Pages, Numbers or Keynote documents are larger so you can't store as many. The 5Gb is downright stingy when it comes to photos or music.
In comparison the free SkyDrive account has 50GB of storage. You get 30GB free on DropBox and 15GB on Google Drive.
All these services work more like remote extensions of the local filing system than iCloud. You can buy additional storage. It's more expensive than rival cloud services. Apple wants US$20 a year for the extra 10GB to bring your account in line with Google's free online storage. It's US$100 for an extra 50 Gb - making a total of 55 Gb.
More than just storage?
Of course you could argue that Apple's apps are now free, so paying more for storage is not a bad deal. It isn't. It just isn't as generous as elsewhere.
Anyway, even 55GB would not be enough to store all the music on an iPod. iCloud doesn't get automatically backed up by Time Machine although this is just a matter of changing a setting.
If you view iCloud simply as online storage, it's not that good a deal. If you see it as a smart way of keeping important data in sync with some storage thrown in as part of the deal, it's not so bad. After all, if you do want to send tens of Gb to cloud services, there's always DropBox or SkyDrive.