Cloud latency, data centres and Australia's pull
Cloud latency is a good reason to build data centres closer to customers.
Spark Digital spent NZ$60 million building a data centre in Takanini, South Auckland. That puts it within spitting distance of New Zealand's biggest market. According to Spark the Takanini data centre is part of a NZ$200 million investment in New Zealand cloud services.
Rivals Datacom and Catalyst IT have both invested in New Zealand data centres. So have multinationals. In 2011 IBM opened an NZ$80 million facility in Auckland. Earlier this year IBM spent a further NZ$10 million bringing new managed cloud services to New Zealand.
Latency isn't the only reason to build data centres in New Zealand. Data sovereignty is also important. Some data must be stored in New Zealand by law. There are companies who prefer to keep their data where predictable, manageable New Zealand privacy laws apply. And fears that foreign governments often have the rights to snoop on data stored in their territory also drives some companies to keep data where it is relatively safe.
Price is the downside of buying cloud services in New Zealand. One local start-up told me it would cost almost ten times the going international rate to use local cloud servers. That would put their business at a significant disadvantage.
Yet, latency can mean the higher cost of local cloud services is worth every penny.
The submarine cables connecting New Zealand to the rest of the world are fast — data travels though those pipes at the speed of light. However, over long distances — and from New Zealand that means most places — even light-speed travel times are a problem.
There's nothing we can do about latency. As they say in Star Trek: "You cannae change the laws of physics".
Here is a list of round trip ping times to overseas destinations. The numbers come from Verizon statistics and are for direct trips. Think of these numbers as the best case. Some traffic travels over roundabout routes, it is not unknown for NZ-Singapore traffic to go via the USA and routes through the public internet can get held up for all kinds of reasons.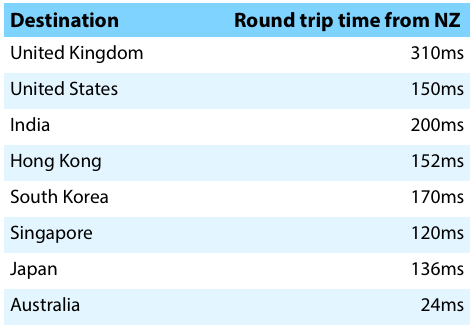 I'm told latency becomes noticeable on desktop interactive apps when round trip ping times go over 50ms. You may have a different experience. Moving a mouse around a spreadsheet or typing more than a few words into a form is frustrating when there's a long lag between action and effect.
You'll notice from Verizon's numbers, there's a huge gulf between ping times to Australia and anywhere else. This has implications for New Zealand cloud service providers aiming to compete with multinationals like AWS and Microsoft in Australia.
Ping times to Australia are on a par with domestic times. Reannz (Research and Education Advanced Network New Zealand Ltd) reports domestic latency between the two furthest points of presence on its network, North Shore and Invermay is 22ms. While traffic from New Zealand's South Island has to travel to Auckland before making the trans-Tasman hop, for New Zealand companies in Auckland, Eastern Australia has domestic-like latency.
What does this mean for New Zealand cloud providers? Putting aside data sovereignty, the issue is how important is latency to your application. You can farm out low priority jobs to the cheapest cloud providers anywhere in the world — the size of the US economy means that's where there are economies of scale. It makes sense to keep the highest priority workloads, where speed is essential, in New Zealand. Everything else can go to Australia.