Unravelling Gartner's Hype Cycle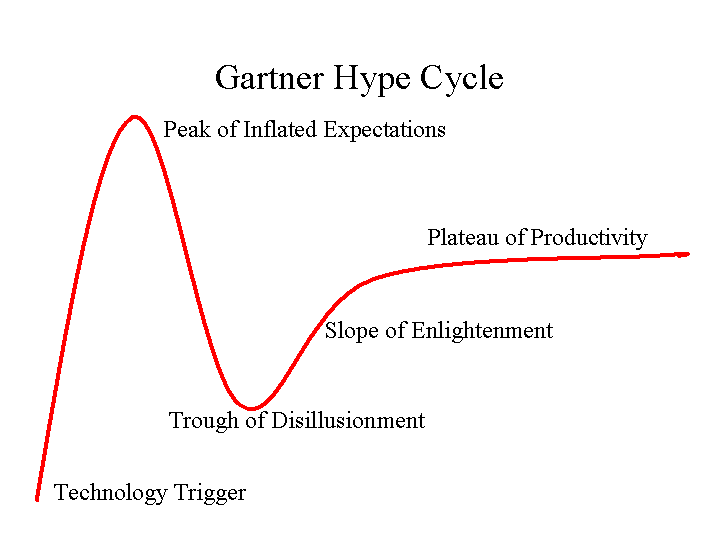 Technology companies talk up their products and technologies. Let's not mince words: they are hype merchants.
They hire professional public relations consultants and advertising agencies to whip up excitement on their behalf.
Sometimes they convince people in the media to follow suit and enthuse about their new gizmos or ideas.
Occasionally the media's constant search for hot news and interesting headlines leads to overenthusiastic praise or a journalist swallowing a trumped-up storyline.
Hype cycle
None of this will be news to anyone working in the business. What you may not know is that the IT industry's shameless self-promotion has now been recognised and enshrined in Gartner's Hype Cycle.
Gartner analysts noticed a pattern in the way the world (and the media) viewed new technologies. This is a huge initial burst of excitement rapidly followed by a sigh of disillusion and, eventually, a more balanced approach.
This observation evolved into the Hype Cycle represented graphically in the diagram. The horizontal axis shows time, while the vertical axis represents visibility.
Five phases:
In the first phase, Garter calls it the "technology trigger", a product launch, engineering breakthrough or some other event generates enormous publicity.
At first only a narrow audience is in on the news. They may hear about it through the specialist press and  start thinking about its possibilities.
Things snowball. Before long the idea reaches a wider audience and the mainstream media pays attention.
This interest gets out of control until things reach the second phase, which Gartner calls "the peak of inflated expectations". At this point the mainstream media becomes obsessed – you can expect to see muddle-headed but enthusiastic TV segments about the technology.
You know things have peaked for sure when current affairs TV shows and radio presenters pay attention.
At this point people typically start to have unrealistic expectations. While there may be successful applications of the technology, there are often many more failures behind the scenes.
Trough of disillusionment
Once these disappointments become public, the Hype Cycle shifts into what Gartner poetically calls the "trough of disillusionment". The mainstream press will turn its back on the story, others will be critical. Sales may drop. The idea quickly falls out of favour and seems unfashionable.
Occasionally ideas and technologies sink beneath the waves at this point, but more often they re-emerge in the "slope of enlightenment". This is where companies and users who persisted through the bad times come to a better understanding of the benefits on offer. As a rule of thumb, most of the media has lost interest and may even ignore things, the good stuff just happens quietly in the background.
Finally, the cycle reaches the "plateau of productivity". This occurs when the benefits of the idea or technology are now widely understood and accepted.