Microsoft Surface Duo a curiosity phone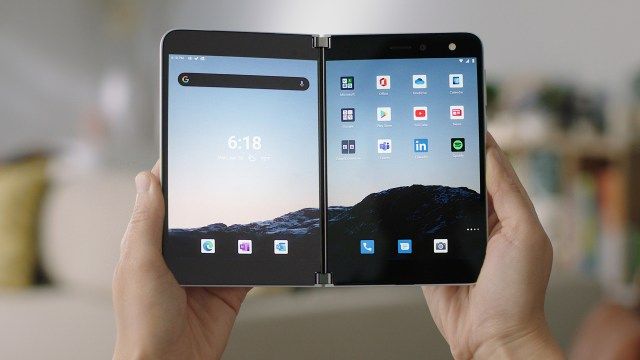 Microsoft has a different take on a folding phone. While models from Samsung and Huawei have a folding screen, the Surface Duo has two side-by-side displays connected by hinges.
You will be able to buy a Duo next month. It won't be cheap. The US price is US$1400. In normal times that would put the New Zealand price somewhere north of NZ$3000. Keep in mind that you can buy a decent Android phone for NZ$500 and a first class tablet with a better tablet operating system for NZ$600.
Surface Duo is a curious device on many levels. Above all, it is curious that Microsoft should get back into the phone business after being burnt by its Nokia experience.
Is it a phone, is it a tablet?
To be fair, Microsoft isn't calling the Surface Duo a phone. That word could be triggering for a Microsoft marketing executive. Remember, Microsoft blew seven billion dollars buying the Nokia phone brand and making great phone hardware that people didn't buy.
Nor does it call the device a tablet. Yet there's no question it fits somewhere between the two.
Another curiosity is that Microsoft uses the Surface brand name. The company previously said it uses the Surface name for products that highlight the potential of its Windows operating system. The Surface Duo is an Android phone.
And that's another curiosity. Because an Android phone means Microsoft has to get into bed with Google, a company that is a rival in many markets.
Mobile productivity
Those curiosities keep on coming. Microsoft is pitching the Surface Duo as a mobile computing device at a time when demand for mobility has hit a pandemic-inflicted low point. Phone sales are down 30 per cent. Meanwhile, demand for PCs, which are a Microsoft strength and Windows' home turf, are riding at a ten year high.
The idea of productivity on the move was a potential winner before the world began working from home. Now, the Surface Duo is another device looking for a meaningful purpose.
There are two 5.6-inch OLED displays. You can run different apps in each or you can connect them for an 8.1-inch screen with a hinge down the centre. This format allows a more robust construction. The screens are made from Gorilla Glass and are less fragile than, say, the Samsung Galaxy Fold.
One screen good, two screens better
A promotional photo from Microsoft shows one screen used for text and the second as a on-screen keyboard with the device turned on its side. In this format it becomes a tiny laptop, albeit one that runs Android.
You'll be able to run any Android app on the Surface Duo, although apps may be restricted to a single screen. There's software that allows you to open an app on the other screen from the first one. Microsoft tweaked its own apps to take advantage of the larger display.
The idea behind the Surface Duo is sound enough. During more mobile times there was a healthy demand for devices that could keep you productive while on the run. A bigger screen, even if split in two, is better for reading.
Yet this is not the right product for August 2020.
Part of the problem is price. Upwards of NZ$3000 is a lot for a mobile productivity device if you're not that mobile. Even if you are, it's not clear what the Surface Duo brings to the productivity party that isn't done adequately elsewhere. It could take off with people who have specific needs, but it was never made to be a mass market hit.