NetHui 2013: Adams to update TSO regulations
Communications minister Amy Adams used her NetHui 2013 keynote to announce a review of the Telecommunications Service Obligations (TSO) and a wider review of New Zealand telecommunications regulations.
The review is long overdue. Many of the rules now in place were written for an earlier era.
Adams says the minimum speed requirement for internet access in the TSO is still measured in kilobits per second: "14.4 kilobits for 95 per cent of lines and 9.6 kilobits for 99 per cent of lines. Compare that to today where fibre offers peak speeds of at least 100 Mbps."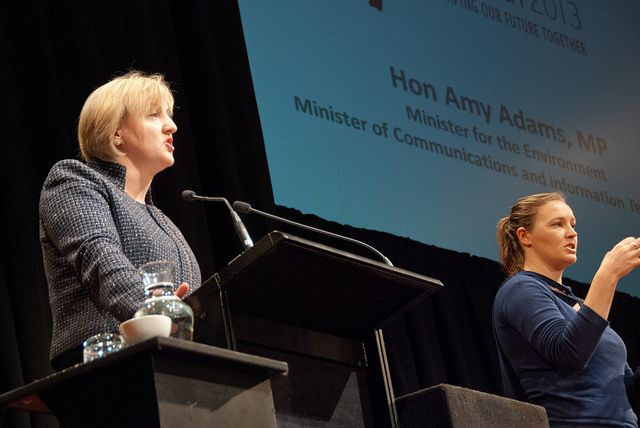 "Telecommunications Act requirement"
This year's TSO review is a requirement of the 2001 Telecommunications Act 2001. Adams says under the TSO must deliver voice and dial-up data services to all homes that had an active Telecom line in December 2001. She says: "It also has to keep the line rental for those services, in both urban and rural New Zealand, at or below the 1989 price in real terms, which equates to the $51 per month many of us pay today.
"And of course Telecom must offer people a calling option under which local calls are unmetered – the so-called free local calling option which almost all of us use."
Not your father's telecommunications market
Adams also says the market is massively different from 2001, instead of one company dominating, the market is far more competitive. Also Telecom has changed, today it is a retail service provider.
At the same time the government-led UFB and RBI projects go some way to addressing the concerns that saw the TSO developed. And there have been huge technology changes since 2001 including the growth of mobile data.
Everything on the table
Everything is on the table. Adams says options include the status quo, and three options for change – minimal, medium and significant.
She says one of the first things is to consider what might happen if all TSO protections are removed and not replaced. She says: "This allows us to see what potential problems would still remain, and to tailor any future TSO protections to these residual problems."
That leads to the conclusion that no TSO protection could see users in isolated small communities could face reduced service and quality, possibly high prices, and maybe restrictive conditions.