NZ passes Australia in ITU global ICT index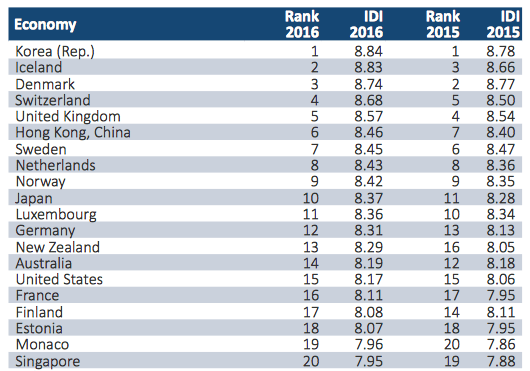 New Zealand moved three places up the International Telecommunications Union global ICT developement index. Today it is 13. In the 2013 index New Zealand was 16. It stayed there until last year.
The ITU index compares the information economy in different countries compare. It lets countries benchmark themselves against others and highlights areas that need improvement. It also stimulates policy debate within countries.
By all three counts New Zealand and its government can take a pat on the back. The improvement is impressive. Almost every country improved its score in the last year. Yet New Zealand is the only Asia-Pacific country to improve its index score by more than the global average.
Perhaps the most impressive thing is who we moved past.
New Zealand overtook Australia which dropped from 12 to 14. We have also passed the USA which remains steady at 15 and Finland which was at 14 but is now at 17.
The ITU uses 11 variables to ranks countries' ICT development. These include looking at the number of fixed telephone and broadband subscribers, mobile and mobile broadband subscriptions, the state of international bandwidth, along with the number of household PC and internet penetration. It also looks at internet users, education (secondary and tertiary) enrolment and adult literacy.
Top spot goes to The Republic of Korea for the second year running. It is a neck in front of Iceland with Denmark in third place. The UK ranks at number 5.
New Zealand performs well when it comes to ICT skills. We rank number 8 in the world. The United States is top and Australia is second. It was among the biggest improvers when it comes to mobile broadband penetration during the last year and that performance contributed significantly to the rise in the overall index. Falling mobile broadband costs were also important.