New Zealand a digital evolution stand-out
New Zealand gets a reassuring thumbs up from the Digital Evolution Index.
The index, created by the Fletcher School at Tufts University, ranks 50 countries on four measures to assess their overall readiness for the digital economy. The academics look at Demand, Supply, Institutional Environment and Innovation to reach an overall figure.
In raw numbers New Zealand doesn't look that great. We rank at 15 overall. Singapore is number one, the UK is four and Australia sits at 12.
It's the trajectory
However, the researchers took things a step further and looked more closely at each nation's trajectory. The researchers divided countries into four clusters: Stand Out, Stall Out, Break Out, and Watch Out.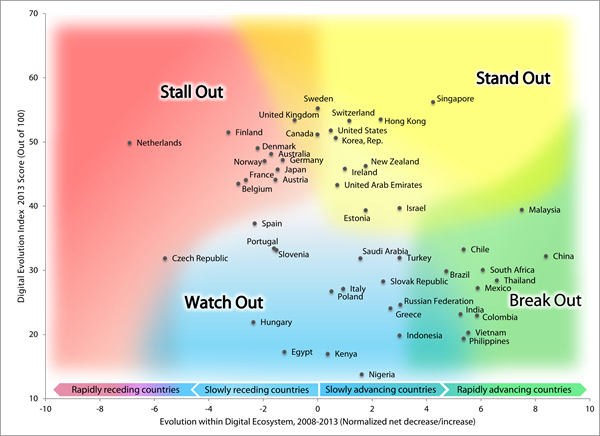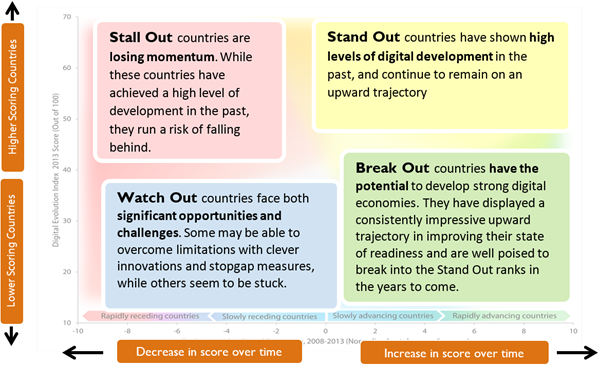 New Zealand is firmly in the Stand Out group. That is countries already high in the table who continue to have an upward trajectory. It's something we share with, among others, Singapore, Hong Kong and Israel.
The report summary says:
Stand Out markets offer a disproportionately high ROI in e-commerce. While their domestic markets are highly competitive, they are also poised to transform into regional hubs for e-commerce. They can do so by taking advantage of strong supply infrastructure and supportive institutional environments to absorb demand from their neighbourhoods. Entrepôts such as Singapore, Hong Kong, and Dubai stand to gain the most by integrating more deeply with their neighbours.
Meanwhile the researchers put Australia in the Stall Out group. These are countries that are high in the table but now risk falling behind. This group is mainly made up of countries in west and northern Europe as well as Japan.
Digital evolution stand out
Lower down the table are Break Out countries. These are moving up the overall table and likely to join the Stand Out group in the future. Watch Out countries are either stuck and not making much progress or face other barriers.
What's interesting about this survey is that it dates from 2013. That's before New Zealand's shift to fibre broadband could have made a difference, although, no doubt, the researchers anticipated those changes.
Although New Zealand still sits behind Australia on the main index, it is catching up fast. Of the four measured factors, the researchers rank supply is New Zealand's weakest area, that's something that is being directly addressed by both the UFB and the RBI projects.