Phone shipments climbed in 2021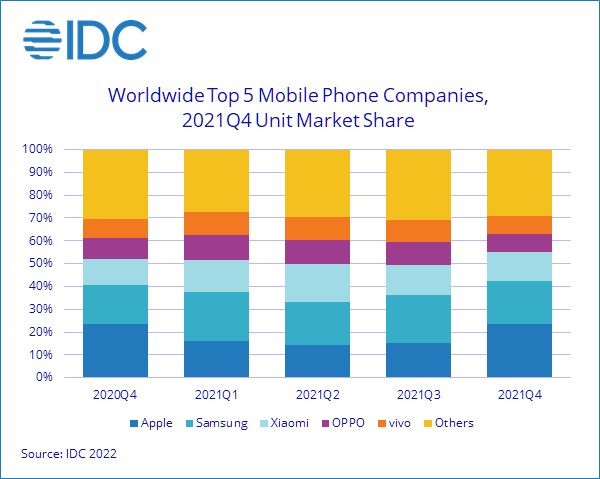 Worldwide phone shipments were up 5.7 per cent in 2021. A total of 1.35 billion phones were shipped.
IDC reports the full year growth came despite shipments falling in the second half of the year. The research company says year-on-year sales were down 4.5 per cent in the second half of 2021 when compared to 2020.
Samsung remains the top phone brand. It shipped 272 million units in 2021. That's up from 256 million a year earlier. Samsung has a 20 per cent market share. Its shipments grew 6 per cent in 2021 which was the worst growth figure of the top five phone makers.
Counterpoint Research offered similar numbers. It counted 271 million phone shipments for Samsung during the year and says the market grew 4 per cent in the year to 1.39 billion units.
Apple surge in China
Apple is in second place. Its share moved up from 15.9 per cent in 2020 to 17.4 per cent in 2021. The company shipped a total of 236 million iPhones in 2021. Apple saw year on year growth of 15.9 per cent.
This was an all time record for Apple.
Counterpoint says Apple grew 18 per cent to 237.9 million units during 2021: "due to strong performance by the iPhone 12 series".
IDC says part of the reason for Apple's strong year was a 40 per cent surge in shipments to Chinese customers. It also says Apple showed supply chain strength at a time other companies ran into problems with component shortages.
Supply chain woes
Research director Nabila Popal says; "The fact that 2021 would have come in drastically higher if it were not for the supply constraints adds even more positivity to the healthy 5.7 per cent growth we saw for 2021".
Xiaomi, Oppo and Vivo make up the remainder of the top five phone companies. Third place Xiaomi showed the strongest year-on-year growth with shipments up almost 30 per cent.
Beyond the top five phone brands it was another story. The rest of the market saw shipments drop 12.5 per cent during 2021.
Smartphone Shipments Declined in the Fourth Quarter But 2021 Was Still a Growth Year with a 5.7% Increase in Shipments, According to IDC.
Counterpoint Research: Global Annual Smartphone Market Grew for the First Time Since 2017; Record Annual Shipments for Apple.