Trend Micro's pointless HouseCall antivirus
Trend Micro says HouseCall online security will "detect and fix viruses, worms, spyware, and other malicious threats for free". In reality it is an attempt to sell you unnecessary, expensive security tools.
Chance's are, you don't need to spend money on antivirus software. As How to know if you need security software suggests: there's no point strengthening the front door if you leave your back door and windows open.
Unless you are a special case, free antivirus and security tools on Windows and MacOS computers offer all the protection you need. Save your money. .
What about free antivirus1 products? Do they have any value?
The simple answer is "not much". In general they are more trouble than they are worth.
HouseCall tested - so you don't have to
The MacOS version of Trend Micro HouseCall is a 30 MB download. There is a Windows version. You can download both for free direct from the Trend Micro site: https://www.trendmicro.com/en_us/forHome/products/housecall.html.
There's not much to see. It installs like a standard MacOS app, although you need to grant it permission to add a background 'helper' program. There's nothing to it.
Once installed, you hit the run button and the software scans your computer for threats.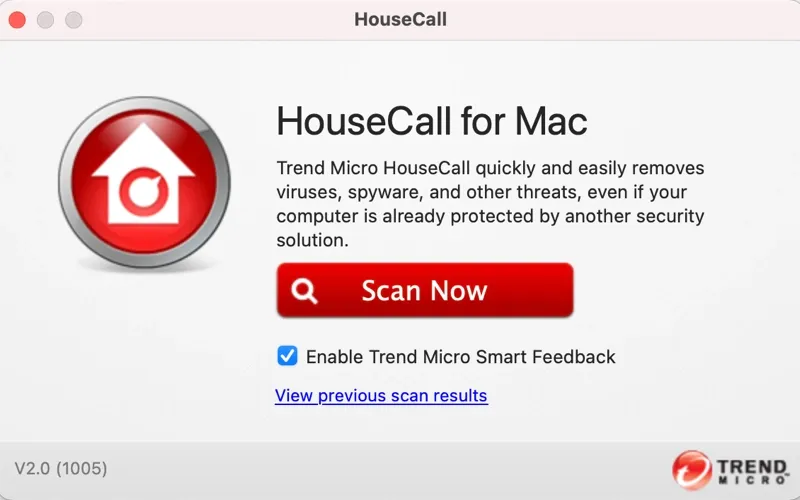 Zero threats
HouseCall is not quick. The scan took over 15 minutes on a M2 MacBook Pro with 2TB of solid state storage. When it finished, a basic report said "no threats were found on your computer".
It's been that way for years. HouseCall gets a run here every year or two for research purposes. It has not found a threat in more than a decade.
The last time HouseCall did find a threat on a Mac in this house, it was a Windows specific virus which wasn't able to run on OSX.
Trend Micro's report offers a US$258 two-year subscription currently discounted to US$128. Even the lower price is a lot of money for security software. It's ridiculous considering we haven't seen malware here since switching to Mac.
HouseCall is not the worst
In Trend Micros's defence, it is less pushy than Avast's 'free' security offering. Which, took three minutes to determine there are no threats on the MacBook Pro.
Do these free antivirus products make your computer safer? It's unlikely. They are a way for the companies to get a bridgehead on your desktop. They attempt to convince you to pay for more antivirus services you don't need.
It's possible they make your computer less safe. Both HouseCall and Avast ask for a high level of system access, that leaves you at more, not less risk. If there are bugs in software you may even damage your system and lose data.
Remember, all the well-known antivirus products have had vulnerabilities in recent years.
Unless you fall into one of the categories outlined in How to know if you need security software don't waste your time and energy with free antivirus.
---
The term 'antivirus' is, in itself, something of a red flag. These days there are many more malware threats than plain old viruses. ↩︎