Ultrafast Broadband reform means telco competition
Telecom NZ's market share was already falling before 2009. Then, the communications minister Steven Joyce announced plans for an ultrafast broadband network.
According to IDC Research, Telecom NZ, now Spark, held a 59.1 percent market share in the fourth quarter of 2007. By the same quarter in 2009 it was down to 54.3 percent.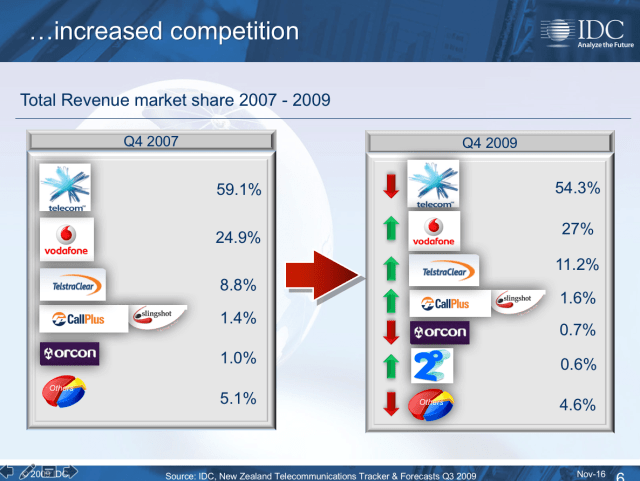 Today, Spark is still the nation's largest telco. Its market share is down to just 38 percent.
The two measures are not the same thing. Spark's 38 percent share comes from the Commerce Commission draft liability allocation process. IDC measured total revenue market share.
Although the Commerce Commission used a different market share calculation, the result is so different to the earlier IDC estimate, that it's clear there has been a major shift in market structure. Ultrafast broadband has changed the industry dynamic.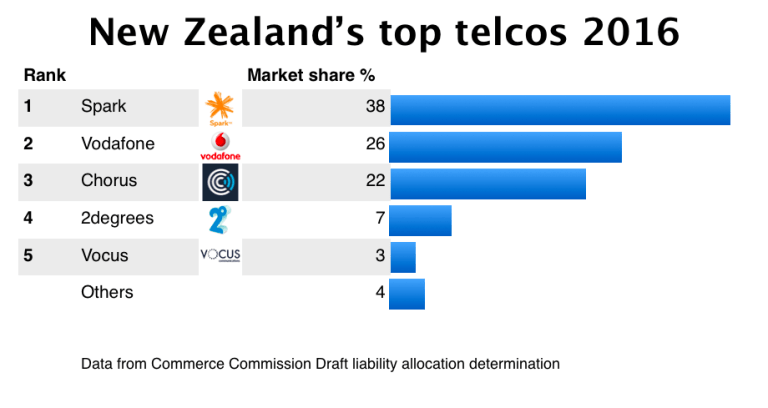 It's not obvious this means greater competition. Between 2009 and 2016 Telecom NZ demerged its Chorus business unit. This is now a separate company.
According to the Commerce Commission figures, Chorus has a 22 percent market share. Add this to the Spark share and you are, in effect, back in 2007 only this time Telecom NZ is two separate companies.
There is no doubt Spark and Chorus compete. Spark's recent fixed wireless launch was a competitive shot across Chorus' bows.
Is telecommunications competitive?
But can we be confident the market is more competitive than before?
Vodafone was number two in 2007 and 2009. It is still number two today with almost the same market share.
This is remarkable considering Vodafone swallowed TelstraClear in 2012. In 2009 before the UFB project started TelstraClear was number three.
It is as if TelstraClear's entire New Zealand business evaporated.
2degrees
2degrees didn't exist in 2007 and was only weeks old by the fourth quarter of 2009. It has come from almost nowhere to take the number four market position. That's a competitive win of sorts, but not much.
Nothing 2degrees does challenges or threatens the two larger players. It is about one quarter the size of Vodafone and less than 20 percent the size of Spark. More to the point, 2degrees has yet to make a profit.
Vocus is an interesting newcomer. According to the Commerce Commission calculation it only represents three percent of the market. That's not much more than the 2.4 or 2.3 percent its parts CallPlus and Orcon accounted for in 2007 and 2009.
Not much change there either.
After Vocus the remaining players are tiny. Their market shares amount to little more than rounding errors.
After Telecom NZ split
The main change between 2007 and 2016 is that Telecom NZ is now two separate companies. Consolidation means there are two less major players elsewhere. The net effect is one less major telecommunications company.
Chorus is wholesale only. Which means customers have two less retail telecommunications companies to choose from. There is a long tail of small entreprenurial service providers who may or may not be thriving. Yet it us hard to argue the market is more competitive than it was a decade ago.
Another way to gauge competition is to look at how much money the main telcos make today compared with in 2007.
In 2007 and 2009 Telecom NZ had revenues of about NZ$5.6 billion in both years. Net earnings in 2007 were about $850 million and $400 million in 2009.
Ultrafast broadband impact
In 2015 Spark had revenues of around $3.5 billion and Chorus took about $1 billion. Together that's $4.5 billion. The total is more than a billion less than Telecom NZ made when its was still a single business.
Spark's 2015 net profit was $375 million while Chorus net earnings were $91 million. A total of $466 million. That's a better collective performance than 2009, but well below the 2007 figure.
In 2009 Vodafone NZ reported revenues of $1.6 billion and $260 million profit. By 2015 total revenue, including TelstraClear, was $2 billion with a $120 million loss. In part Vodafone is still absorbing the TelstraClear business it acquired in 2012.
You could argue the billion dollars revenue Spark and Chorus did not make is money business and consumers might otherwise still be paying. If that's the case, then the reforms have delivered a cost benefit to customers.
Otherwise, it's not yet clear the market is more competitive than it was a decade ago.