Strong demand for Vocus AWS service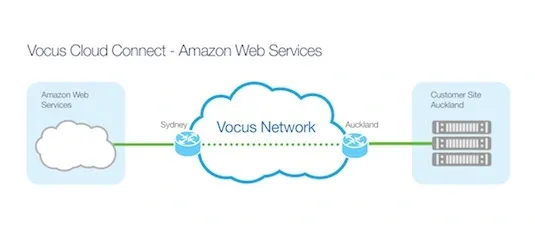 Vocus NZ sales manager Steven Stanford says there is a high level of interest in his company's Cloud Connect product which can link New Zealand companies directly to Amazon's data centre in Australia.
He says, "We told people about it at an Amazon conference in Auckland last week, at the end of the day we had 96 interested leads. That was people who came to us asking for more information".
Stanford puts the demand down to a growing awareness of the cloud benefits. He says it isn't just about Amazon, Vocus can also give New Zealanders a link to the Microsoft 365 data centre in Singapore or Salesforce's servers in Tokyo.
Vocus end-to-end connection
There are a variety of options, the most direct is an end-to-end connection. Stanford says Vocus has capacity on a fibre ring around Auckland, it can give customers a private link to the ring. From there the data travels under the Tasman through Vocus' own capacity on the Southern Cross Cable Network – the company wholesales bandwidth on the cable to telcos and ISPS.
Stanford says if the Tasman cable is a highway, his company's Cloud Connect service creates a bus lane for customers. At the other end, Vocus connects directly to the AWS data centre. He says: "It's end-to-end and doesn't touch the public network at any point."
While there's a security component in steering clear of the public internet, that's not the main reason customers sign up for the Cloud Connect service. Stanford says for most customers it is all about speed, or, more accurately bandwidth.
Like a server in the next room
Stanford says ideally a cloud service is like having a server in the next room. That's not likely to be the case when the server is in Sydney, but the response times are good. Vocus claims a 23 ms standard ping there and back. He says Cloud Connect customers will get that all the time, the companies who fly economy via the public internet will see slow downs depending on what others are doing.
He says at the moment there's a noticeable slowdown on public nets while the America's Cup yachts are racing. He says: "When that happens you get latency issues and packet loss."
There's also a slow down when schools close in the afternoon. That can be a huge problem for companies who need availability at those times.
Stanford says there are a few legacy customers who still buy capacity as data, but almost all today's customers purchase bandwidth. He says that leaves customers with the maximum flexibility. However, there are times when they need more capacity for brief periods, he says that's why we offer a burst mode where they get twice as much bandwidth if they need to "hammer it".