What Vocus NZ sale means for broadband competition
Last week Spark boss Simon Moutter told shareholders at the company's AGM it is cheaper to win customers through merger and acquisition than through market efforts.
The NBR reports him saying: "We expect to see, and participate in, significant consolidation of the retail broadband industry over the next couple of years.
Give that Vocus NZ is on the market, it's not hard to join the dots here. We can assume that Spark NZ is interested in buying some or all of Vocus.
If Spark buys Vocus NZ
There are other assets, including the fibre network built by FX Networks. But taking Moutter's AGM comments at face value, Vocus's broadband business is in his sights. That's CallPlus, Slingshot, Orcon and a couple of minor brands.
Let's assume the price is right and Spark is able to beat any rival bidders. What does this mean for market competition?
It all depends on which market you're looking at. If we take the total New Zealand retail telecommunications sector as a whole, a Spark-Vocus acquisition would not change much.
A good starting for measuring market share among significant players is the 2016-17 TDL liability allocation determination drawn up by the Commerce Commission.
This is used to work out each telco's share of the Telecommunications Development Levy. Only sizable telcos pay the levy, their share is proportional to the company's share of the total qualifying revenue. In effect this number is the company's share of the retail telecommunications market.
Spark dominates
Spark is by far the largest market player with a 35 percent share of the industry qualified revenue. Vocus is the fifth largest company on the list, but its share is a shade over three percent. Add the two together and the list looks much the same as before.
On this basis there is almost no obvious reason for the Commerce Commission to object to Spark NZ buying Vocus. The market dynamic would be almost the same as before.
The almost in that last paragraph is because the Commerce Commission's Annual Telecommunications Monitoring report for 2016 shows Spark's share of fixed line retail revenues as a line item. It has been falling for a decade.
By implication, Spark's falling market share shows competition is working. If Spark acquired Vocus NZ, this figure would tick up. That may or may not be enough to ring alarm bells. Yet, while the Commerce Commission may not relish industry consolidation, it can't necessarily stand in the way of bigger-picture market trends.
Broadband market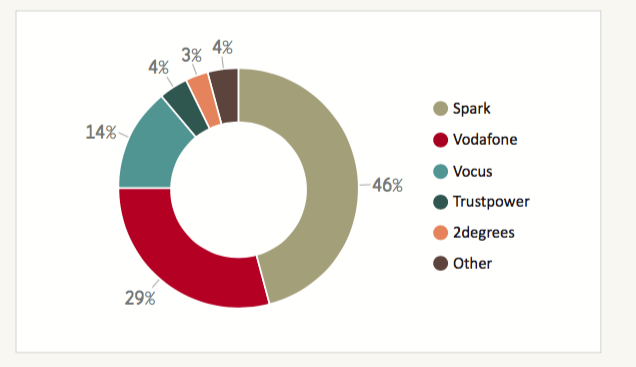 Things get tricky if the Commerce Commission decides competition is important in the broadband market.
Spark is the largest broadband retailer with a 46 percent market share. Vodafone is number two with a 29 percent share. Vocus is the next largest player with 14 percent of the market.
The three top broadband retailers have 90 percent of the market.
Add Spark's broadband market share to Vocus and you have a company with 60 percent of the market.
Spark is already the largest and in every respect it dominates. Yet to go from 46 percent to 60 percent would reset the market.
If Vodafone were to buy Vocus NZ, it would still have a smaller market share than Spark. The two would be, in effect, on equal footing.