Vodafone TV adds secret sauce to home fibre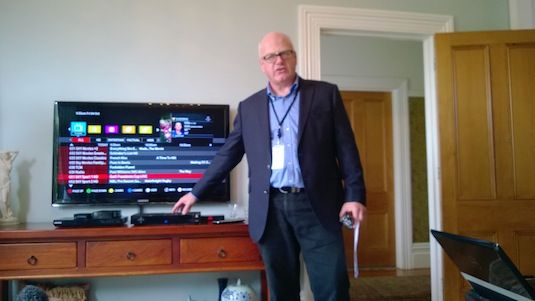 Vodafone New Zealand took the wraps off its home fibre offering at a Herne Bay villa earlier today. Its plans combine broadband and TV.
The company's ultrafast broadband plans go on sale today. From November 1 customers will be able to buy residential bundles that can include free-to-air and pay TV. These are branded as Vodafone TV. Partners include Sky, TVNZ, Mediaworks and Maori TV.
TV gives Vodafone a point of difference in a fibre market where most players simply sell a pipe along with a set amount of data and, possibly a voice over IP  service.
Vodafone TV as the home fibre incentive
Vodafone consumer director, Matt Williams said Vodafone is the only service provider with a full TV offer. He says the package will give New Zealanders the incentive they need to switch to fibre.
Williams comments come as some observers express concern about the relatively low uptake of UFB services so far. It has been said there's no compelling reason for most consumers to switch from copper to fibre.
Vodafone will offer the entire Sky set of TV channels along with Freeview. Williams says these add up to around 150 channels. In addition there were be 36 channels of pay per view movies. He says that's just the start and more content will be added in future.
Vodafone's integrated approach
Unlike satellite pay TV, all Vodafone TV channels will be high definition.
The company serves content from its own base in Upper Hutt which takes a fibre feed directly from Sky. Vodafone head of consumer fixed services Steve Jackson says this means the Vodafone TV will deliver the best possible picture quality in New Zealand.
Vodafone TV is unmetered. Instead of coming through the broadband feed, it is served by a separate Chorus multicast service. It shares the same fibre but does not interfere with the broadband signal. Jackson says Vodafone is the first to use the technology.
Prices, places
Vodafone's prices for UFB broadband are on a par with other service providers. [Corrected]The basic plan offers 80 GB of data through a 30 Mbps pipe for $95 a month. At the top of the scale 250 GB of data through a 100 Mbps pipe costs $149 a month. These prices include a modem and installation. Some Vodafone mobile account customers will get a $30 discount on these prices. Adding a home phone line and local calls costs an extra $30 a month.
There's no additional charge for Freeview. A Sky package means paying an extra $45 a month, movies and sport are extra again. High definition pay-per-view movies are available to all customers at $8 each.
Availability is something of a mixed bag. Vodafone says its UFB plans will be available in areas covered by Chorus and Northpower. Initially Vodafone TV will only reach parts of Auckland, Wellington and Christchurch. The company says more areas will be added soon.
[Corrected] Original story assumed Vodafone UFB prices were before the $30 discount for mobile customers. In fact the prices quoted were those after the discount. I've corrected them to show what you'll pay before getting the discount.