Ryzen: When a desktop is better than a laptop
The entire work model we built the concept of laptops around not only doesn't exist anymore, it may not ever exist again.
Source: Rob Enderle Why a Desktop PC Makes More Sense than a Laptop Today – eWEEK
Enderle has a point when he says that laptops were built for a world we no longer inhabit. He is talking about the way we work has changed since the Covid-19 pandemic upended the idea of heading daily to offices and travelling to work meetings.
AMD Ryzen Pro
While he has a point, it is overstated. That may have something to do with the AMD Ryzen Pro advertisement that shows on the page. It may not. Let's take the story at face value.
The AMD Ryzen Pro is a range of high-end processors for desktop computers. As always with AMD, there is a focus on performance. Beyond that the new processors are optimised for working from home on desktop computers.
Make that, working from home on a desktop computer when you work for an organisation with IT professionals. Ryzen Pro processors include a dedicated security processor and full memory encryption. They support remote management tools.
Is there really a trend away from laptops?
It's all interesting enough, yet we're not here to talk about that. The subject of interest is the trend away from laptops and back to desktops.
Enderle thinks it is a big thing. He writes: "I'm coming around to the idea that laptops as a trend are over, that the new trend will be desktop computers."
In my book the trend is real enough. I've done exactly the same myself. Look out for a post on this when I have some time. In my case I switched before the lockdown and for a different set of reasons.
Yet dumping the laptop is not for everyone. Not by a long chalk.
Sure, we will work away from home less often. For some people it will stop and that's it. For others there will be less working away from home. Not zero working away from home. When that happens, the laptop is still the right tool most of the time. You could use an iPad if you have a desktop. Many people would prefer to have the one device that works in both cases.
Some prefer laptops
The second reason why there won't be as big a shift as Enderle suggests is that many people prefer laptops regardless. This may be because people prefer the physical form of a laptop. It maybe because laptops take up less room and do not need a dedicated desk and chair. Not everyone lives in a spacious mansion with a fancy home office.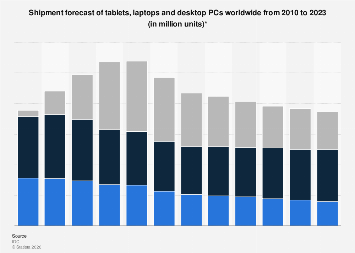 According to this Statista graph, computer makers sold 166 million laptops in 2019 and 88 million desktops. In round numbers that's two laptops for every desktop. In 2010 it was 200 million laptops and 157 million desktops, roughly four to three. The blue shows desktops, the dark blue is laptops and the grey shows tablet sales.
There has been a long term drift towards laptops. It stretches back beyond the graph. It's possible the pandemic trend may halt the drift. Numbers may even drift back a little. But I'm certain desktops are not about to outsell laptops any time soon.