Xero iPad — the first month
Xero broke the mould when it put accounting software in the cloud. Now, thanks to the Xero iPad app released last month, tablet owners can get the most out of the software.
How did Xero break the mould?
First, it showed accounting works well in the cloud.
It turns out accounting software works better in the cloud than on a desktop app.
Every accounting software brand now in the cloud
The only proof you need is that every other accounting software company of note now also has cloud apps. For me the key is that cloud accounting frees me from needing to sit at my desk when dealing with the books. I can invoice a client on-site or check payments before a meeting.
Cloud also makes data sharing easier.
The second way Xero broke the mould was by taking small business along on the cloud computing journey.
Xero took small business to the cloud
That surprised many because when it comes to technology small business owners are often among the most conservative.
Go into any business area in New Zealand and you'll find ancient computer hardware, Windows XP and even fax machines.
Small businesses are the main market for accounting software. They were quick to embrace Xero's cloud software, at least they have been in New Zealand and Australia. And for that matter, they didn't falter when it came to paying monthly for software instead of buying familiar boxed products.
The speed New Zealand small business picked up cloud accounting, using, what was for most of the people concerned, alien technology concepts, demonstrates Xero's depth of vision. Normally small businesses are reluctant to swim away from the side of the technology pool.
Third, Xero proved it is possible to do something huge in the technology market from New Zealand.
Xero iPad
Last month Xero launched version 2.6 of its free iPad app. Free isn't quite the right word here because while anyone can load the app on to an iPad without paying a penny, you need a Xero subscription to benefit from the software.
Before last month you could use the iOS app on an iPad, but Xero designed that version for the iPhone and was a touch clumsy on the bigger screen.
Until now if I wanted to use Xero from my iPad I would load up the full browser version. which was also clumsy, especially when it came to using the touchscreen. Maybe delicate accountant hands can drive the software that way. My fat fingers struggled.
The browser version of Xero has always been well designed. The company sells it as beautiful accounting software.
Beauty, not vanity
That's not vanity. Form and function are always closely tied. Elegant software isn't just a pleasure to use, it's easier to use. Who would have thought beautiful would sell accounting software? That was Xero's fourth breakthrough.
Earlier incarnations of Xero iPad weren't beautiful. That's been fixed. And that means iPad owners can get things done quickly and easily without needing to fire up a full-blown computer and a browser.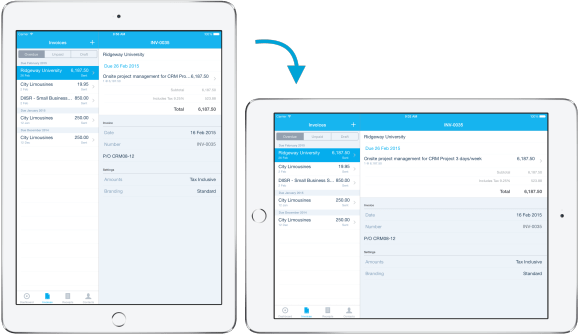 The new iPad app works in landscape and portrait mode. It takes advantage of the larger screen and will work with TouchID if you have a newer iPad. In practice it works well for writing and reviewing invoices while on the move.
After a month with Xero on my iPad, I find I don't use it that often. For every three or four sessions on a PC I might use Xero once on the iPad. When I do, I go there to do something specific in a hurry, then get out fast. It's a time saver and a nice-to-have, not a make-or-break option.