If M2 MacBook Pro can't tempt you from Intel, nothing will
In 2021 Apple moved ahead of the laptop pack with its M1-powered MacBook Pro. That model set new standards for processing power and battery life. This year's M2 MacBook Pro takes performance and battery life further. It's not cheap, but the most demanding users will see it as a wise investment.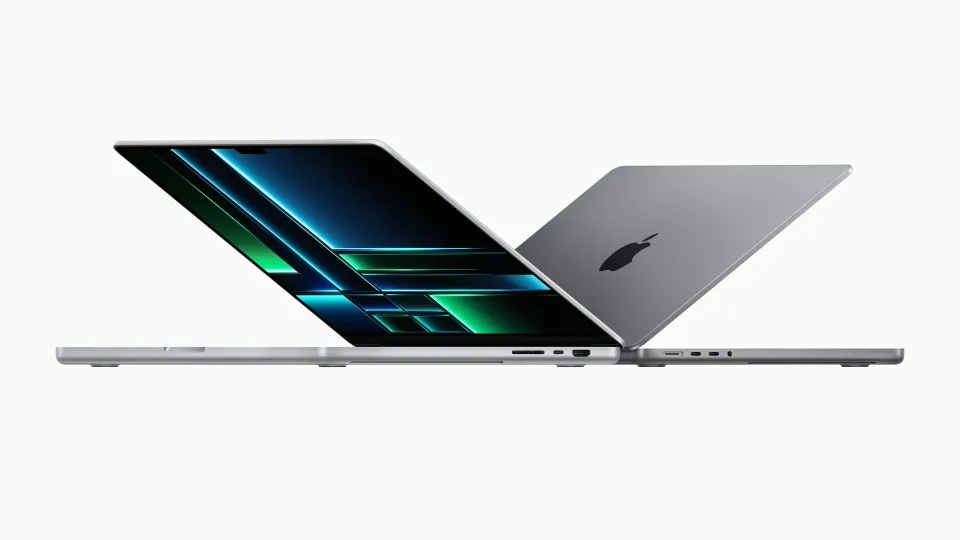 16-inch MacBook Pro at a glance
| | | |
| --- | --- | --- |
| For: | High performance, very long battery life, miniLED ProMotion screen, excellent speakers and great design. MagSafe. | |
| Against: | Expensive. Can't upgrade Ram after purchase. No Ethernet port. | |
| Maybe: | Not compatible with Windows Boot Camp can run Parallels desktop. Webcam is excellent, but doesn't feature Centre Stage. | |
| Verdict: | Every aspect is best in class. It's an outstanding laptop for people who need power, but it comes with a hefty price tag. | |
| Price: | From NZ$4600. Review model costs NZ$6350. | |
At first sight Apple's 2023 MacBook Pros look physically identical to the 2021 models on the outside. The 16-inch MacBook Pro has a full size backlit keyboard; 280mm wide, 115mm deep. It's the best I've seen on a laptop and has a lovely feel. Apple uses a Touch ID key for security which makes for a smoother logging in and easier payment verification.
The trackpad is large, 160 x 100mm and responsive. Again it would be the best I've seen on any laptop.
Apple's Liquid Retina XDR display is stunning. It is among the fastest laptop screens I've seen and can refresh at rates up to 120 Hz. Images and text are sharp and, if you want, the screen can be super bright. Apple says there is a 1,000,000:1 contrast ratio.
On the review 16-inch MacBook Pro the screen measures 16.2 inches and has a pixel density of 254 pixels per inch.
There is a SDXC card slot for photographers to move images in and out of the computer. I tested it with an old camera card and found the data transfer speed was close to immediate, making it impossible to measure with a stopwatch.
Raw computing power
The review unit has a 12-core M2 CPU. This breaks down to eight 'performance' cores and four 'efficiency' cores. Apple's 2021 MacBook Pro used an M1 Pro processor with 10 cores. The newer chip has two more efficiency cores.
In practice the newer MacBook Pro is around 20 per cent faster than the 2021 version. That's enough to make a difference, although I doubt many people will be upgrading from a 2021 MacBook Pro. Anyone upgrading from an Intel-based MacBook Pro will wee a huge performance leap.
I'm more interested in what the extra performance means in practice than stepping through a series of benchmarks to measure the computer's power.
To check it out I used the Handbrake app to encode a library of ripped DVDs into a format more suited to playing on an Apple TV. It chewed through the library in less than a quarter of the time the same task took on my 2020 Intel-based MacBook Air.
While you'd be silly to buy the 2023 MacBook Pro as a gaming laptop [1], it can handle any game you throw at it with ease. It handles graphically intensive tasks with aplomb. I used it to render lossless music from a digital audio workstation and it delivered the output in a fraction of the time the same job takes on the MacBook Air.
Beyond that, I can't say much more. There's nothing in my apps folder that can push the M2 processor to the limit.
Outstanding battery life
The MacBook Pro has a 100-watt-hour lithium-polymer battery and its M2 processor sips power. I've never seen a laptop go so long between charges.
Apple's marketing material says the M2 MacBook Pro has a 22-hour battery life with "Apple TV app movie playback". Because laptop makers have a history of overstating battery life claims, I decided to put this to the test.
I turned off Bluetooth and Wi-Fi, cranked down the screen brightness to a viewable, but modest level, did something similar with the sound and left the MacBook on a desk with a full screen video playing on a continuous loop.
Over the next day I checked in every so often: 25 hours after starting the video was still running. My next check was at 27 hours, by then the battery had drained. The laptop smashed Apple's 22 hour claim by a healthy margin.
In less rigorous testing, I timed my use of the MacBook for my typical work routine. That's writing, web browsing, some photo work and background video encoding. This time I cranked the screen brightness up.
It managed about 16 hours, roughly two days normal working on a single charge.
Long battery life subtly changes your relationship with a laptop. This goes beyond not having to pack chargers or worrying about finding power points when on the move to removing any anxiety about using it while away from home. This is something we've become used to with mobile phones.
The MacBook Pro's 16 hours of everyday use is about enough to get you comfortably from New Zealand to Europe on a plane assuming you sleep for part of the journey.
Fast charge
Apple has improved charging. There's a 140W power adaptor that Apple says will give you a 50 per cent charge in 30 minutes. It takes an hour and a half to get to full charge.
The MagSafe adapter made a welcome return to MacBooks. It means that a clumsy oaf tripping over a cable need not end in a minor tragedy or insurance claim. If you forget to carry a charger and MagSafe adaptor you can power the computer using one of the USB-C ports.
Video camera
Three years ago I wrote about how few laptops ship with decent webcams. While in general that hasn't changed much, it's not the case with the MacBook Pro. There's a 1080p camera with a four-element lens. I'm told by people that my images are clearer in video-conferences.
Showing a clearer image is not always a wonderful thing. The 2023 MacBook Pro improvement over my earlier MacBook Air webcam is good enough that during one call, the person on the other end recognised a competitor's product sitting on a desk on the other side of the room and gave me a hard time.
Like many phone cameras, the 2023 MacBook Pro webcam uses computational video off the back of the M2 Pro processor's neural engine. In practice this sorts out the white balance and exposure. Apple says it reduces noise, removes unwanted graininess and increases sharpness. That's hard to confirm when you're the person sending webcam images, but as mentioned, my colleagues have noticed I'm sending a better picture.
Apple's MacOS 13.2 allows you to use an iPhone to replace your computer's webcam. On older MacBooks this can greatly improve the video conference images you send, the feature is, in effect, redundant on the 2023 MacBook Pro thanks to the built-in camera.
Speakerbox
Sound is another area where laptops tend to disappoint, but the MacBook Pro has you covered. This took me by surprise.
When I need a break from writing I use FL Studio as my digital audio workstation (DAW) to create music. The application is demanding, but doesn't come close to challenging the power and capability of the M2 MacBook Pro.
Normally I use FL Studio with a pair of flat response monitor headphones connected directly to a computer's audio jack.
While testing FL Studio to see how the Pro performs for music creation, I accidentally disconnected the phones which meant the music played through the speakers. It was a revelation. The last time I played the app through laptop speakers all I heard was a tinny, unsatisfactory sound with too much top, not enough middle and almost no bass.
The MacBook Pro's speakers aren't perfect, but they are as good as it gets on a laptop.
There are a total of six speakers with four woofers and two tweeters. You can hear the bass line in modern music as it was meant to be heard. Likewise, when you're on a video call, the sound can be clear and crisp (as long as there's a decent mic at the other end).
If I play Apple Music on the MacBook Pro I can crank the volume up to a point where people elsewhere in the house can hear. There's little distortion.
Apple has taken this a step further and added spatial audio. If you have suitable music tracks or a movie encoded with spatial audio you can get an impressive experience. While won't replace hi-fi speakers, it's beyond anything I've seen to date from any of Apple's rivals.
Wi-Fi 6E, Bluetooth 5.3
Wi-Fi is noticeably faster on the MacBook Pro. Apple included Wi-Fi 6E, which adds the 6GHz band to a home network, you'll probably need to upgrade your router to get the full benefit of this.
Not only does this add more bandwidth, but, for now at least, the 6GHz band is uncrowded. In theory this means you can get wireless data transfer speeds of up to 2.4 Gbps.
In practice we didn't manage to get that far. We did see 920+ Mbps downloads on a Fibre Max (nominally gigabit fibre) broadband plan. That echoes what I managed when connecting the MacBook to the router with an ethernet cable.
Weaknesses?
While the 2023 MacBook Pro has a generous array of ports, it lacks built-in Ethernet. Wi-Fi 6E can carry much of the load if you have a suitable router, but at one point in testing I wanted to direct connect a network drive and had to drive across town to buy a NZ$50 dongle to get Ethernet.
Sure, there's an argument to make all communications wireless, but this class of machine can be used for apps that need a gigabit connection and few home routers are up to that.
In theory you can't upgrade the Ram or storage on the 2023 MacBook Pro although I suspect savvy independent repair shops may be able to offer a way around that. Apple has made the computer repairable up to a point and even offers a repair manual. However, you may run up against restrictions if you attempt to install unofficial components.
Running Microsoft Windows
Another potential negative for certain users is that the M2 MacBook Pro can't use Apple's Bootcamp to run Windows. The software doesn't work on Apple Silicon Macs.
To get around this during testing I installed and used Parallels Desktop. It works well and is the best method for running Windows alongside MacOS, but it is expensive and has annoying licensing restrictions. The home user licence is US$100, a business licence is $150 and the full Pro edition means buying a US$120 a year subscription.
VirtualBox is a good, free alternative to Parallels, but the M2 version of the software is still in beta mode. I could get it to work, but it isn't stable at the time of writing.
Talking points
You can spend more on a laptop. A lot more. HP's ZBook Studio 16 inch G9 Mobile Workstation PC costs with 2TB of storage will set you back more than NZ$10k depending on configuration. The M2 MacBook Pro kills the HP ZBook Studio on benchmarks.
Apple's product environmental report says one-third of the computer is made from recycled materials. The document is an interesting read if you are concerned about sustainability.
If you're new to Macs, the MacOS 13.2 Ventura operating system is close enough to Windows to be non-threatening, but adds a few advanced twists. One of my favourites is being able to use an iPad as a second screen.
The webcam is in a notch on the screen at the centre of the menu bar. You won't always notice it, when the menu bar is black it disappears. During testing I quickly found I could ignore it. Yet this will not be to everyone's taste.
After giving the MacBook Pro a serious workout; a whole day encoding an entire library of video ripped from the family's DVD collection, the underside of the case remained cool to touch. No matter what I throw at it, I can't get it to warm up.
There's no Face ID [2], the computer uses the Touch ID fingerprint recognition instead.
Despite being large and a touch heavier than other laptops, thanks to the 16-inch screen, the MacBook Pro remains highly portable. Some larger format laptops feel clumsy, this never does.
Verdict: 16-inch MacBook Pro
Apple's 2023 16-inch MacBook Pro is an excellent high-end laptop. It has bags of computing power and longer battery life than any other laptop. There are few, if any, departments where its features are not best-in-class.
As you might expect, this comes at a hefty cost. Prices for the 16-inch MacBook Pro start at NZ$4600. That buys a model with 16GB of unified memory and 512GB SSD storage. You get a 12-core CPU and a 19-core GPU. A 16-inch MacBook Pro with 1TB of storage costs NZ$4950.
The version tested for this review has 2TB of SSD storage and 32GB of unified memory. That costs NZ$6350. You could go all the way to 8TB of storage, 96GB of unified memory and bump up the GPU to a 38-core module for $11,600.
While these prices are high, they remain competitive with workstation class PC laptops from brands like HP. If anything, Apple has the edge when it comes to computing bang for the buck.
---