BlackBerry Classic: Steampunk phone
BlackBerry Classic takes the company's designs back to a time when the brand was still a name to conjure with.
It arrived in New Zealand last week. New Zealanders can buy the BlackBerry Classic from Vodafone for NZ$650.
Externally the BlackBerry Classic looks like the 2011 Bold 9900 series — arguably BlackBerry's last successful phone.
Steampunk phone
Four years is a long time in the phone business. It's beyond retro.
These days physical phone keyboards have a whiff of Steampunk about them. The, by today's standards, tiny 3.5-inch screen with only 294 pixels per inch only underlines that old school feel.
BlackBerry has almost dropped out of sight since the Bold 9900 first appeared.
It's not that the company stopped making phones. Far from it.
BlackBerry 10
In 2013 there was the Z10. The first phone to sport the company's BlackBerry 10 operating system. It had a touchscreen instead of a keyboard.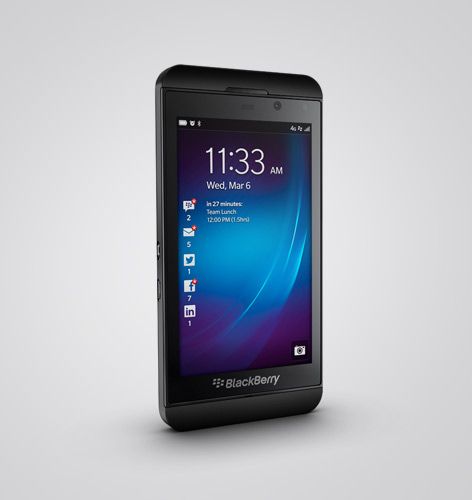 The Z10 wasn't well received. Nor was the BlackBerry Q10, a squat version of the Z10 with a Qwerty keyboard.
There was also the BlackBerry Z30. It had a bigger touch screen than the Z10 and plenty of smartphone grunt.
More recently the square BlackBerry Passport had a more mixed reception but still failed to fire.
A long time between drinks
Let's be blunt, it's been a while since BlackBerry had a hit phone.
Given that the BlackBerry Bold 9900 was last successful model, there's a logic in reviving its physical design with the Classic.
BlackBerry fans loved owning a smartphone with a tiny physical Qwerty keyboard.
Readers with long memories will recall a time when BlackBerry was a prestige brand, especially with the suits.
That little Qwerty keyboard told the world the person stabbing at the tiny buttons meant business.
A tool in a time of toys
While other smartphones were, let's face it, essentially toys, BlackBerry owners could do important work things like check email or manipulate financial portfolios while on the move.
You still see the BlackBerry Bold out in the wild.
There's a personality type that still loves the Classic BlackBerry format. There are also companies which have yet to move on from using old-school BlackBerries as their work-horse phone. They like the security features and the back-end management tools.
It's not clear whether reviving the classic BlackBerry format is a smart business move or yet another in a line of missteps.
Perhaps if BlackBerry had served the Classic up in 2013 instead of the all-touchscreen BlackBerry Z10, it would have lost fewer customers to Apple or Android. Maybe large corporations and government departments would have stayed with BlackBerry.
Or maybe not.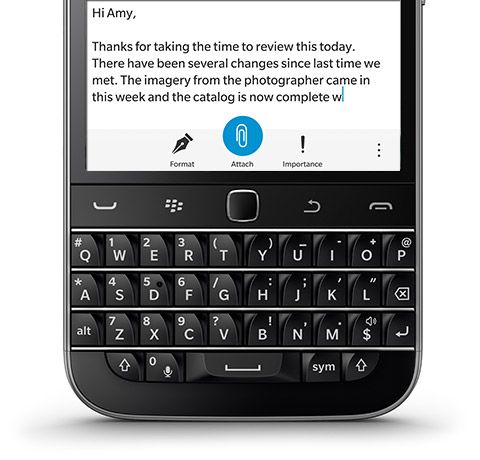 A phone with a keyboard
BlackBerry's marketing says a physical keyboard makes users more productive than touch screens. Apparently we can type fast and with more accuracy.
One claim is that you can type four times as fast on a physical keyboard as on a touchscreen.
After a few days with the Classic, I'm not sure that's true. At least not for me. I don't find I can type faster than on an iPhone 6 Plus. If there's a productivity boost I haven't found it yet.
That four times productivity claim sounds spurious to me. And I've been touch typing on real keyboards since Olivetti typewriter days.
Productive? Your mileage may differ
Maybe the extra productivity comes with familiarity. I'm told long-time BlackBerry users can type at speed on the keyboard.
Despite not getting a productivity boost, I find I like using the physical keyboard. Getting used to the position of numbers, knowing when to shift or use the alt-key takes time, but overall it feels good.
There's something satisfying about feeling a button click down as you type.
Small screen
The BlackBerry Classic has a small 720-by– 720-pixel display. In practice, this isn't a problem.
You may not get the screen real estate of, say, an iPhone 6 Plus or a Galaxy S5, but it is sharp and bright. You can read the Classic display outdoors on a sunny day.
Text works well, even in small sizes. Small pictures display OK and things like maps are perfectly readable. You rub up against limits when viewing video, but no-one is going to buy a BlackBerry Classic for the multimedia experience.
Well made
At almost 180g, the Classic is a little heavy by 2015 standards when you consider its size.
Part of this is down to solid construction. The phone is as well made as an iPhone, it feels better than the Samsung Galaxy S5.
These days making calls is low on the priority list for most phone buyers. If you need to get a decent sound quality, you'll warm to the Classic. I found this is better for making and receiving voice calls than most smartphones.
Software
Despite what the marketing says BlackBerry's software is for business users. The minimal phone OS is a little jarring after iOS 9 or recent Android versions.
That's because everything centres on the messaging hub. BlackBerry optimised the phone for communications and notifications. It's precisely what people used smartphones before they replaced most other aspects of personal computing.
If you want lots of apps you'll be disappointed. If you want the tools you need to get work done, you might find there are minor gaps. Being able to run Android 4.3 apps is not that helpful without Google services.
Even the built-in BlackBerry apps are sluggish. Normally I can't be bothered worrying too much about smartphone processors, they generally deliver all the necessary power, this one doesn't.
For the record the BlackBerry Classic has a Snapdragon S4 Plus. That's a chip that first showed up in phones in 2012 making it almost as retro as the BlackBerry Bold 9900.
BlackBerry Classic verdict
At core the BlackBerry Classic is a great smartphone for people who value voice calls and dealing with messages above the ability to run apps. It's still a good business phone.
It's a perfect choice for old-school BlackBerry fans who miss the Qwerty keyboard. You'll get secure messaging as part of the deal. If that's important, you should also consider this phone.