Rural telecom divide in Comm Comm spotlight
Commerce Commission sheds light on rural telecommunications, Apple and AWS launch Māori and Pasifika education programmes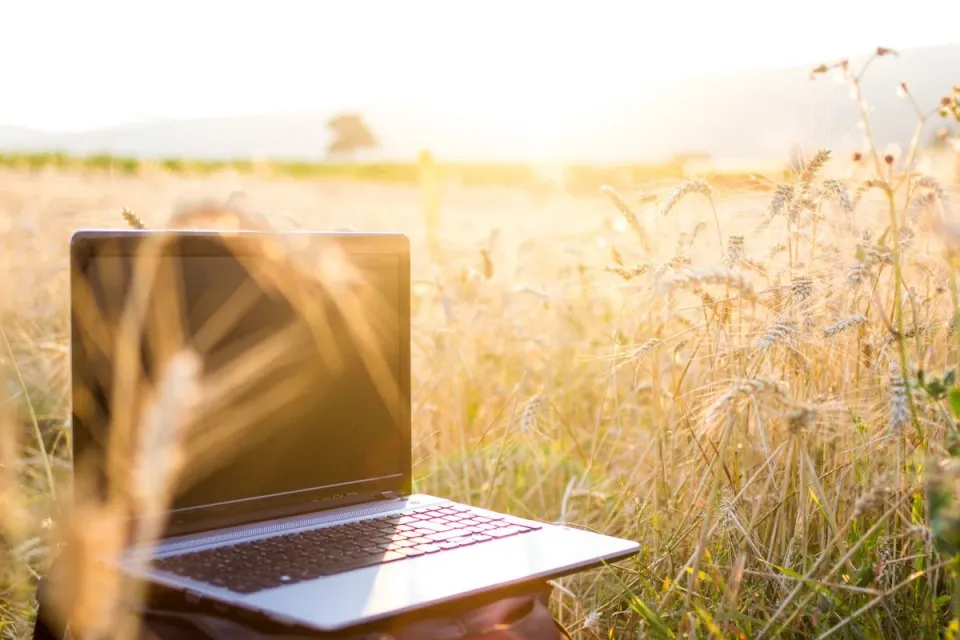 Telecommunications is getting better for rural users, but outside the UFB fibre footprint it is more expensive and of a lower quality.
This is highlighted in the Commerce Commission's 2022 Annual Telecommunications Monitoring Report which turns the spotlight on the 13 per cent of New Zealanders living beyond the fibre network.
Telecommunications Commissioner, Tristan Gilbertson says:
"If you live in a rural area, your basic copper connection (averaging 9 Mbps) will cost you about the same as what someone in the main centres pays for a 300 Mbps fibre plan."
Rural Kiwis still face data caps
Elsewhere, the report notes that country users face data caps, something their town cousins rarely see in 2023. Almost every urban customer is on an unlimited data plan.
"We've seen these cost and performance differences drive a real shift in rural consumer choice over the past year. Copper connections, the historic backbone of rural connectivity, have fallen below 50 per cent of all rural connections and the technology balance has shifted to wireless, with satellite being the fastest growing technology."
Satellite is changing the picture, see Starlink fills gaps but doesn't fix NZ rural coverage.
Gilbertson says that satellite connections have increased from 1,900 to 12,000 over the past year and now account for around 5 per cent of all rural broadband connections. This is one of the highest per capita satellite connection rates in the OECD.
Starlink highlights latent demand
He says Starlink taps into a strong latent demand for a service that is more comparable with urban broadband but affordability is an issue.
This is highlighted where the monitoring report says Fibre Max plans, with a nominal speed of 1 Gbps less the network overhead, accounts for 30 per cent of all new fibre connections. Typically users play less than $100 a month for Fibre Max. A Starlink plan, which at the time of writing doesn't have a data cap, offers less than a quarter of the speed of a Fibre Max connection for $160.
Although Gilbertson and the Commerce Commission don't say as much, the Monitoring Report is more evidence that New Zealand would benefit by extending fibre beyond 87 per cent.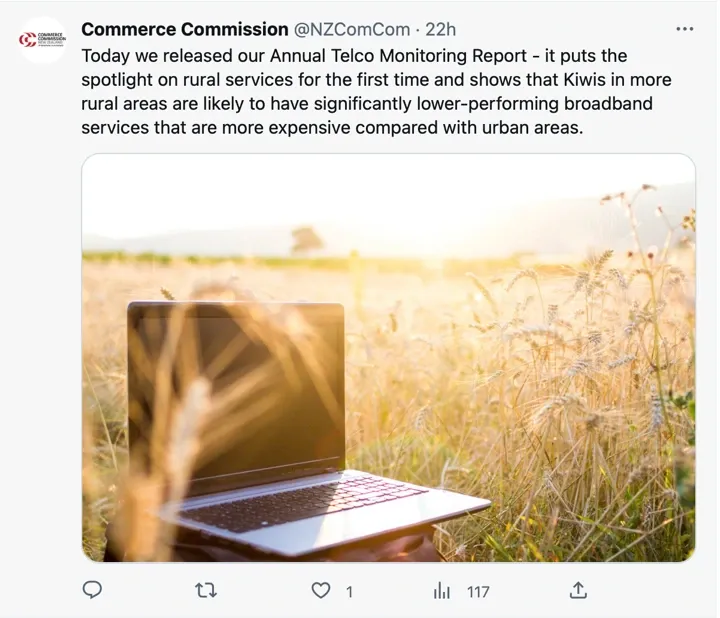 ---
Apple to fund Māori and Pasifika tech education
Te Pūkenga, the New Zealand Institute of Skills and Technology, will be the first local beneficiary of Apple's Racial Equity and Justice Initiative.
The two have launched a programme that aims to give Māori and Pasifika people a pathway to careers in the tech sector.
Around 30 teachers from 10 Auckland schools with a high proportion of Māori and Pasifika students will be taught a series of skills including building apps, digital media development, computer programming and how to deal with the user experience. The programme centres on iOS, the operating system used on Apple's iPhone.
The teachers will get Apple devices for their training.
After the training there will be continuing support and Apple will provide schools with device grants.
Apple says the programme has the potential to reach 2,000 senior school students in the first year.
The Racial Equity and Justice Initiative has been running for three years in the US where it focuses on Black, Hispanic and Native American students. Since then it has expanded into Australia, Mexico, the UK and now New Zealand.
AWS Indigitech offers stem for Māori and Pasifika students
Apple's announcement came at the same time as the formal launch of AWS' Indigitech programme. The programme has similar aims but a different focus. It aims at Māori and Pasifika students in school Years 7 and 8.
Indigitech aims to help students in low decile schools get started with stem subjects (science, technology, engineering, and mathematics). That will give them a pathway into those high paying tech sector jobs.
The programme is underway in 33 low-decile schools in Auckland, Hamilton, Hastings, Mangakino, Northland and Rotorua.
Comment: Big tech company training schemes
Both schemes have good intentions and are rightly targeted at the demographic that needs the greatest help. They address inequality and a career opportunity digital divide.
They will make a huge difference for many individuals.
Yet both programmes are tightly linked to the companies' proprietary products or services. Apple and AWS talk about developing a workforce ready to work with the company's products.
Narrow vocational training and education are not the same thing. We need to ask ourselves if that is what we want from our schools.
📢
If you want to comment on this, or any other story on this website, there's an option for newsletter subscribers to join the conversation at the foot of this page.
---
Global submarine cable world dividing into two camps
A report at the Financial Times says "…the US is pushing China out of the internet's plumbing". The story is no longer online.
"Experts say the subsea cable market is in danger of dividing into eastern and western blocs amid fears of espionage and geopolitical tensions."
None of this will be news to anyone involved with New Zealand submarine cable projects. In 2012 Pacific Fibre pulled the plug on a project to build a 13,000 km fibre-optic cable linking New Zealand, Australia and the West Coast of the USA.
The company needed to secure around $400 million in finance and had lined up interested Chinese investors. But that would have meant allowing Chinese technology companies like Huawei to use its equipment to build the network and its hardware to drive it.
There was nothing formal said, but US authorities made it clear to Pacific Fibre it would never allow that level of Chinese involvement in a cable connected to the USA.
---
Enterprise WLan market growing 43 per cent year-on-year
IDC says the international market for enterprise WLan equipment grew to US$2.2 billion in the first quarter of 2023. That's an annualised growth rate of 43 per cent.
The growth is being driven by demand for WiFi 6 and WiFi 6E equipment as large organisations upgrade internal networks.
This contrast with the consumer WLan market which declined 8.8 per cent year-on-year in the same quarter.
---
---
In other news…
CommsDay reports that US firm Laser Light Holdings plans to use Australia for a global beta as it works on a transit network that will beam traffic from satellite-to-satellite.
Te Hapori Matihiko has named the finalists for the first ever Matihiko Awards, which recognised Māori excellence in the digital and tech sector. The finalists are listed on the Matihiko web site.
Juniper Research says enterprises worldwide will spend nearly $10 billion a year on private networks by 2028. This year the market is worth $1 billion.
Things aren't getting better for the PC and tablet market although IDC says the market should rebound next year. The research company has revised its estimate for this year down to a total of 384.8 million units. That's down 15.2 per cent on last year.
Google's questionable online advertising business practices are under the spotlight at the EU. Regulators there filed antitrust charges this week saying the search giant runs an illegal monopoly. If found guilty Google will face fines and orders to change those business practices. The EU may force Google to break up the business. Similar legal moves are underway in the US.
The Download Weekly is supported by Chorus New Zealand.