Apple Vision Pro bandwidth demands fast fibre
Apple's spatial computing push will drive data demand. Infratil to take control of One NZ, Spark joins satellite-to-mobile club,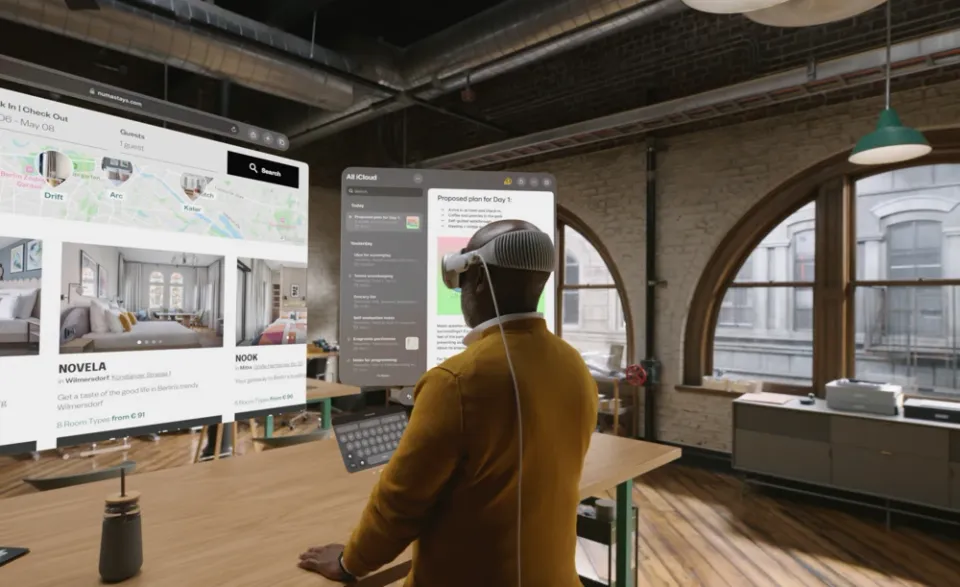 Apple's Vision Pro is a bold take on the future of computing at an heroic price point.
The US$3500 spatial computing headset launched this week is likely to cost over NZ$6000 when it lands in New Zealand next year.
In use, the device and its descendants will need a top-draw broadband connection. Today's fixed wireless and consumer LEO satellite plans will struggle to deliver the necessary bandwidth.
Much has to happen before any spatial computing-driven consumer demand for Fibre Max plans or Hyperfibre takes off. Yet, given Apple's history, it's a question of when, not whether, we get there.
Fast, consistent broadband required
At the front of Apple's Vision Pro headset are two micro-OLED displays. Each has a resolution of more than a 4K ultra high density television.
Apple is not revealing the exact numbers and we don't yet know the refresh rate, but the company has said the display uses 23 megapixels.
A UHD TV has 8.3 megapixels. In effect, depending on the refresh rate the Vision Pro will need as much data bandwidth as three UHD TVs. While UHD TV can function on a 25 mbps connection, TV makers recommend at least a 50 mbps connection.
Low latency essential
This implies consumers using Vision Pro will need at least a steady 100 mbps. Latency is crucial with virtual reality, although, presumably, the device electronics will be buffering vast quantities of data.
Put two or three of these devices in your home and you'll be pushing a fibre max connection hard.
Journalists who reported on Apple's launch event say individual pixels are not visible to the naked eye and that movement in the demonstrations was smooth. That implies the amount of data being delivered by the headset is at the high end of the three UHD TV range.
Live streaming
There's little question about the need for a significant fibre connection as opposed to, say, locally delivered content.
Apple demonstrated the device with a presentation that put the viewer in a court-side seat for a basketball game. A clear signal that the company's Vision Pro plans include giving people access to live events.
Gaming is high on Apple's Vision Pro agenda. No games have been announced yet, but Apple has teamed with Disney to produce immersive entertainment programming.
Light years ahead of Meta
The headline on Martin Peers story about Vision Pro at the Information hits hard: "Apple's New Headset Makes Meta Look Like AR's BlackBerry".
(The story is behind a paywall.)
Peers writes: "Apple's presentation of its mixed-reality headset, the Vision Pro, on Monday seems likely to spell the beginning of the end for Meta's ambitions in augmented reality and virtual reality."
Meta boss Mark Zuckerberg bet his Facebook empire on a move to the metaverse. He changed the company's brand and poured at least $10 billion into building a product no-one wants.
His shareholders fretted Zuckerberg was heading in the wrong direction.
Apple proved them right. Meta is a long way behind. On a positive note, Meta's VR offering is at a much lower price than Apple's, it could become the less capable player aiming at the mass market while the rich folk gravitate to Vision Pro.  
Redefining virtual reality
Vision Pro redefines the entire virtual reality or metaverse space. You'll notice that the second paragraph of this story uses the term spatial computing. In part that is Apple putting as much space as possible between Vision Pro and Meta's alternative.
Apple redefined the market overnight. It set a standard anyone else hoping to enter the sector must now reach… it could prove too high a standard for any rival. No existing technology company has the ability to compete with Vision Pro.
Parts of the demonstration appear almost magical. In place of using a mouse, the device tracks the users' eyeballs to select objects and control functions. Users can make things happen by tapping two fingers together.
Expensive for now
It's not all positive. Apple set a high bar, but equally, the NZ$6000 plus entry price is beyond the reach of many consumers. Unlike the Apple Watch, the iPad or the iPhone, this is not going to be an overnight hit.
No doubt prices will fall over time as Apple refines its technology and the economies of manufacturing scale kick in, but Vision Pro will not sell in hundreds of millions for years.
Nevertheless, there will be buyers. There will be New Zealanders taking up the technology and that means greater demand for high end fibre plans. Network planners need to run Vision Pro through their spreadsheets and into their thinking before the customers turn up.
---
Brookfield profits as Infratil takes control of One New Zealand
Canada's Brookfield Asset Management is to sell its half share of One New Zealand to Infratil in a $1.8 billion deal.
Brookfield and Infratil each own 49.95 per cent of One NZ, with the remainder held by CEO Jason Paris and other senior managers.
Infratil says it will raise $850 million to fund buying Brookfield's share of the business raising the balance from cash reserves and borrowings.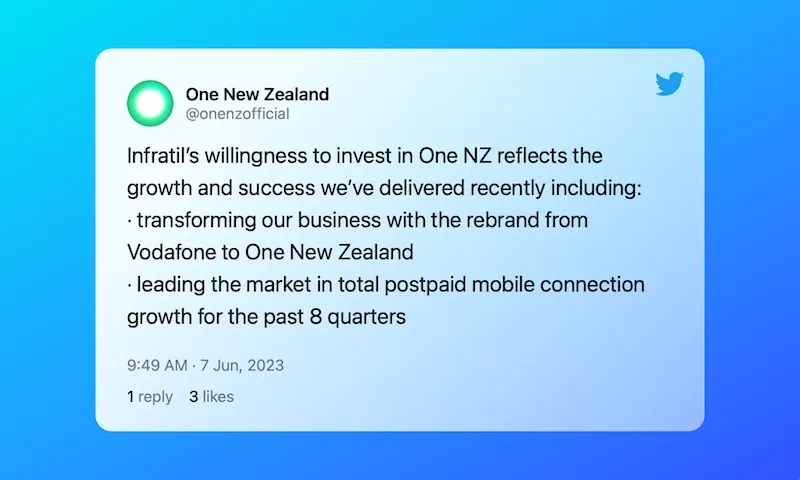 The deal values One NZ at $5.9 billion. At the time Infratil and Brookfield bought Vodafone NZ in 2019 the business was valued at $3.4 billion.
One NZ sold its passive tower network assets in the year just ended for $1.7 billion to a group of investment funds. This means Brookfield received a return of close to a billion dollars on an investment of $1.7 billion.
In media interviews Paris told reporters Infratil's investment means that for the first time the business will be 100 per cent locally owned and managed.
Comment
It would be interesting to know if Brookfield's plan was always to strip out the key assets before a relatively quick exit. When Brookfield and Infratil purchased Vodafone NZ in 2019 the practice of selling mobile tower networks was well established in Europe.
---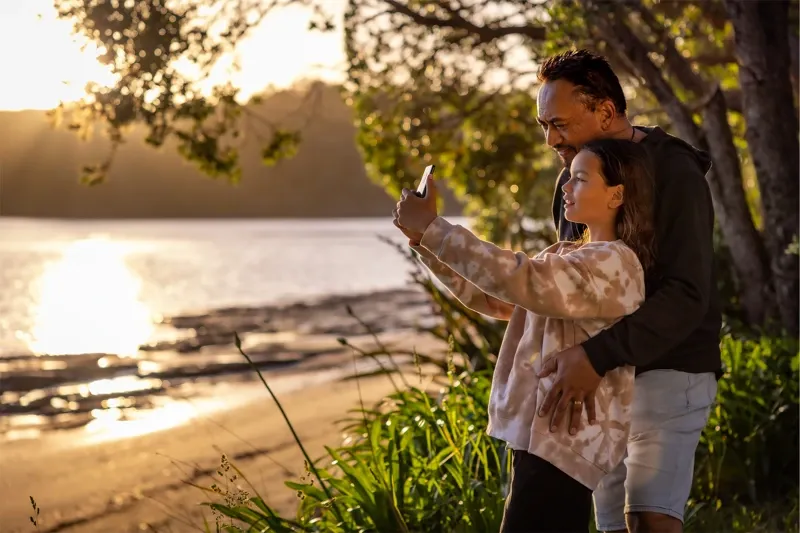 Spark follows 2degrees to offer Lynk satellite-to-mobile
A week after 2degrees hosted Lynk Chief Commercial Officer Dan Dooley, Spark has announced its deal with the satellite-to-mobile operator.
Spark says it plans to launch a trial service before the end of the year. As with 2degrees, for now the service will be restricted to sporadic SMS messaging as one of Lynk's three existing satellites orbits over New Zealand. In time, as more satellites launch, this will extend to a more regular service and, later, full time coverage.
Tessa Tierney, Spark's product director says the service will add an additional layer of resilience: "Once there are more satellites launched and the service is available more broadly, it will allow our mobile customers to start to use their phones in more areas that aren't reached by traditional mobile coverage.
"…we've chosen to trial this technology with some of our customers first, to make sure we can offer a great product to our customers when we make it widely available. We also need to integrate the technology into our network and achieve regulatory approval to launch the service. But we are excited to see the possibilities this creates for New Zealanders and will be working hard to make it widely available as soon as we can".
---
---
eSim devices poised for growth
Counterpoint Research says more than 6 billion eSim and iSim devices will ship over the next five years. By 2030 70 per cent of all cellular devices will have an eSim.
The company says eSim adoption has "passed the inflection point and is now entering a high-growth phase". This is driven by adoption of eSims in phones along with connected vehicles and IoT applications.
---
Worldwide phone production at ten-year low
TrendForce reports that in the first quarter of 2023 250 million phones were made worldwide. That's 19.5 per cent down on a year ago and the lowest quarterly production since 2014.
Samsung managed a modest(5.5 per cent year on year) increase in production as it launched its Galaxy S23 range. The company's factories churned out 61.5 million units close to a quarter of the world's total.
In contrast, the factories making Apple iPhones saw a 27.5 per cent drop in production during the quarter to 53.3 million units. Other brands also cut production in the quarter.
Trendforce says it expects a rise during the second quarter thanks to better inventory management and a modest recovery in demand.
---
One New Zealand offers resolution guarantee
One New Zealand plans to offer small business customers who experience connection interruptions a $200 credit.
---
In other news
Parents of children in the eight primary schools in Greystones, Ireland, have told their offspring they cannot have a phone until secondary school. It's a voluntary pact, but the parents hope that by acting together, they'll reduce the effect of peer pressure.
At Reseller News Rob O'Neill reports that IBM New Zealand had a rough 2022. Revenue was down, profit fell further.
Huawei, which once powered New Zealand's networks, is back in the firing line. A Financial Times report says the EU is considering a mandatory ban on member states using equipment from companies deemed to be a possible security threat in their telecoms networks. (Story is behind a paywall).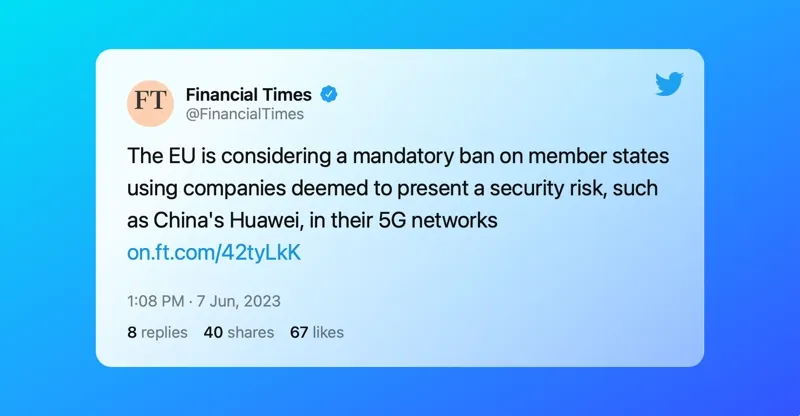 ---
The Download Weekly is supported by Chorus New Zealand.