2degrees details satellite-to-mobile plan
2degrees details satellite-to-mobile plan. Rural connectivity under Commerce Commission microscope. Spark signs as Starlink business reseller.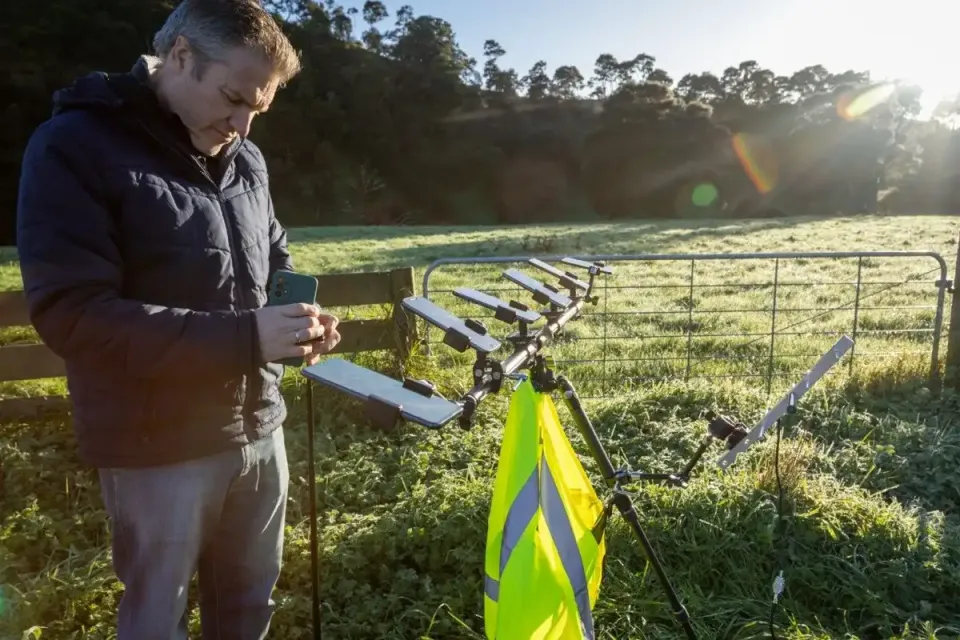 Satellite-to-mobile phone text services from any part of New Zealand could be months away. 2degrees recently conducted successful trials of the technology with satellite operator Lynk in a paddock half an hour north of Whanganui.
At first the service will offer a limited text option that works for minutes at a time during half a dozen windows each day. 2degrees says within three years it will be able to offer customers mobile coverage across the entire New Zealand landmass and the waters immediately surrounding the islands.
For now Lynk's service offers 2G and 4G mobile. The company is testing a 5G option. The service will work with any modern mobile handset; they won't need additional antennae even though they will be communicating with satellites that are 500 km above the surface of the earth.
Completing mobile coverage
CEO Mark Callander put the significance of this trial into context: "We aren't ever going to have 100 per cent mobile coverage with the assets we own today. About half the New Zealand land mass is not covered.
"We saw during Cyclone Gabrielle that connectivity became critical. The Leo (low earth orbit satellite) technology is emerging to bridge that gap. There is broadband via Starlink, which 2degrees sells to the business market and we will soon have mobile by satellite."
Callander says there are massive user cases for this technology in agriculture, rural business and in IoT. At the same time, it can make a difference from a health and safety aspect for people in the areas beyond the reach of the land-based network.
Early days
When the commercial service goes on line it will be limited. Operation is scheduled to start before the year end. Before that can happen 2degrees needs regulatory clearance.
Lynk Chief Commercial Officer Dan Dooley doesn't hide from the limited nature of the existing service. He says there are three satellites in operation today. That means New Zealand users will get five minutes of coverage during a half a dozen windows each day as the satellites fly past.
A further six satellites will launch in January, which will allow more coverage windows.
Lynk plans 40 to 50 satellite launches next year. With many more in the following years. Eventually there will be full coverage with thousands of satellites.
Even with three satellites Nema, the National Emergency Management Agency, would have the capability to send timely emergency alerts to phone users in remote areas.
While voice and broadband satellite calls are technically possible on Lynk's service today, the short fly-past windows mean they are not practical. That will change over time as more satellites launch.
Comment: Satellite freight train
At the start of yesterday's press conference 2degrees CEO Mark Callander noted it was a year since the merger with Vocus' NZ business completed. He said space based technology was not even on the company's roadmap at that time, but it is like a freight train.
He is right. Before the start of this year telecommunications satellites were peripheral to New Zealand. There would be one or two satellite stories worth covering each year, but their impact was restricted to the fringe.
In one sense that hasn't changed. Satellites remain a fringe technology for the overwhelming majority of New Zealanders. But it is a far bigger fringe in 2023 than it was at the start of 2022. And it is growing fast. Expect to see more satellite news in the coming months.
The 2degrees effect
A year after the 2degrees merger was finalised, we are seeing what that means for the market. The company has always positioned itself as the 'challenger brand'. That term is shorthand for saying "We're not as big as Spark or One New Zealand, but we're going to keep on their tails and we see much, if not all, of their business as potentially winnable."
What it means in practice is more intense competition.
The company's tilt towards satellite technology illustrates this. 2degrees had an agreement to resell Starlink business services at the start of the year. Spark is on the same path, but is at least six months behind in that race.
Both One NZ and Spark could have been first to work with Lynk. The company is a wholesaler, it is happy to deal with multiple players in any national market.
Yet 2degrees got there first. It will likely have a form of mobile to satellite communications in place before either of the bigger mobile operators.
In April One New Zealand hoped to make an impact by announcing a deal with Starlink at its formal coming out party. That impact was diminished when 2degrees gazumped One NZ. It got its own satellite announcement out hours earlier.
New Zealand's telecommunications sector has been price competitive for a decade, but the new 2degrees is making aggressive competitive moves in other spheres. We could be in for a wild ride. Bring it on.
---
Rural connectivity under Commerce Commission microscope
The Commerce Commission has formally announced its Rural Connectivity Study. The regulator says it aims to paint a detailed picture of the rural telecommunications market. This includes looking at the options available to rural communities, businesses and farmers.
In effect, this will be an examination of what modern communications is like beyond the national fibre footprint.
New Zealand's UFB fibre network reaches 87 per cent of the population. The remaining 13 per cent, is, in telecommunications terms, almost by definition the rural market.
Telecommunications Commissioner Tristan Gilbertson says: "We're launching this Rural Connectivity Study so that we have better information about the technologies available outside fibre areas.
"We want to be able to map the areas where they are offered and who they are offered by. We are interested in the pricing of these technologies, their performance and what the consumer experience looks like."
Gilbertson says the study will help close the information gap between urban and rural; it will be used by policymakers, advocacy groups and rural consumers.
Rural Connectivity Study analysis:
Right at the top of the study's terms of reference is a statement explaining the Commerce Commission's thinking:
The UFB programme has been successful in delivering high-speed connectivity to urban areas, but consumers living in rural and remote areas experience mixed outcomes when it comes to connectivity choice, performance and price, as fibre is unlikely to be built out to those locations.
There are two parts to this.
Rural consumers have definitely had a mixed experience. There are those who live nearer to rural mobile towers who can get fixed wireless broadband on, for want of a better description we might call "urban frequencies". They may have line-of-sight access or near line-of-sight. They use the parts of the spectrum which offer greater bandwidth, but the signals don't travel far.
For these users, rural fixed wireless broadband can mean speeds that, while not on a par with UFB, is enough for everyday use: web surfing, school homework, farm accounts, Zoom calls and video streaming. It might not deliver multiple high definition steams but enough capacity to keep people in touch, employed and entertained.
Further out are customers using less capable frequencies. These reach further from the tower, but the price paid for this is less data capacity. In cases there isn't enough bandwidth for Zoom calls and Netflix… or if there is it fades in and out.
There is always Starlink, its customers love it. But [Starlink is expensive, beyond the reach of less well-off families and there are, let's say Low Earth Orbit satellite issues.
The wireless internet service providers or Wisps don't get the media attention they deserve. In many cases they plug the gaps not filled by the larger telcos and networks. They tend to be innovative and responsive to local conditions. It would be excellent if the Commerce Commission could get a better understanding of the role they play and what might be needed for them to do an even better job. There could be regulatory tweaks to help them.
Chorus would like to extend its fibre network beyond 87 per cent. Another three per cent could be possible under existing arrangements, beyond that it would need more government funding or subsidy.
The practical limit for fibre depends on how you count the beans, but no-one in New Zealand is talking about extending it beyond 95 per cent and even that might be a stretch. Europe in comparison is aiming for closer to 99 percent, but our terrain and the population distribution make that a less practical target.
It's possible the Rural Connectivity Study may uncover information to help policy makers better understand how to extend fibre. Or the data needed to support Wisps. Either way, a solid, comprehensive stocktake and look at rural connectivity is overdue.
---
Spark signs as Starlink business reseller
Spark plans to sell Starlink business satellite services later this year although not through a direct relationship with the Elon Musk-owned company.
Instead it has entered an agreement with ASX-listed Netlinkz.
Sales will begin after Spark completes a series of trials with local users.
Spark Product Director, Tessa Tierney, says: "We are conducting trials prior to launching the service more broadly to ensure that deployments are as seamless as possible for our customers. We are excited to be working alongside our business customers and Netlinkz to explore how we can use emerging satellite technologies to deliver remote connectivity and improved resilience right across Aotearoa's economy."
Rival telco 2degrees has been selling Starlink business services since February.
Spark says it has a satellite-to-mobile service like the 2degrees-Lynk arrangement "in the pipeline" and will make an announcement soon.
---
New Zealand gets National Space Policy
Barbara Edmonds, the economic development minister, formally launched a National Space Policy setting out an agenda for New Zealand's role in space.
With companies like Rocket Lab and Dawn Aerospace now operating in the country, there's a need to pull various policy strands together. At the same time, New Zealand's location makes it an attractive place for launches to reach key earth orbits, which means more space activity.
The government has previously established the small New Zealand Space Agency to underpin the Outer Space and High-altitude Activities Act 2017.
Space can be lucrative. In 2019, a Deloitte report found the local industry contributes $1.7b billion to the economy and involves 12,000 jobs. In a note prefacing the policy document Edmonds says: "Due to New Zealand's increasing role across the space value chain (from manufacturing through to end use of space data), I anticipate these economic benefits will continue to grow."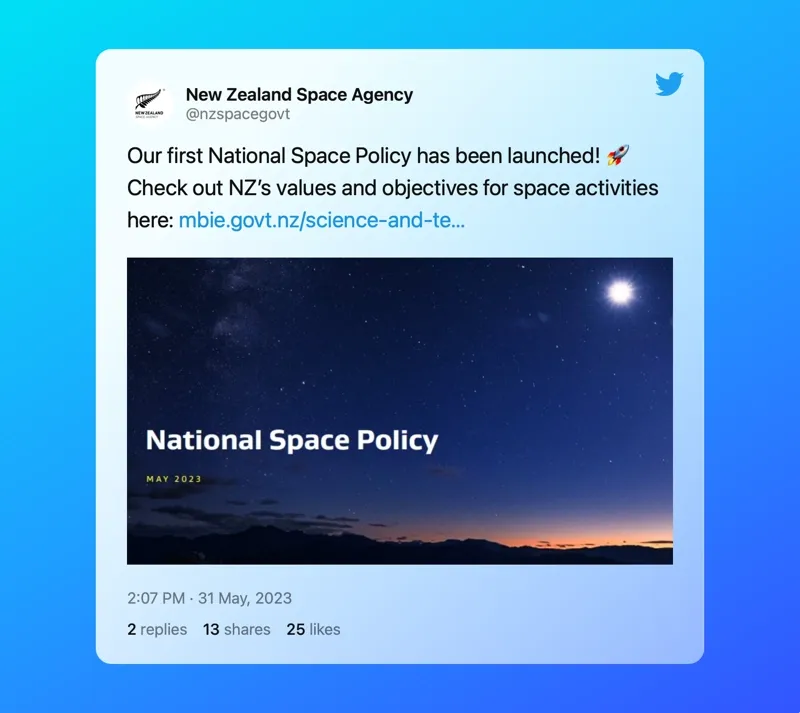 ---
Tuanz wants user-centred AI response
Tuanz, the Tech Users Association has told the government to make sure users are not forgotten in any future AI regulation.
Craig Young, the Tuanz CEO, says his organisation shared its vision of the future at last month's parliamentary cross-party meeting looking at developing an AI strategy.
He says: "Our vision focuses on the needs of users of technology, and making sure no one misses out on the opportunities the technology provides but is safe and inclusive for all New Zealanders.
"While the opportunities AI gives to strengthen many of our industries and birth entirely new ones are exciting and worthy of interest and engagement, we need to balance the potential gains in business, education, and other areas with the views and informed consent of the users."
Young says education is key; users need to understand how services are provided and need to be able to consent both to using the services and having their data used by AI algorithms.
"There is a digital divide in Aotearoa, both in the having of tech and the understanding of tech. While we can and should attempt to educate everyone, we need to be mindful of any increases in inequity that AI may bring about."
---
---
NZ PC market tumbles
IDC says the New Zealand PC market declined by 16.8 per cent year-on-year in the first quarter of 2023. A total of 154k units were shipped in the quarter. Consumer PCs were down almost a quarter (24.6 per cent) while the business market dropped 11 per cent. It was the fourth quarter in a row that the market dropped.
HP remains the dominant PC brand with close to one-third of the market (32.5 per cent). It also experienced 12.9 per cent growth during the quarter. IDC says: "This growth can be attributed to low shipments in the first quarter of 2022 as the vendor was still coming out of supply disruptions due to the pandemic at that time".
Apple was the only other brand to register growth or an increase in market share. It is now in second place with 16 per cent of the market.
Acer took third place although shipments dropped almost 36 per cent. Fourth place Lenovo saw its consumer shipments plummet by half (49.3 per cent). Dell, in fifth place, fared even worse in the consumer market with shipments down 61 per cent.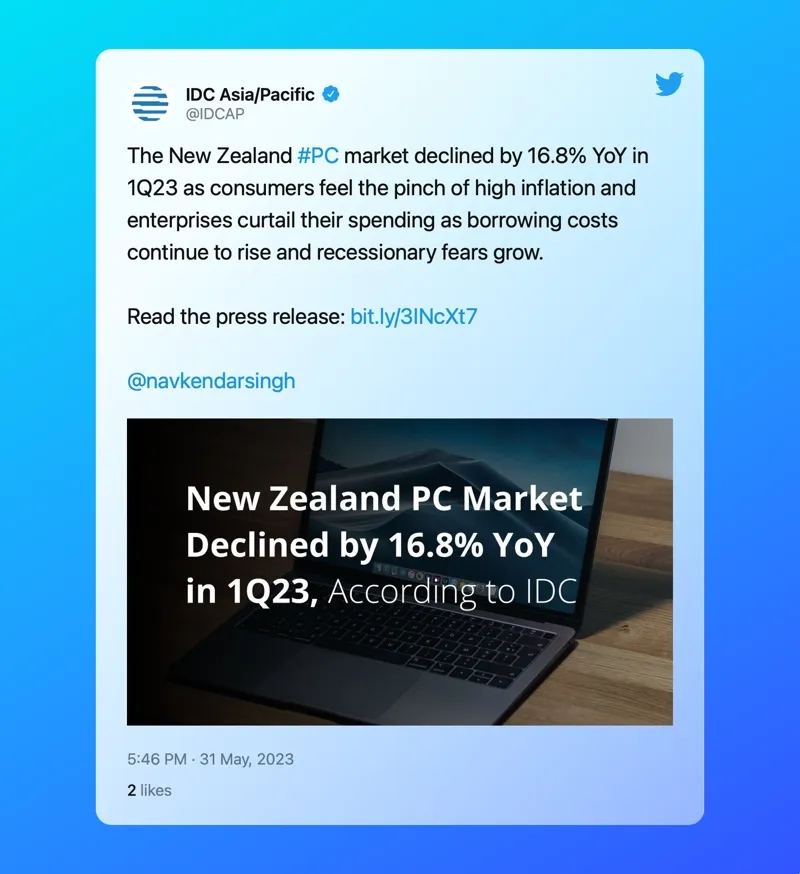 ---
Lovell appointed as CommComm associate member
Lawyer Loretta Lovell has been appointed as a Commerce Commission associate member by the minister of commerce and consumer affairs. She will deal with matters arising under the Telecommunications, Commerce, Fair Trading, Credit Contracts and Consumer Finance, and Water Services Entities Acts. The appointment is for five years.
---
In other news…
Worldwide government IT spending is set to grow 7.6 per cent this year. Gartner reports that governments are increasing their technology spend as a response to challenges like inflation and 'workforce scarcity'.
Apple says its App Store generated US$1.1 trillion in developer billings and sales in 2022. The business is growing fast, in 2019 the store generated $519 billion. Apple says 90 per cent of that was commission free, an interesting figure given the widespread fuss about the company's commission rates which range from 15 to 30 per cent.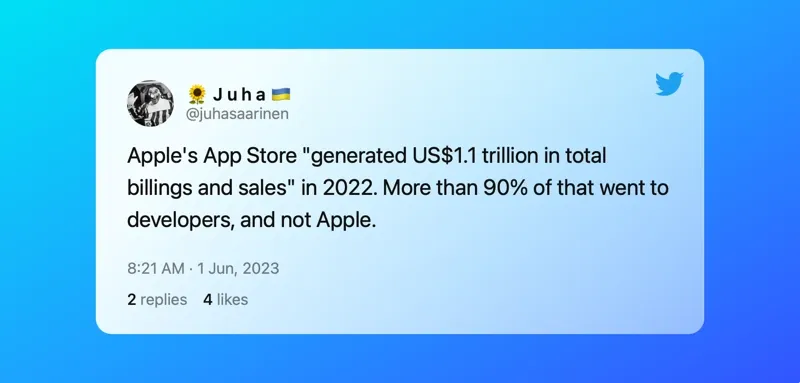 The Download Weekly is supported by Chorus New Zealand.