Commerce Commission One NZ clash over ads
Commerce Commission One NZ clash over 100% mobile coverage claim, 2degrees on acquisition trail, faster 5G, Threads.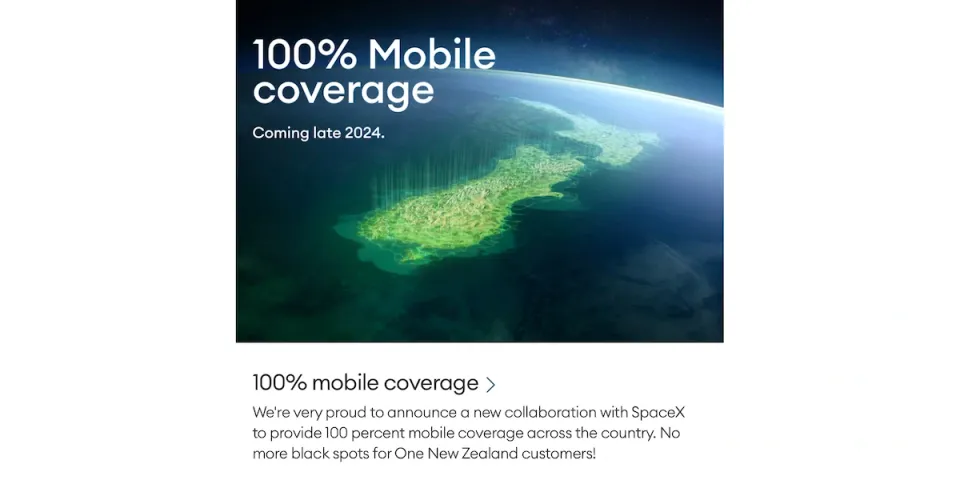 Commerce Commission One NZ clash over 100% mobile coverage claim
One New Zealand, formerly Vodafone, has come out fighting after a Commerce Commission letter asked the telco to halt its 100 per cent mobile coverage marketing campaign.
The letter, dated July 5, asks One NZ to halt its advertising while the regulator continues to investigate the campaign. The letter is marked 'urgent' and refers to the Fair Trading Act.
In the letter, signed by Kirsten Mannix, the acting head of the Commerce Commission's Fair Trading Branch says the regulator is "concerned that One NZ has engaged in, and continues to engage, in conduct in breach of the Act and that customers and competitors are being harmed by this conduct.
High profile marketing campaign
One NZ's high profile TV and radio marketing tells customers the company will be able to offer 100 per cent mobile coverage from next year. That's when the company says it will start to deliver satellite-to-mobile coverage using Starlink.
On its website, One NZ makes it clear that there will be a limited satellite text message service from next year. Voice and data will not be available until a year later. And when these services are available, they may not match the terrestrial mobile experience. The advertising does not include this small print.
Low Earth Orbit satellites are a fast moving market. Even so, Starlink does not have any satellites able to connect to mobile phones at the moment. Nor has it tested the technology. It could be seen as premature to confidently promise voice and data services next year.
Rivals are more circumspect
A rival company, Lynk, has successfully tested mobile to satellite technology. Lynk has New Zealand deals with 2degrees and Spark. All three have been cautious in their public statements about the technology's short-term capability. They are not making rash promises.
In a radio interview on RNZ's Nine-to-Noon programme, Commerce Commission chair John Small said One NZ's adverts were possibly false and misleading. He said the might distort competition.
Small said in the interview the Commission had received complaints from users and the industry. That's interesting. It suggests either Spark or 2degrees is concerned.
One NZ responds
One NZ sent a response to RNZ on Thursday saying it was reviewing the Commerce Commission's letter and defended the language used in the adverts.
"It says: The fact is the Starlink space satellites that enable the service will cover 100 per cent of New Zealand, so we think it's valid to talk about 100 per cent mobile coverage."
The Commerce Commission has previously said it is in touch with New Zealand telecommunications users in parts of the country who are unable to connect to Starlink. Not everyone has continued line of sight to satellites.
Back to One NZ's response: "We've been clear that the service will launch with text messaging in late 2024 to be followed by voice calling and data in 2025."
Line of sight
"We've also explained that you'll be able to connect to the coverage where you have line of sight to the sky. That clearly means it's unlikely to work inside caves or dense buildings, much like your current mobile use where there are some connectivity constraints."
In effect, this last point concedes the coverage is not 100 per cent.
You can read the Commerce Commission's Stop Now letter as a warning the regulator has seen conduct it doesn't like and should it continue in the future will make things worse for One NZ when it comes to fines or other sanctions.
Next steps
One NZ has until July 12 to formally respond to the letter. At that point the Commission will decide what to do next. It could take legal action regardless of whether One has ceased its advertising.
One NZ is no stranger to breaches of the Fair Trading Act. Last year, when it was known as Vodafone, the company was found guilty and sentenced in the Auckland District Court for 18 Fair Trading Act charges relating to its FibreX branding and marketing. The company won an earlier action
You can hear me talking on RNZ Nine-to-Noon with Kathryn Ryan about this story.
---
2degrees snaps up users and market share as MyRepublic retreats
2degrees says it has acquired MyRepublic's broadband customers as the Singaporean-owned service provider closes its New Zealand business.
The move can be seen as a continuation of the consolidation play that saw the CallPlus-Slingshot business acquire brands such as Orcon under CEO Mark Callander's leadership. CallPlus later became Vocus which then picked up Stuff Fibre customers before merging with 2degrees.
While there are no official statements on the value of the deal or the number of customers involved, neither figure is likely to be large enough to attract more than passing regulatory interest. Yet that does not mean the deal is insignificant.
Altering the market dynamic
Last year MyRepublic contributed to the Telecommunications Development Levy. In the contribution table it had $5.5 million of qualifying revenue. If you strip out the fibre wholesale companies and the mobile businesses, that implies MyRepublic a broadband market share of two or three per cent.
Looked at from another perspective, $5.5 million in qualifying revenue adds up to somewhere in the region of 5,000 broadband customers.
In other words, its not a huge amount. However, it has the potential to change the shape of the market.
Deal puts 2degrees broadband market share close to One NZ
In the Commerce Commission's 2021 Annual Telecommunications Monitoring Report Vocus and 2degrees had a combined broadband market share of 19 per cent. MyRepublic was among the others with a share of between one and two per cent.
At that time Vodafone, now One New Zealand, was at 21 per cent and Spark had a 39 per cent market share.
Today 2degrees, with its consolidated brands, would have a broadband business that is close in size to One New Zealand's operation. With MyRepublic it could now be the second largest broadband brand.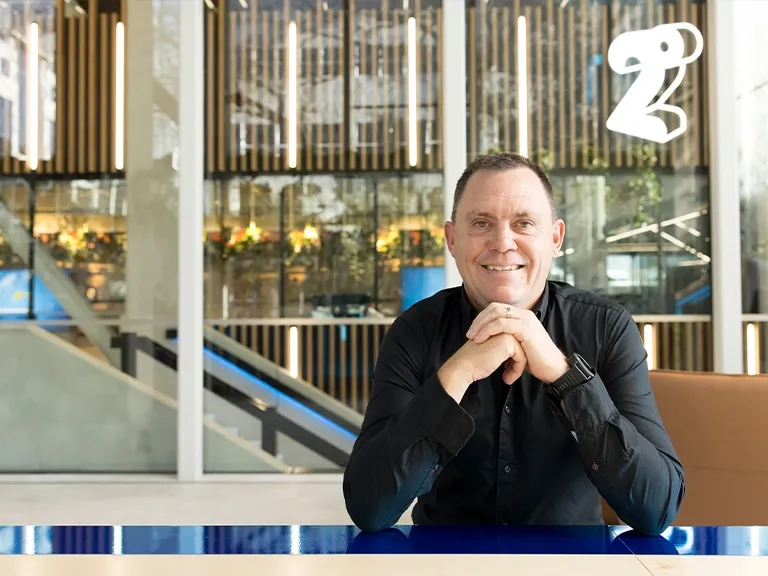 In the past some New Zealand telcos have struggled to integrate acquired businesses. This has never troubled the company that is now 2degrees. Integration was a Vocus New Zealand strength and the 2degrees merger has been smooth. Pulling MyRepublic's customers into the operation poses few challenges.
New Zealand's shrinking MVNO sector
That same 2021 Monitoring Report estimated that Mobile Virtual Network Operators or MVNOs had a 2 per cent share of the mobile business.
At the time of the 2degrees merger, Vocus was the largest of seven MVNOs. Collectively the MVNOs had a 1.8 per cent market share. When Vocus was wrapped into the 2degrees business, the number of MVNOs dropped to six and their market share fell to 1.3 per cent.
MyRepublic was one of the remaining MVNOs, assuming that business is wrapped into 2degrees, the MVNO market share will have fallen to the point where it is near negligible.
---
---
One New Zealand upgrades 5G data speeds
A 5G network retune means One NZ customers could see download speeds of up to 1.4Gbps. The telco says the retune takes advantage of the additional spectrum recently allocated by the government.
One NZ says the retune will provide extra network capacity and faster speeds for the company's fixed wireless broadband customers.
---
One NZ raises broadband prices
One New Zealand says it is raising the price of its fixed line plans from October 2. The company's Fibre Unlimited and Fibre Max plans will cost $6 more. HFC Unlimited Broadband will be $5 more. Price for ADSL and VDSL Unlimited Broadband will rise $7.
A statement from the company puts the blame for the price rises on the government regulated fibre wholesale companies. While this might explain the higher cost of fibre plans, the company wholly-owns its HFC network.
The price rises mean that One New Zealand will be among the most expensive mainstream retail fixed line broadband providers.
---
In other news…
China has imposed restrictions on exporting two metals that are critical for the technology industry. From August exporters need a licence to ship gallium and germanium out of the country. They must report details of any transactions with the authorities. It sounds esoteric, but germanium is used for fibre optics. You may find it in night vision goggles. Gallium is critical for semiconductors. It is used in mobile phones.
In a related story the Wall Street Journal says the US plans to restrict Chinese access to American cloud services. The story is behind a paywall. If the move goes ahead, US-based cloud service providers such as Amazon and Microsoft will need to get government permission before allowing Chinese customers to user any services that involve advanced AI technology.
Meta launched its Threads social media site. It's a direct competitor with Twitter that aims to capitalise on the site's continuing instability and general poor management. For the full story read: Threads launches as Twitter chaos continues.
At Reseller News Rob O'Neill reports Xero founder Rod Drury resigns from SaaS company's board. Drury was with the cloud accounting business he founded for 17 years.
Apple has pulled back from its plan to ship a million Vision Pro mixed reality headsets next year. The Financial Times reports the company has run into production problems and will only make 400k units of the new device.
---
The Download Weekly is supported by Chorus New Zealand.