Cyclone exposes network weaknesses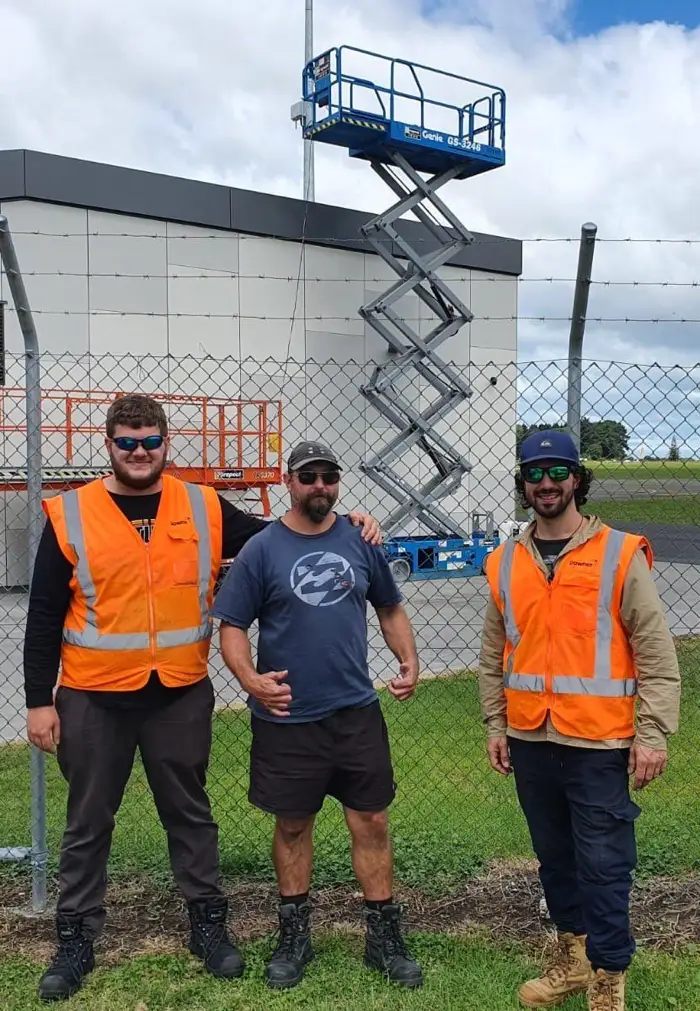 Cyclone Gabrielle left parts of the North Island without phone and data coverage. While network gaps remain in pockets, the clean up is now well under way and telcos are revisiting their resiliency plans.
The main areas affected were along the east coast of the North Island from Napier through Wairoa to Gisborne and up to the East Cape.
Coverage was also lost in parts of Auckland, Northland, Coromandel and the Bay of Plenty reaching as far as Taupo.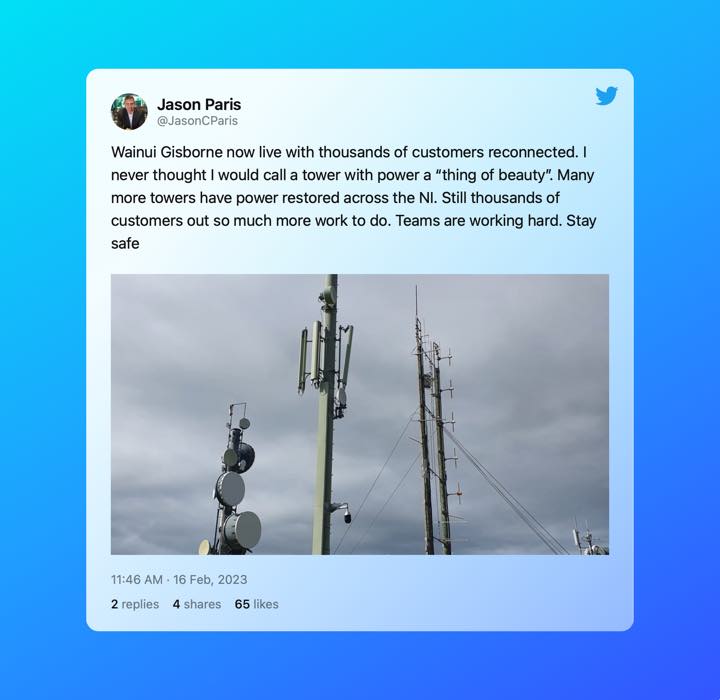 Cellular dealt a blow
More than 500 cellar towers, between 10 and 15 per cent of the national total, stopped working. There were outages in rural and urban areas.
While cell towers are built to withstand cyclones, the antennae and infrastructure depend on electricity. In most cases they get their power from the local grid.
Damage from the cyclone caused the greatest disruption to the electricity network in 35 years. As many as 225,000 homes were without power at one point. This took out many cell sites.
Towers can have back-up batteries and use diesel generators where available. In a power outage, batteries can keep the tower running for a few hours.
When the cyclone first hit there were not enough generators in place. In cases the sites were inaccessible making it impossible to deliver generators or to refuel generators - a full tank might provide six to ten hours of power.
The scale of the damage didn't help. Telcos are able to respond fast if dozens of towers are affected. Having 470 taken offline in less than 24 hours proved more of a challenge.
Fibre
While there was damage to fibre lines between centres, local fibre networks remain largely intact. Fibre is designed to withstand heavy rain and floods. The main problem was from landslips and where fibre was strung under a damaged bridge.
Chorus says it saw a clear uptick of internet usage in Auckland when the cyclone first arrived as people stayed at home and either worked or studied from home or hunkered down with streaming TV.
There are areas where a single fibre connects a string of towns together but for much of the country the larger settlements have alternative links.
Starlink stable
There are reports that people with Starlink satellite broadband connections had stable connections throughout the storm. Remote homes with their own power supply fared best. Otherwise the satellite technology is as dependent on electricity as the mobile network.
Other reports say that Starlink stopped working in some areas when the local ground stations lost power.
While satellite broadband can suffer from the rain fade effect that Sky satellite customers are familiar with, it tends to slow data speeds rather than interrupt connections.
Resilience questions
The storm exposed flaws in New Zealand's network resilience. While the majority of connections held up and performed well, there are clear weaknesses.
Many communities depend on a single, potentially vulnerable line feeding their local fibre network. Redundancy options are essential. We need to design regional networks with more connections and alternative routes.
The cell tower network needs better back-up power planning, This can include more and bigger batteries. There's also a need to have more back-up generators and to keep them closer to cell sites so they can be deployed faster when floods or other disasters block roads.
Solar power isn't a huge help during a cyclone, but can make a difference once the clouds have passed.
On the whole New Zealand's telcos have responded quickly. Last year when Queensland and Northern New South Wales experienced widespread floods, network repairs took weeks.
---
Streaming privacy policies hard to read
Chris Bluvshtein from VPNOverview has compared the privacy policies from the top streaming services and found many are complicated and difficult to read.
The worst is Disney+ which is the hardest to read and opaque. Bluvshtein says you need to be a university graduate to read the policy and its reading score, see the list below, of 2.8 out of a possible 100 is not a misprint.
There's a hidden sting in Disney's policy. One clause tells you that information received through its service by other companies is "subject to the other company's privacy practices".
He says Netflix: "collects a wide range of invasive user data such as devices used, location, and browsers. Netflix is very vague on exactly how and why it collects said data but uses it to its advantage with crackdowns on account sharing."
The list from worst to best. Note the Sky service mentioned here is the UK-based company, not New Zealand's Sky TV:
| Rank | Service | Readability Score | Word Count | Time to read (minutes) |
| --- | --- | --- | --- | --- |
| 1. | Disney+ | 2.8 | 2,573 | 19.8 |
| 2. | Netflix | 23.7 | 4,977 | 38.3 |
| 3. | Spotify | 25.0 | 5,799 | 44.6 |
| 4. | Sky* | 29.7 | 1,710 | 13.2 |
| 5. | YouTube | 30.6 | 872 | 6.7 |
| 6. | ITV | 35.6 | 2,877 | 22.1 |
| 7. | BBC iPlayer | 43.2 | 555 | 4.3 |
| 8. | Apple TV + | 43.4 | 2,349 | 18.1 |
| 9 | Channel 4 | 56.2 | 9,285 | 71.4 |
---
Cert warns of investment scam
Cert NZ says a sophisticated online scam has swindled New Zealanders out of millions of dollars in recent weeks. The scam uses Google Ads to target investors looking for financial advice. Victims who click on the ads go to a site that collects their personal details before the scammers call claiming to be from a financial institution.
---
Sky box still up in the air
Vodafone has yet again said it will delay closing its Vodafone TV service, this time until the end of March. The delay should give customers more time to move to a new Sky box.
Sky wants customers to move to either its Sky Pod media player, which uses a broadband connection to deliver streaming TV or to a new satellite box. The boxes were originally set to be ready by September. More recently that date was pushed back to early this month. There's now a further delay with Sky saying it needs to fine-tune the service before making it available.
---
Amazon gets regulatory nod for Kuiper Leo launch
Starlink may soon face competition from Amazon's Kuiper low earth orbit satellite broadband network. The US Federal Communications Commission has granted final approval for the network to launch an initial constellation of 3,236 satellites.
---
In other news…
Writing at Reseller News, Rob O'Neill reports on Transpower's plan to reboot its TransGo private telecommunications network. The network uses fibre and microwave radio for communications between substations and other Transpower sites.
CDN specialist Akamai Technologies say it plans to build Connected Cloud, a distributed cloud platform for computing, security and content delivery. This includes building four new enterprise scale cloud sites in the Asia Pacific region including one in Auckland. The company will add distributed sites in another 50 cities worldwide aiming to reach markets underserved by traditional cloud providers. Akamai's Connected Cloud is based on Linode, which it acquired a year ago for US$900 million.
Amazon's AWS Lift programme aims to encourage small and medium size businesses to use its cloud services. It gives customers access to 200 cloud services and there is a starter pack with credits to help them get started.
Elon Musk's SpaceX has stopped Ukraine from using its satellite internet service for military purposes. Soon after Russia invaded SpaceX distributed thousands of Starlink dishes which connect users to the company's low Earth orbit satellite broadband network. The company says its technology was never meant to be used as a weapon and was provided for humanitarian purposes.
Network hardware giant Cisco turned in a solid second quarter result beating earnings and revenue forecasts. It has lifted its forecast for the year. CEO Chuck Robbins says demand for the company's hardware remains stable although the company has struggled with a backlog due to problems sourcing key components.
Chipmaker Intel finally got the "Sapphire Rapids" processors scheduled for 2022 out of the door. The company's new Xeon W-3400 and Xeon W-2400 product lines are built for workstation class devices and are not cheap: the list price for the top of the line Xeon w9–3495X is US$5889. Prices for the new processors start at US$359.
The Download Weekly is supported by Chorus New Zealand.