Commerce Commission investigates Vodafone FibreX
"What's in a name? that which we call a rose
By any other name would smell as sweet"
– Juliet's speech from Shakespeare's Romeo and Juliet
Consumer makes an important point. It writes:
"People considering signing up for Vodafone's FibreX service might be surprised to learn they won't actually be getting fibre broadband."
The new name for Vodafone's rebranded cable service implies customers are getting fibre. There's no getting away from that. The Commerce Commission says it will investigate FibreX.
FibreX is not fibre
But they're not getting fibre. Not fibre as New Zealanders understand the term in 2017. They get the old Vodafone hybrid fibre-coaxial.
The fact the term HFC includes the word fibre confuses matters. HFC is a long way from Ultrafast Broadband fibre. It is, in effect, a high-quality copper connection.
Vodafone's HFC cable has been around for ever. The company picked it up when it acquired TelstraClear. Before that, the network's name was Saturn. Even Saturn wasn't the original incarnation.
Before Saturn it was Kiwi Cable. That company was a long ahead of the market in the 1990s. If my memory serves me well — readers may be able to clarify — the company produced its own TV show. How modern.
Pimp my copper
Vodafone pimped the HFC network's software with an upgrade to DOCSIS 3.1. That means it has faster speeds1 than the old HFC network. But customers don't see all the extra performance all the time.
That's because, unlike a UFB fibre connection, FibreX customers share bandwidth. It's like fixed wireless broadband in that sense. If a lot of people are on a cable segment at the same time, the speed drops. In contrast, when you have an old fashioned ADSL or VDSL copper broadband connection, there is a dedicated line from the cabinet to your house.
Even on a good day FibreX is slower than a real fibre connection.
Look at the latest TrueNet performance measured by time-of-day chart. It's reproduced below, but you can see the chart better online.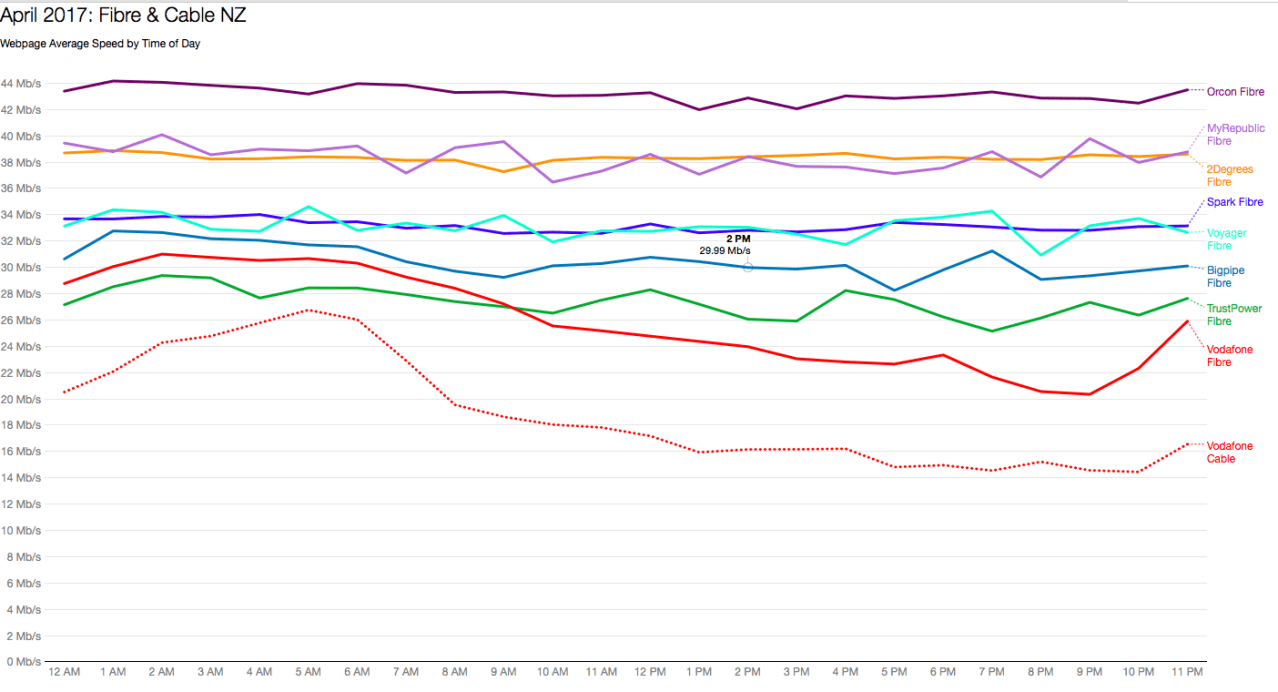 The FibreX speed is slower than any of the true fibre services. It is even slower than Vodafone fibre, which takes the wooden spoon in this TrueNet report.
Slow at peak times
More to the point, FibreX slows to a crawl at peak times. As you can see, it downloads web pages at about one-third of the speed you'd get from an Orcon connection.
It is clear, as Consumer says, the FibreX name is misleading.
The Commerce Commission cracked down on service providers calling fast broadband services 'gigabit'.
That decision was overzealous. Service providers around the world use gigabit to describe their broadband services. They run at the same speed as those in New Zealand, in some cases they are slower.
Many of those countries have tighter regulatory regimes than New Zealand.
A gigabit connection is what service providers buy wholesale. The speed drops because service providers need headroom for network control.
If ISPs can't describe broadband at 90 percent of a gigabit as "gigabit", then Vodafone shouldn't use FibreX. The broadband product is zero percent modern fibre.
---
In theory DOCSIS 3.1 can shovel data down a pipe at 10 gigabits per second. Australia's NBN find the technology exciting. Other Australians do not. ↩︎