Logitech Slim Combo iPad Pro keyboard review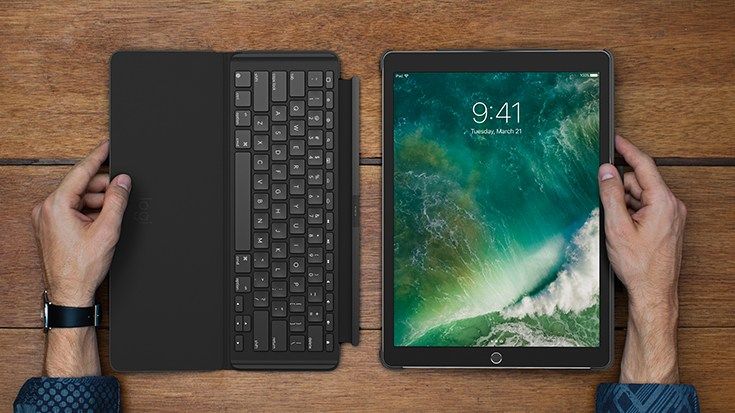 Logitech's Slim Combo for iPad Pro keyboard is a mixed bag. Its good points are excellent. Its less good features are, well, disappointing.
I'm testing the 12.9-inch iPad Pro version. You can buy it from Apple's New Zealand online store for $250. Sadly there is not an Apple Store in New Zealand. At the time of writing JB Hi-Fi has it for $230.
This compares with $270 for Apple's Smart Keyboard. So it's cheaper than Apple's keyboard, but not a lot cheaper.
You can't judge the Slim Combo without reference to the Smart Keyboard. The pair are a head-to-head choice. In some ways they are polar opposites. What one keyboard gets right, the other gets wrong.
Great typing
Let's start with the keys themselves. Logitech's Slim Combo feels great when you're typing. Keys are back-lit. This makes it easier to use in low light conditions.
The keys have positive travel. They move more than on the Smart Keyboard. The keys stretch across 270mm wide and 95mm deep. That's a little less depth that ideal, but the width is fine.
Each key is about the same size as on a normal keyboard: 15mm square for most keys. The top row of function keys are only half height. They are a little more cramped than on the Smart Keyboard.
In practice this means you can touch type on the Slim Combo without giving it a second thought. There's no audible click, but enough of a clatter to let you know what's going on.
If you loves Apple kit, but don't like the new laptop keyboards, then the Slim Combo and an iPad Pro could meet all your typing-on-the-go needs. It feels better than the keyboard on Apple's alternative.
The only negative I found with the keyboard is when it comes to reaching up and touching the screen. Somehow that is more comfortable on the Smart Keyboard Folio.
During testing it felt fine. When, after testing, I retried the Smart Keyboard Folio I realised I prefer Apple's version. There's not a lot in it and my preference could be a matter of familiarity.
Two parts
Logitech made the Slim Combo in two parts; the keyboard itself and a plastic case. This does two things. First, it turns the Slim Combo into a protective shell when you're on the move. Second, there's a Microsoft Surface-Style kickstand.
There is also a nylon loop to store an Apple Pencil. While handy, it looks a little tacky when the Slim Combo is new, I can only imagine it will get worse over time.
This sounds better on paper than the Slim Combo is in practice. While the keyboard is sound, the plastic case has a down-market feel.
It's not as solid as I'd like. When you use the kickstand on a desk, there's a disturbing wobble. You can't use the Slim Combo on your lap — if that's important to you — because the set up is too flimsy. I also found the it doesn't work as well on an airplane as the Smart Keyboard.
Another negative is the case is a pain to get on and off the iPad. My iPad Pro may be a laptop replacement when I'm on the move, but at home it's a tablet. The case adds nothing useful at those times. It feels as if the keyboard wants you to use the iPad as a laptop all the time.
It adds bulk. While the Slim Combo is light, it is also bulky.
Logitech Slim Combo verdict
Logitech has made great iPad keyboards in the past. This doesn't live up to the brand's reputation. There's not enough here to pull me away from Apple's keyboard.
That said, the Slim Combo is a welcome alternative to the Smart Keyboard. Some readers might prefer its typing action and there will be others who like the kickstand.