A practical guide to writing on the iPad
Learn why many writers find the iPad is better than a laptop and find out how to get started using it as your creative, digital typewriter.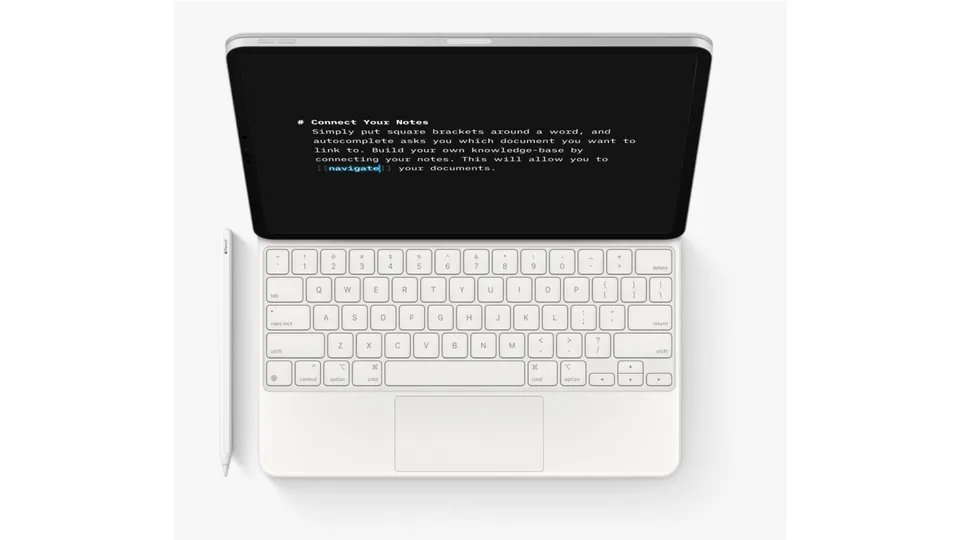 Apple didn't design the original iPad for writing. It was a device for reading or viewing media, not creating it. Over the years it has become a great portable writing tool. Many writers find it is better than a laptop.
Here we look at why the iPad could be the best option for you. We examine which iPad or keyboard to choose and outline the best iPad writing app.
On this page:
---
Why is the iPad a great writing tool?
From the outset it was clear the iPad could do more than display media.
It has evolved to the point where it can do everything a laptop can. Today's iPads can be better than laptops for many creative tasks.
The iPad has clear advantages for people who need to write:
Long battery life. Sure, you can find laptops that will go the best part of a day between charges. Apple's MacBooks with the M1 or M2 processor sip electricity. You'll struggle to find a Windows laptop which beats an iPad for battery life.

Measure-for-measure, an iPad will last longer between charges than a conventional computer.

Focus. While you can now open side-by-side screens or use Stage Manager, iPadOS lends itself to doing one thing at a time. There is no clutter. With the iPad you can focus on writing without other apps distracting you. Turning off notifications and concentrating is easier. This is why you can see the iPad as the closest modern equal to a portable typewriter.

Portable. The iPad is more portable than any laptop. It can go places laptops don't. The iPad Air weighs in at 460 grams. It will fit in a large pocket. The iPad Mini weighs 300 grams and is smaller again.

Robust. There are no moving parts on an iPad. No hinges. This makes it more robust than a laptop.

Work while standing. You can work on an iPad when you are standing. It is possible to type on the screen keyboard using your thumbs. I've done this at stand up press conferences and while waiting in queues to board planes.
This means you can write in more places, more often. Yes, you can do that on a phone, but it's not the best writing experience. It is not easy to write standing up with a laptop.
The same applies if, say, you are sitting in a cramped cramped on a crowded flight or in a train. At a pinch you can tap out words holding the iPad in vertical or portrait mode when there's no room for a keyboard.
Being able to use the taller portrait orientation is an overlooked bonus. There are subtle ergonomic problems with writing across a wide screen. A wider column makes errors harder to spot. A narrow width is easier to proof-read. If you write words to print on paper, the display mirrors how your words will look on the finished document.
In my experience, the smaller iPads work better when you are standing, the 12.9-inch iPad Pro is more unwieldy.

Great screens. iPads have glorious, well-lit high resolution screens. Higher resolution means your eyes don't tire as fast. You can work for longer stretches and concentrate for longer. Y

No waiting. An iPad is always ready to go the moment you switch on. Yes, modern laptops can do the same, but you can always start writing in seconds on an iPad.
---
Which iPad should you choose for writing?
You don't need a high-end iPad for writing. Apple sells the 9th generation iPad with a 10.2 inch screen for NZ$649. It has everything you need to write. It is powerful enough to handle almost every writing app and has a screen you'll have no trouble living with.
Likewise, the iPad mini, New Zealand prices start at NZ$1000, will fit in a pocket and can handle basic writing tasks. An iPad mini is realistically the smallest practical device for serious writing while on the move.
Writing on an iPad Pro with a suitable keyboard is not that different from writing on a laptop. The larger screen is easier to read than other iPads, especially if you have poor eyesight, but they all display your text clearly.
If writing is your focus, your model choice will determine which keyboards you can use. If use an Apple Pencil for note-taking, the iPad model determines your choices.
Storage
iPads come with a range of storage options. Upgrading storage isn't practical, which means you need to be careful when buying.
Base level iPad storage options start at 64GB. Smaller models can store up to 256GB, although the iPad Pro goes all the way to 2TB of storage.
By 2023 standards, 64GB is not a lot of storage. You can get by, but the moment you decide to keep music or video libraries on your iPad you'll bump up against limits.
Go with the 256GB model if your budget can stretch that far. At the time of writing that will add NZ$300 to the device price. Often you'd do better trading down to an iPad with more storage than buying a more powerful device that runs out of storage.
It's easy to overbuy storage on an iPad Pro. You are unlikely to need 2TB unless you need to keep vast amounts of video and audio files with you all the time. A 512GB model will be enough for most iPad Pro buyers. Remember, you can offload rarely used files to cloud services.
Consider other tasks when choosing
Given you can use every iPad for writing, let the other tasks you plan for the device determine your choice.
Even when you add a keyboard, iPads are smaller, lighter and more portable than most laptops. Apple's MacBook Air gets close. The nearest non-Apple competitor would be a Microsoft Surface tablet.
If money is no object, you can choose the iPad that you find comfortable to read. If it is an object, pick the iPad you can afford.
Do I need a Sim-card iPad?
Few writers need Sim-card equipped iPads that can connect to cellular networks.
You'll find Wi-Fi is available in many of the places where you will want to write. Where it isn't, you can tether your iPad to your phone and connect that way.
Tethering works with both iPhones and Android phones. The experience is better and smoother if you have an iPhone, but don't get hung up on this point, it isn't a deal breaker. Android phones work fine.
Cellular adds around NZ$220 to the price of a Wi-Fi iPad. Spend the money saved on storage or a better keyboard.
---
iPad keyboards
A keyboard isn't essential if you own an iPad. You can do a lot without one and there is always the Apple Pencil and handwriting recognition. Apple's new Scribble feature can change the way you think about your iPad.
But this post is about writing on an iPad. A keyboard makes that easier.
There is no shortage of iPad keyboards to choose from. Any iPad will work with any Bluetooth keyboard, but only a handful of keyboards are made to fit exactly to each iPad model.
When you buy an iPad, chances are someone will attempt to sell you a keyboard as an add-on. It makes sense to buy the keyboard at the same time. If the salesperson is knowledgeable, they can help you get the right keyboard for your iPad. They can also help you get the one that suits you best and let you look closer at your options.
Apple keyboards are the obvious choice. But not always and not for everyone. Choose the keyboard you feel comfortable with. That's from both an ergonomic point of view and from a budget point of view.
Whether you choose an Apple keyboard or an alternative, match it with your iPad. Keyboards double up as protective covers. A better fit means better protection. This sounds obvious, but I've come across people who run into trouble with the wrong iPad keyboard.
The other thing to watch is that not every Apple iPad keyboard is available for every model. Buying at the same time as the iPad from a retailer who knows what they are doing can save you problems later.
Magic Keyboard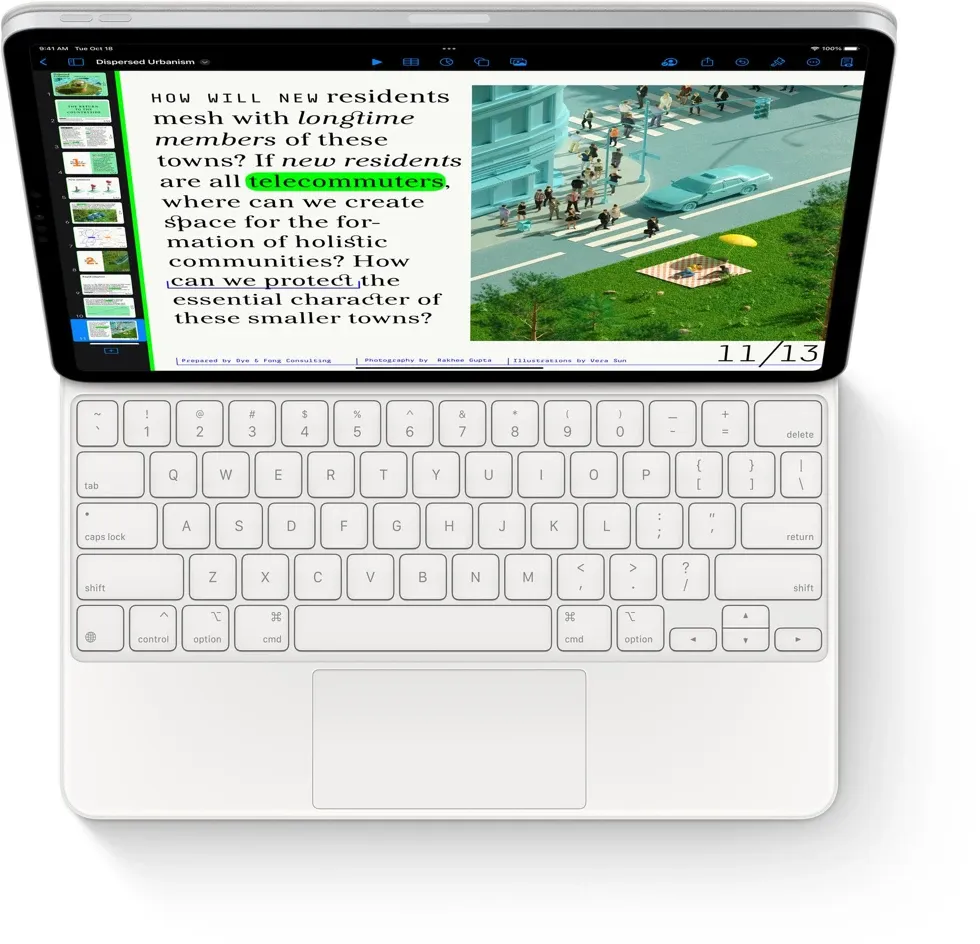 At NZ$620 a pop, Apple's Magic Keyboard is an expensive, Rolls Royce option. You can use it for writing on an iPad Air or an iPad Pro. It doesn't fit the less expensive iPad models.
It's a good keyboard but it is not perfect.
You might expect that when you use it at a desk or on a flat surface it differs from the laptop keyboard experience.
That's not the case. The top part, that's the iPad, is heavier than the keyboard. Together, the iPad plus Magic Keyboard, weigh more than a MacBook Air.
There are two hinges, the second one allows you to adjust the viewing angle.
The keys are excellent for typing. I'm a touch typist and can run into problems with some tablet keyboards. This one is touch-typeable from the moment it's opened. Keys are backlit, something that doesn't happen on the less expensive Apple keyboards. And there is a touchpad, which works exactly as you'd expect.
Smart Keyboard Folio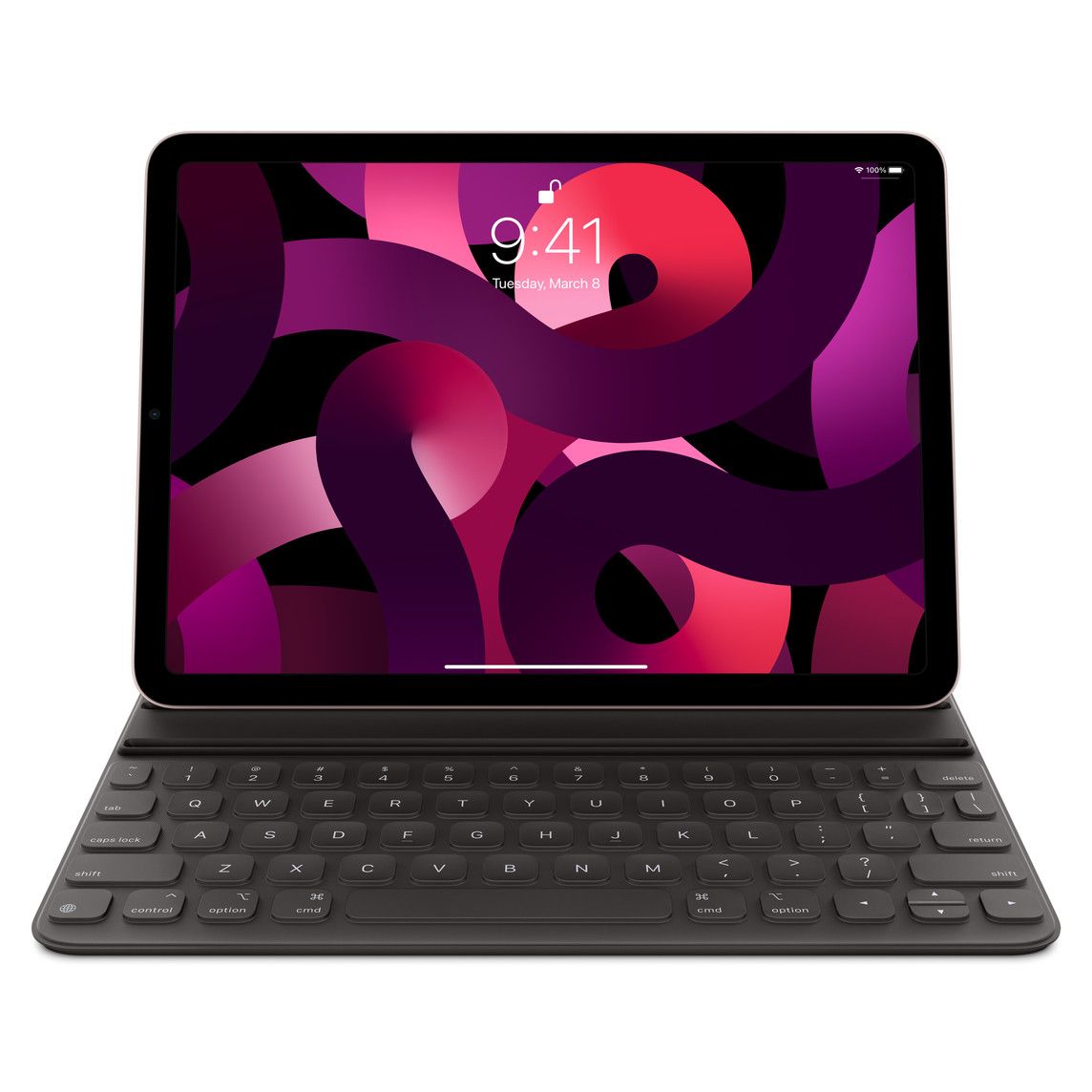 The Apple Smart Keyboard Folio is a less expensive alternative. There are models for iPad Pros and iPad Airs. Prices start at NZ$390.
This is the keyboard I choose when I'm on the move. It has the best balance of function and price. Again, it gives the iPad a laptop feel. Yet it is more flexible and feels less robust than the Magic Keyboard.
It doesn't offer backlighting and there is no trackpad. My Smart Keyboard Folio is now coming up to four years old and is showing signs of wear and tear. It doesn't last anything like as long as the iPad.
Magic Keyboard Folio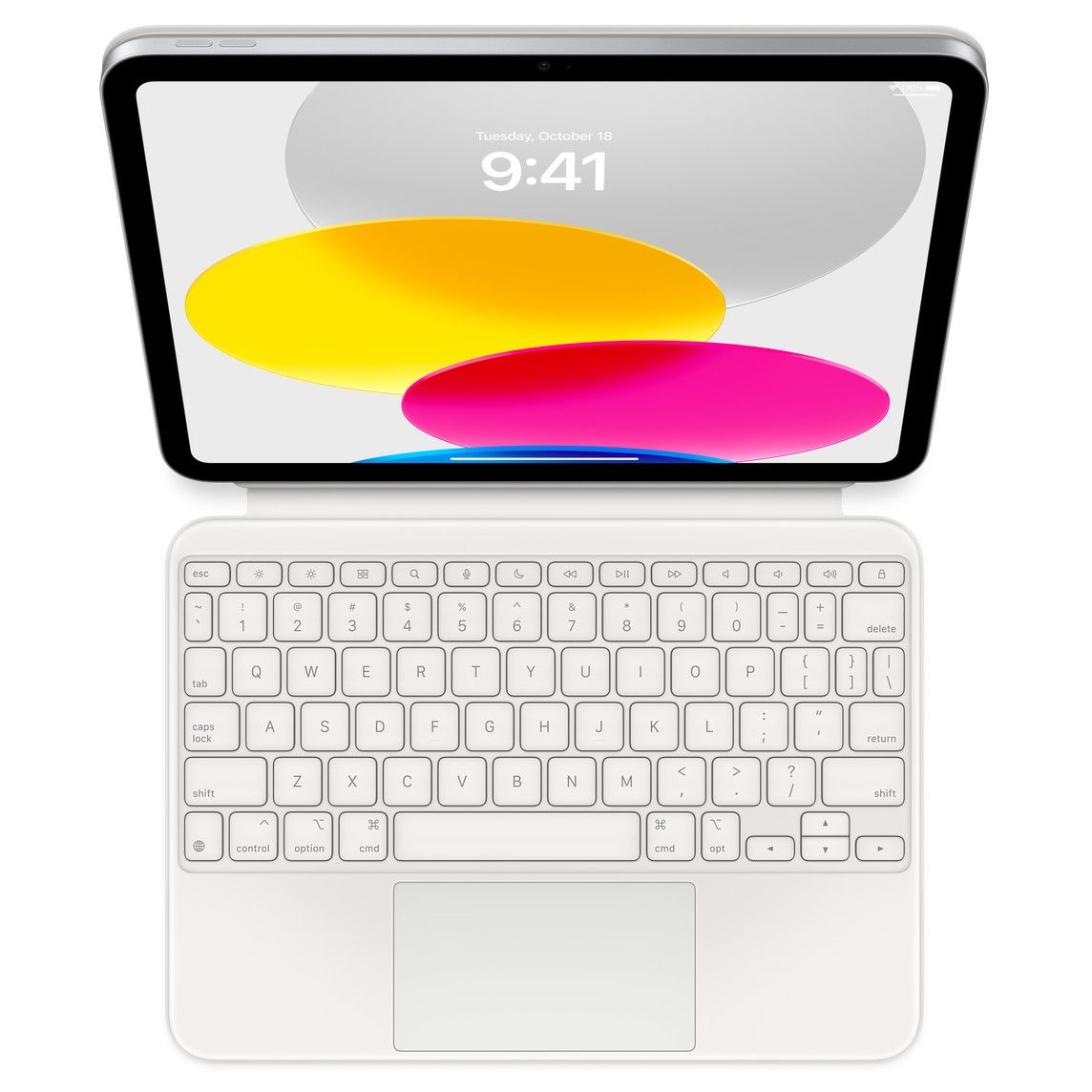 If you have a 10th generation iPad, not the Pro, not the Air, then the NZ$530 Magic Keyboard Folio is the top choice. It's not as flexible for positioning as the iPad Magic Keyboard, but the keys and the trackpad are as good. I found it easy to touch type.
Smart Keyboard for iPad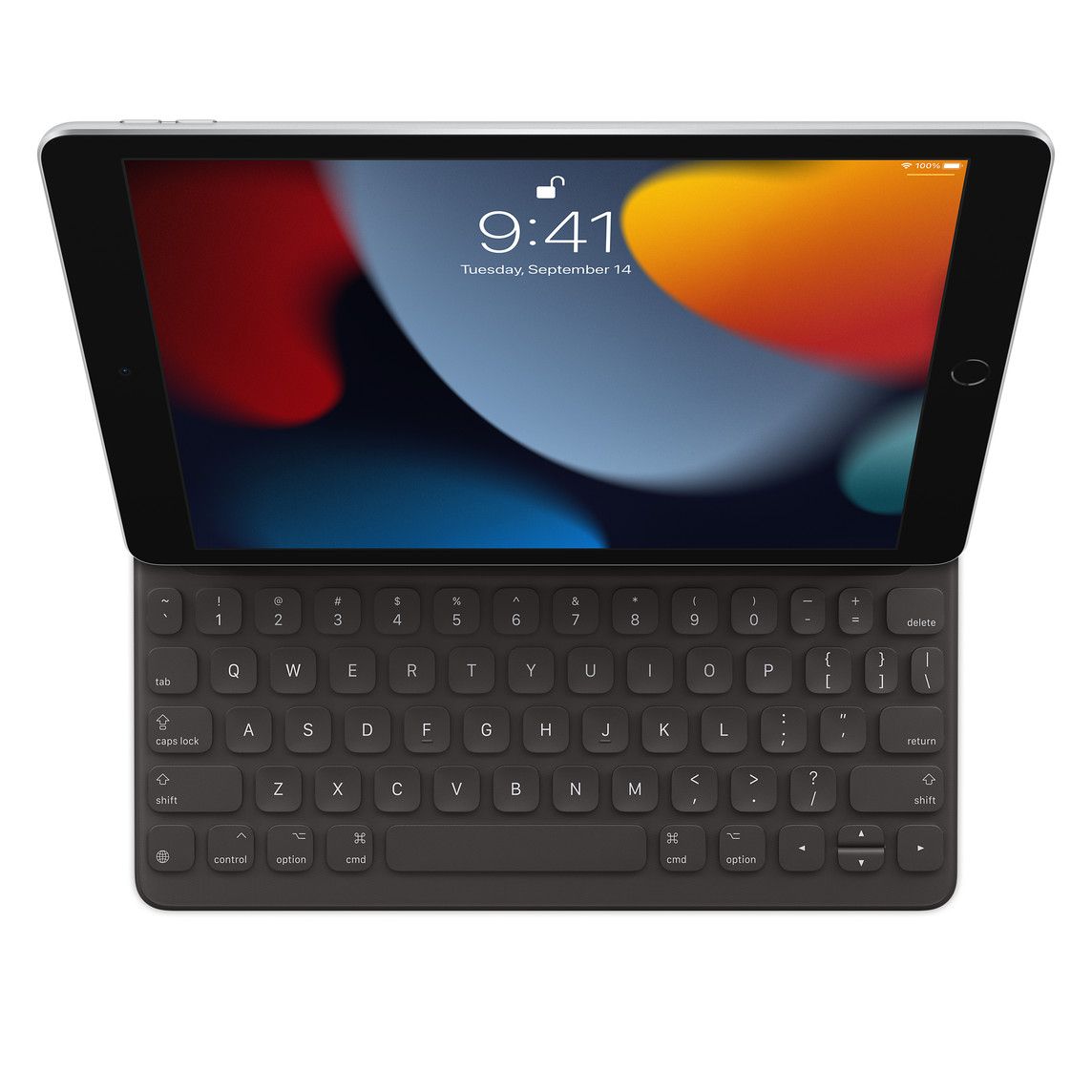 Apple's Smart Keyboard is compatible with the iPad, 3rd generation iPad Air and 10.5 inch iPad Pro. Prices start at $320. It's the most basic Apple iPad keyboard, but covers all the bases and gets the job done. I found it harder to adapt my touch-typing technique to the Smart Keyboard, but got there soon enough.
Not all Apple keyboards are available for all iPads. If you buy a more expensive iPad, you'll need a more expensive Apple keyboard.
A word of warning. Apple iPad keyboards flex more than you might expect if you are typing on your lap. When used this way they are not as solid as laptops.
Logitech iPad keyboards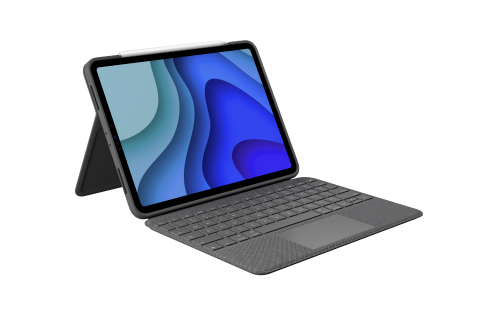 Beyond Apple's own keyboards, Logitech is the best alternative. You could argue some models are better than their Apple equivalents.
There's a wide range to choose from. Again, different keyboards work with different iPad versions. The difference between Apple and Logitech keyboards is price. You can save up to a third of the price for similar functionality.
On the whole Logitech keyboards work as well as Apple models. All keyboards mentioned here double as protective covers for iPad screens. Logitech keyboards do this a little better than Apple's keyboards. The Logitech keyboard plus iPad combinations are thicker than the Apple ones and the function keys differ.
Brydge makes hard shell keyboards that turn your iPad into a laptop. You end up with something that feels like a MacBook. I haven't seen the recent Bridge keyboards, but when I borrowed one for review, it was heavier than Apple's. The keys were smaller. Of all the keyboards mentioned here I found the Brydge keyboards harder to type on. Yet they could be perfect for you.
Protection
All keyboards designed to work with iPads offer a degree of protection. That's important if you are mobile. iPads are not fragile. Yet once you start moving the potential for dropping them or other damage increases.
Sometimes I use a first generation Apple Bluetooth keyboard and a mStand tablet from Rain Design to hold the iPad. It's a simple and elegant approach. There are many other options. Any store that sells iPads will have a selection.
---
Writing on an iPad with Apple Pencil
As mentioned earlier, you can write on an iPad using an Apple Pencil and handwriting recognition. There are two Pencils, Apple calls them the first and second generation models.
Which one you can use depends on your iPad model. Each iPad only supports one Pencil generation. The first generation Pencil costs NZ$200 and the second costs $280.
The main difference between generations is how the Pencil charges. The second generation Pencil is flat and magnetised on one side. It connects to the side of the iPad for charging.
First generation Pencil charge through the blunt end, which looks clumsy, but works fine in practice. On the down side, you have to remove the cap and it is easy to lose that cap. The older Pencil was round, which means it can roll off a table or desktop, the flat side on the second generation Pencil stops that from happening
Pencil-based note taking apps
Notes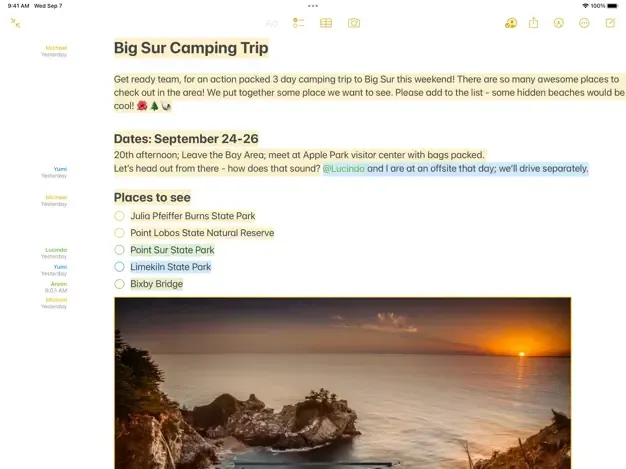 Apple's free Notes app comes with every iPad. It's great for taking short handwritten notes and has text recognition built in. It's a good place to try the Pencil before spending money on a third-party app.
To use immediate handwriting recognition in Notes chose the pencil tool marked with an A.
The alternative is use another pencil tool, then highlight and choose to convert the word.
Both approaches are fast on even a modest iPad. The technology is forgiving, I have terrible handwriting and it gets about 95 per cent of what I write.
Goodnotes 5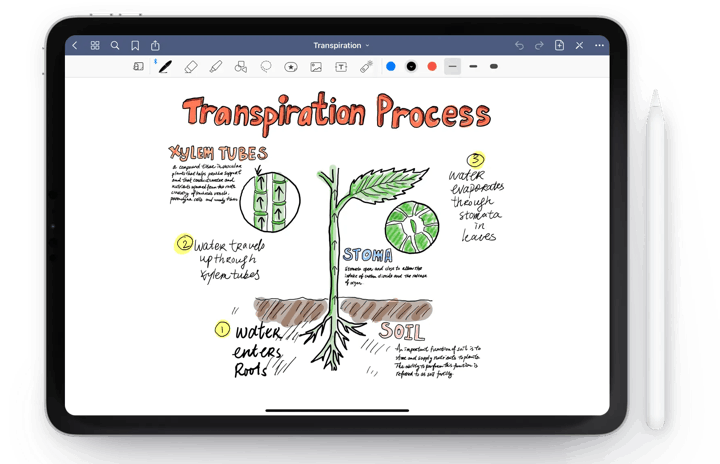 GoodNotes is a great third-part alternative to Apple Notes. It uses a notebook metaphor. You can write a limited number of notes in one of three "notebooks" for free, then you need to pay a one-off US$15 for unlimited use. Paying also unlocks the handwriting recognition feature.
Text recognition is as fast as on Apple Notes and, without extensive testing, the accuracy appears to be on a par with Apple's.
GoodNotes is a better choice than Notes if you plan to use your iPad more for handwriting than typing. There's a strong search feature and note organisation and sharing is a strength. It won the Apple 2022 iPad App of the Year award.
Notability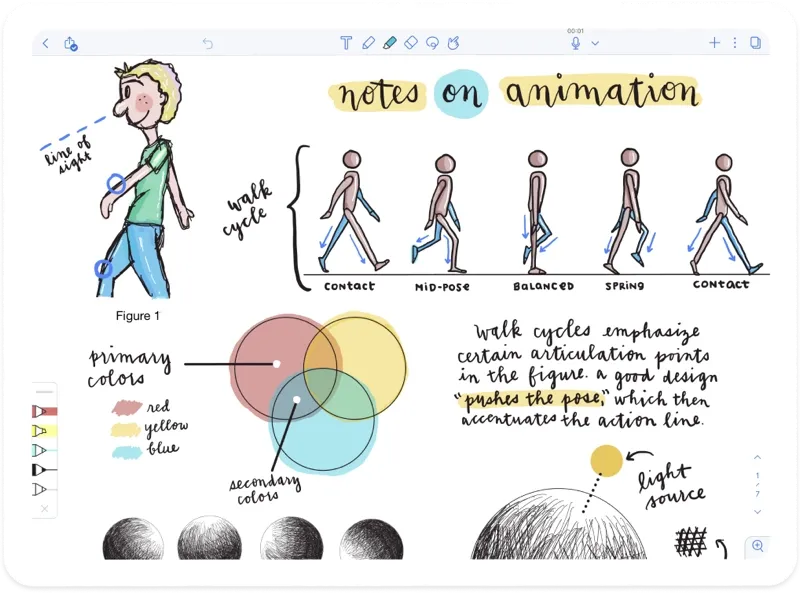 GoodNote's main competitor is Notability from Ginger Labs. You can download the app for free but that doesn't include handwriting recognition and only allows a limited number of edits. To get the full app you need to buy an annual subscription.
Ginger Labs is coy about the price of the subscription, you don't get to see the price until you install the app. I don't like that.
The price appears to change from country to country. When I checked on my iPad, the subscription was $21, although it isn't clear if that is NZ dollars or US dollars. Either way that makes Notability more expensive than Goodnotes. The price is hard to justify.
Noteful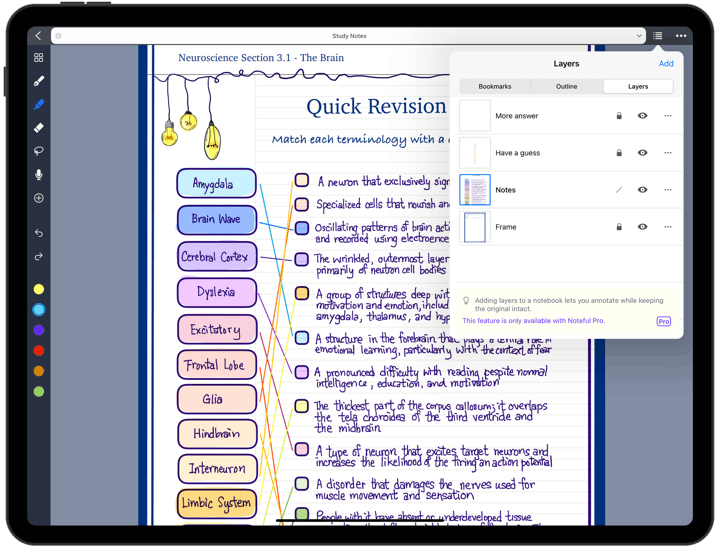 Noteful is like Goodnotes and Notability, but doesn't have handwriting recognition.
In use, there's a delicious minimal user interface. The app uses the notebook metaphor. It offers something called "layers". That's an idea familiar to people who use photo editing or graphic design software. Searching for notes is harder work in Noteful than in its rivals.
Like Ginger Labs, the company is coy about disclosing its price until you have the app loaded on your iPad. You need to pay a one-off US$5 to unlock all the features, which is reasonable, but transparent pricing would be better.
OneNote
If you have a Microsoft Office subscription, OneNote is an option. It has good basic handwriting recognition. But it is more clumsy than the alternatives and impractical for anything more than the shortest phrases.
Keyboard-based writing apps
There's a wide range of word processors, text editors and other writing apps for iPad. You'll recognise the names of a few, they are iPad versions of popular apps for PCs and Macs. This guide is not comprehensive, but it covers the important options and the ones you are likely to come across.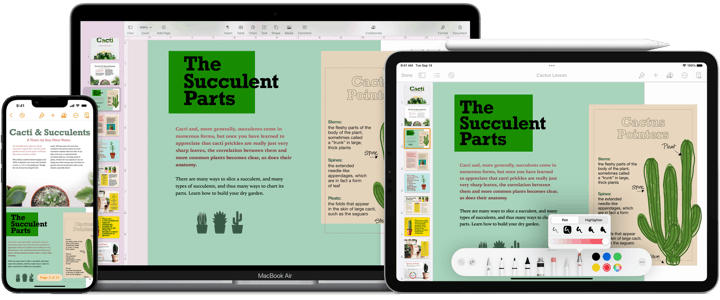 Apple Pages
Pages is not the best-known, the most popular or the perfect writing tool, but comes free with every iPad and Mac. It's the iPad writing app you'll see first.
It is part of Apple's own productivity software suite: iWorks. Alongside Pages, iWorks includes Numbers, a spreadsheet and Keynote, a presentation manager.
Apple and everyone else describes Pages as a word-processor, which is true. Yet unlike other word-processors, Pages focuses on page design.
In a sense it sits somewhere between Microsoft Word and Adobe InDesign although it has far fewer features than both. That said, you could write and layout a print magazine or a book with Pages.
Page design works better than you might expect on an iPad. While you'll get better results with a large screen iPad Pro, working on an 10-inch iPad is possible. Pages is ideal, a better bet than Word or Docs, if you plan to create Apple Books or PDFs.
Apple's Pages could be all the word processor you need. It will open documents created with Word or Google Docs and you can send Pages documents in the Word format. Round trips work fine almost all the time. I've seen problems with earlier versions of Pages, not with the current Pages 12.
You can deal with corrections and Track Changes between Word and Pages documents.
Presenter mode
There's one Pages feature I love, even if it is not my first choice for writing on the iPad. Presenter Mode turns the iPad into an autocue. When I'm on a long radio broadcast, presenting live or doing similar work I use it as a prompt.
Pages has better cloud support than Word, but you will need an Apple iCloud account to make use of this. While Pages' online collaboration is superior to Word, Google Docs is better again.
Apple's Pages templates are better than Microsoft's basic Word templates. If you are new to word processing, Pages is easier to learn and master. That said, if you have learned Word elsewhere, there may be some unlearning to do before you get on top of Pages.
Pages isn't the best writing tool for everyone. Yet it is a solid option that is free and simple. At the very least, you should give it a try before spending money on another iPad writing app.
---
Microsoft Word for iPad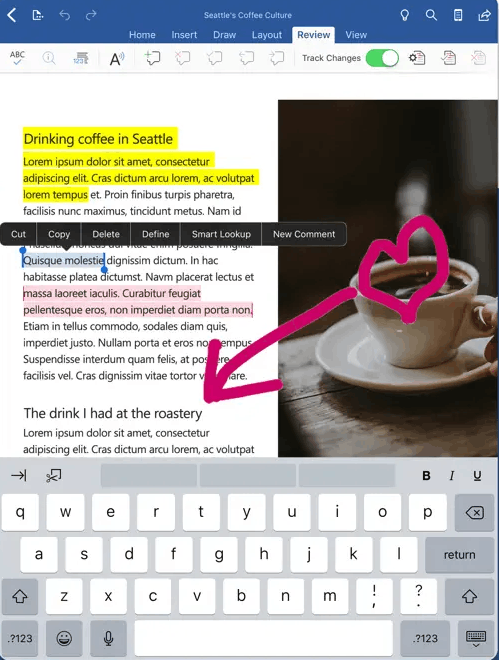 Microsoft's Word is good on an iPad. If you know Word from a laptop or desktop, Windows or MacOS, you'll be immediately at home.
All the important features for everyday folk are here. The app is the most feature rich iPad word processor. Word power users might miss advanced features, they are not the target market.
Add a decent keyboard to your iPad and the Word experience is on a par with that laptop or desktop. I'd argue the experience is better. Because there are fewer features the user interface is less cluttered, easier to navigate.
While the interface will be familiar and easy to use if you know Word, it won't challenge newcomers. There are points where it doesn't act like other iPad apps, especially when storing or retrieving files. Then there are the needy messages from Microsoft
Microsoft designed Word on the iPad to work with its own OneDrive cloud service. The chances are you'll need a Microsoft subscription to use the app and storage comes as part of that subscription. It's possible to access files stored on the iPad or in iCloud direct from Word, but that's not the first choice. Microsoft has added an impressive array of alternative cloud storage choices.
Another way Word departs from the standard iPad user interface is the way it relates to the keyboard. There are keyboard shortcuts you may know from the Mac or PC that work, others don't. You'll find out with practice.
Word remains the most feature rich and complete iPad word processor. If you use Word on a laptop or desktop it will be familiar. The interface doesn't always act like a standard iPad app, but there's nothing that is likely to be a barrier for most people.
The app is a free download. The software remains free if your iPad's screen is smaller than 10.1 inches. Beyond that you'll need a Microsoft 365 licence. A one person licence is NZ$120 a year, prices are different overseas. It covers you on up to five devices including tablets and conventional computers. The 365 Family licence at $165 a year means up to six people can use the software.
If you need Word to work on your iPad at home, check if your employer or place of study has a licence you can use.
Word isn't the right iPad writing app for everyone. If you already use it or know it, it can make sense to stick with what you know. For many users it offers far more than you might need or want to pay for.
Microsoft Word for the web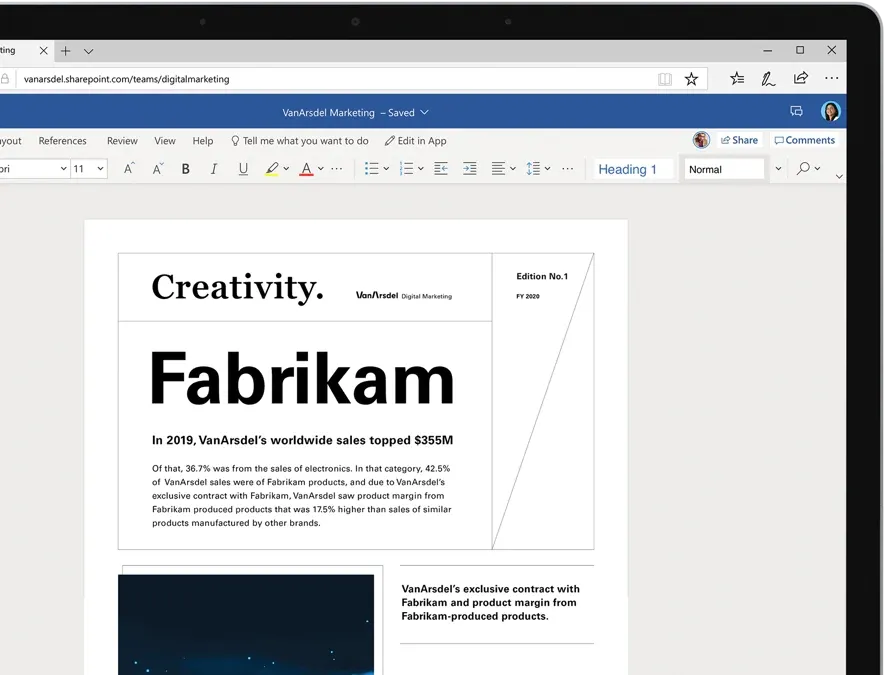 If you love Office or Word, but are on a tight budget, there's a free web version of Office that works fine on an iPad. It's had other names over the years. These days Microsoft calls it 'Office'.
There are ways the web version of Office is like Google Docs. Like Google Docs, it stores your finished documents online. In this case Office uses Microsoft OneDrive, not Google's cloud storage. Microsoft Office online can't handle files larger than 2GB. This is not going to trouble anyone unless documents contain embedded media.
Microsoft's web version of Office has fewer features than the PC or Mac version. It is closer to the iPad version. The user interface is distinct from both the PC and the iPad versions. You will need a live and consistent internet connection to use the online app. In practice you'll notice more lag than when writing on the other Word apps. This has little to do with connection speed. I tested on a gigabit fibre connection and the latency was the same as on a slower connection.
The online version will open any file format supported by the desktop Word app. Saving to the OneDrive cloud is automatic. There are tools for sharing documents with colleagues. If sharing is important to you, Google Docs does this better.
---
Google Docs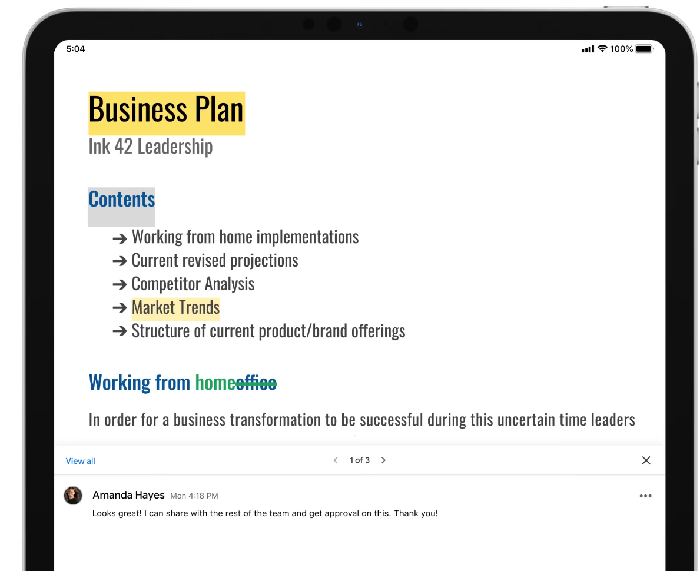 You can use Google Docs two ways on the iPad. It will work as a web app in your iPad's Safari browser or you can download and install the free iPad app. You'll get a better experience using the browser version, you need a decent internet connection for that. If you want to use Google Docs offline there is an iPad app, but it's mediocre compared with the other options on this page.
The free online version of Google Docs is almost identical to the version in the paid-for Google Workspace. New Zealand prices for Google Workspace start at NZ$9 a month for a plan with 30 GB of storage. A version with 2 TB of storage is a heft NZ$18 a month. This is more expensive than Microsoft Office. The most noticeable difference between the free and paid versions of Google Docs is that it is harder to create templates in the free version.
Google built Docs for online work. It is the best option if you collaborate on documents with remote colleagues. It's less powerful than Office and has fewer features than most of the other choices listed on this page. Getting started is easier, but you can rub up against limitations.
Things get tricky when you have large documents. The app is fine for up to a couple of thousand words. It starts to slow down as the file grows and would be slow if you were editing an entire book.
One downside is there can be problems if you lose your internet connection or you want to work offline, say while on a flight. The Google Docs iPad app helps, it can store documents in the iPad's memory. You have to sign into a Google account before using the app online or offline. This can be tricky, in the past I've found myself logged out while offline and unable to use the app.
I recommend using Google Docs if you already use the app elsewhere or if you work with others using the app. Otherwise you can do better elsewhere.
---
Collabora Office
Collabora Office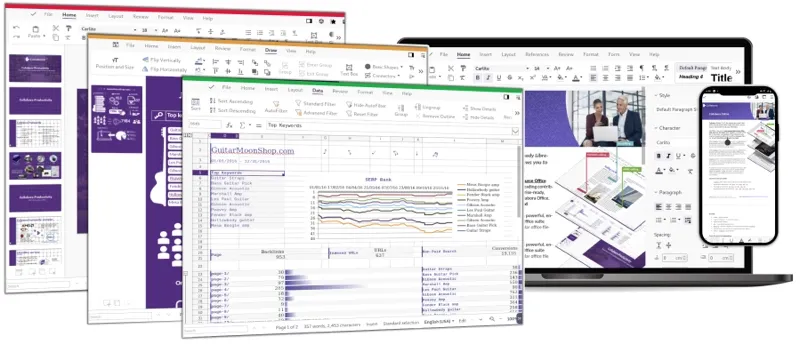 Collabora Office is a promising mobile open source document editing suite based on LibreOffice. It's compatible with Microsoft Office and works with the Open Document Format. There's iPad app and an online version. The app is free for "testing", a subscription std US$20 a year.
My 2021 Collabora Office review warns the software wasn't ready for everyday use and that it jars with iOS. Both remain true. There are fewer bugs and the software is more stable, but it is hard going. You'd need to be an open source devotee to choose it, and people who feel that way are less inclined to use an iPad.
---
Markdown editors
Markdown is a markup (yes that does sound odd) language used to format text with simple codes. Type a single hash # character at the start of the line for a top level head, two hashes means second level head and so on. It takes seconds to learn, a day to master.
This approach leaves formatting that is easy for humans to read. You can create Markdown using a text editor. Markdown editors will show you how your formatting looks in a finished document. You can send finished Markdown documents direct to WordPress or Ghost blogs. Markdown editors usually let you convert them into other word processor formats.
It's possible to start writing on your iPad using IA Writer, make edits on an iPhone using a text editor and finish on, say, a desktop using Byword.
---
IA Writer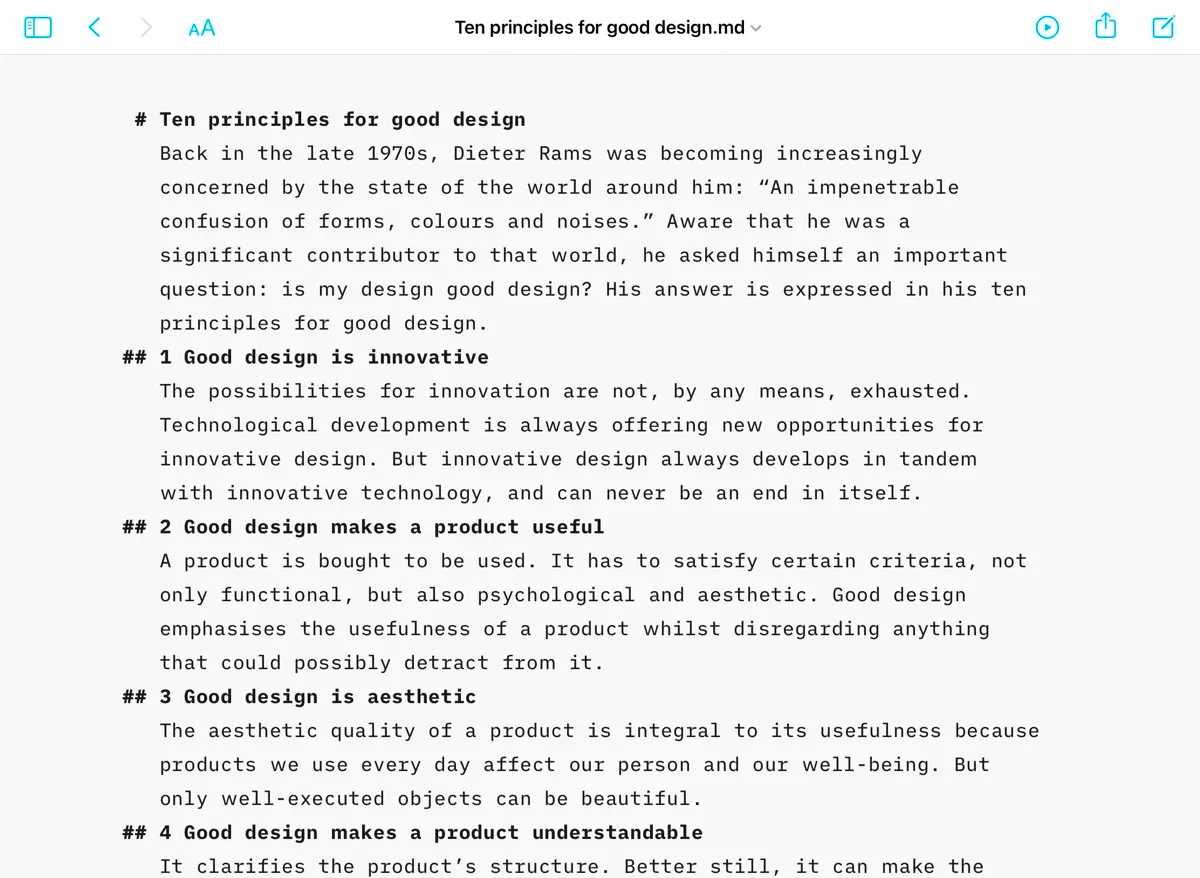 On one level there is nothing fancy or complicated about IA Writer. That's its attraction. You can start laying down words within minutes.
In recent years the app's developers have added more features. Yet it retains its simple user interface. It hides that added complexity from sight until you need it. Many users never will.
The minimal interface lets you focus on putting words on the screen. Coupled with the iPadOS, it becomes the closest thing you can get to an old school typewriter and paper.
One feature you may find useful is the style checker which helps improve your writing. It looks for clichés, fillers or redundancies but leaves it up to you to do anything about them.
In the past Writer forced you to store documents in an iCloud or Dropbox account. Now you can save them on your iPad, a better idea if you ever work away from an internet connection.
IA Writer's price continues to climb faster than inflation. When I first bought the software I paid NZ$3. It was a promotional price when the app was in its infancy. Today the software costs NZ$50. If you buy the iPad version, you can use it on an iPhone at no extra cost. Buying the MacOS version will set you back another $50. It remains good value, but is no longer something you can afford and then discard if it doesn't work for you. Luckily there are free trial versions.
---
Byword
Byword is a great alternative to IA Writer on the iPad. It has a much lower NZ$10 price, which makes it a bargain. Byword has the same minimalist user interface.
Like IA Writer, Byword co-operates with blogs like WordPress or Medium and plays nice with Evernote. If anything Byword is simpler to use and easier to learn than its main rival.
Byword can look better on an iPad screen than IA Writer. You can choose the font and the size of your type.
Unlike IA Writer, which gets constant attention and new features, Byword has changed little in close to a decade. This doesn't have to be a bad thing, the app is stable and does what it sets out to do without fuss.
---
Scrivener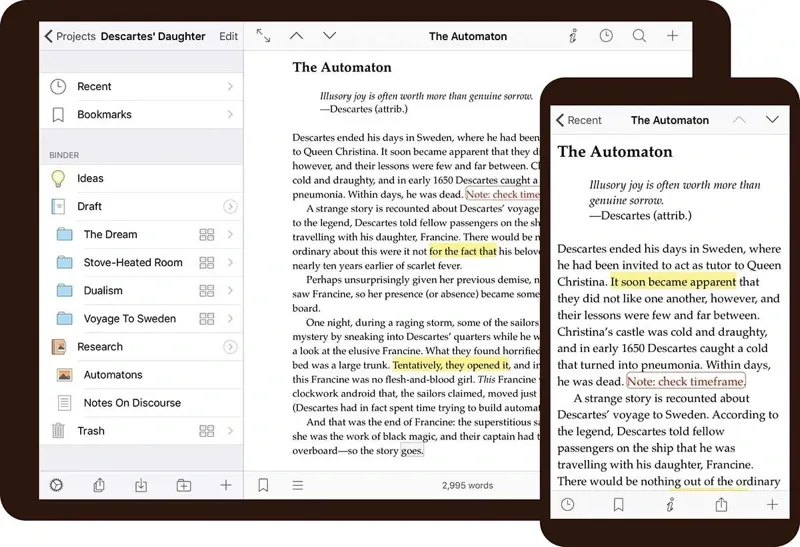 Scrivener (NZ$24 in the App Store) sits at the opposite end of the writing app spectrum from Markdown editors like IA Writer or Byword.
Markdown editors hide complexity. Scrivener is about providing the all the complexity a writer needs in one place.
In a sense, Microsoft Word is a more appropriate point of comparison. Although in practice the gulf between Scrivener and Word is as wide as the gulf between it and IA Writer.
In a sense, Microsoft Word is a more appropriate point of comparison than the Markdown editors. Although in practice the gulf between Scrivener and Word is as wide as the gulf between it and IA Writer.
If anything Word requires even more work to master than Scrivener. People don't notice that effort because they pick up the complexity of Word almost by osmosis. It can take years, often starting at school.
Switching to Scrivener means doing all that learning in a matter of days or weeks. It's a steep learning curve. You may find it rewarding if your brain thinks in the right way. I'm afraid it doesn't work for me.
Literature and Latte, the company behind Scrivener, built it for ambitious writing jobs. There are tools to help, such as a cork board for keeping notes. You can attach the parts of your project to a single file and even colour code them making them easier to navigate.
Because Scrivener is complex, users tend to have a few windows open as they work. This lends itself to a large screen on the desktop. No doubt there will be Scrivener fans reading this who love the app running on a small MacBook. Yet, I'd argue the app works best with a larger screen.
Which brings up to the iPad version of Scrivener. Why might you choose it? The iPad app is feature rich although it doesn't include everything in the desktop version, although it does include the cork board.
Literature & Latte's marketing suggests the iPad app complements the desktop app. You might use it when working away from your desk or in the field researching. It allows you to push on while on an airplane flight or a train journey. To this end, everything you do on the iPad syncs with your desktop project.
I suspect, but don't know, that few people use the iPad app without also using Scrivener on the desktop. If it sounds like something you need, try the free desktop download first before buying the app.
---
Ulysses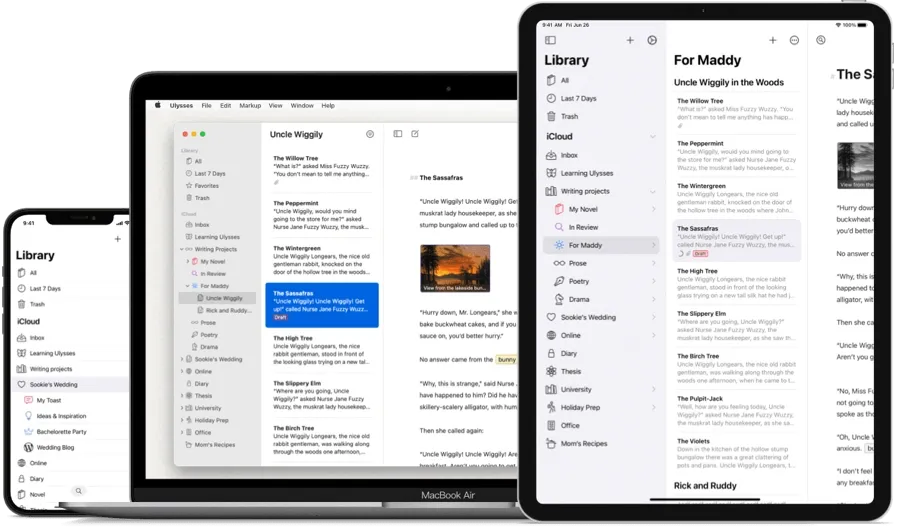 Ulysses uses the same Markdown formatting as iA Writer and Byword. It adds more word processor-like features. This sounds contradictory. Yet it marries a minimalist look and feel with background complexity. You'll either love it or it will bewilder you.
Like Scrivener, Ulysses - the company shares the app's name - pitches its software at people working on complex projects. And like Scrivener it also caters for people writing smaller articles. It has tools to help you publish direct to popular blog sites.
The Markdown in Ulysses is somewhat non-standard. You may struggle at first moving to the app after using another Markdown editor. If you haven't used Markdown before, this won't be an issue.
At first look, Ulysses is pretty where Scrivener's cluttered look is ugly. It doesn't take long before Ulysses can become as cluttered.
Tools like the goal display telling you how many words you still need to write can be both a distraction and a source of demotivation.
Expensive
The elephant in the room with Ulysses is its price. The app is a free download. A subscription costs NZ$11 a month or $75 a year which is expensive for what is, at core, a Markdown editor with trimmings.
Most apps with a similar functionality have a one-off price. The desktop version of Scrivener has a one-off price of NZ$100.
A family licence for Microsoft Office that includes Word, other apps and storage for up to six people is NZ$165. You can run the software on iPads, laptops, desktops or phones.
The NZ$75 Ulysses subscription allows you to use both the desktop and iPad versions
If Ulysses is right for you and gels with your thought processes, the price is a bargain. You'll recover it in no time. Otherwise, do your wallet a favour and consider everything else first.
Other writing apps
Wordprocessors, Markdown editors and text editors are not your only options. A handful of iPad users choose to write documents using Bear. It's a flexible note-taking app that blurs the distinction between a notes app and an editor. Another option is Evernote, although it is more about note-taking, less about writing. Simplenote is a free alternative.
---
Recommendations: iPad writing apps
Take the path of least resistance. If your employer or school pays for a Microsoft Office or Google Workspace account, use it. You won't have to pay anything, there should be support and you won't have to learn how to use an alternative.
Otherwise, look at Apple Pages first. It's free, works well on the iPad's touch screen and Apple designed it with the entire ecosystem in mind. It should have all the features you need. Best of all, you can start writing in Pages on your iPad and switch to working on an iPhone or Mac without missing a beat.
If you are coming from another writing tool, take time to adjust to Pages. It's worth the effort and you'll save money that might be better spent elsewhere.
An alternative strategy is to choose radical simplicity. Markdown editors like IA Writer or Byword let you focus on your words in the most efficient way possible. Disclosure: this is what I do.
Invest time and money finding the keyboard that works best for you. While it's easy to buy devices online, it pays to go to a store and try keyboard options before parting with any cash.
💡
*While this post covers the main elements of writing on an iPad, it isn't comprehensive. It ignores plain text editors and has overlooked less popular apps. If you think it's missing something important get in touch with me. You can find my email on the
About
page or contact me on Twitter @billbennettnz.