iPad long-term review: 10th-generation brings bigger screen
Apple's 10th-generation iPad updates almost every aspect of the tablet. It's a great device, but its greatness comes with a price increase and a couple of questionable design choices.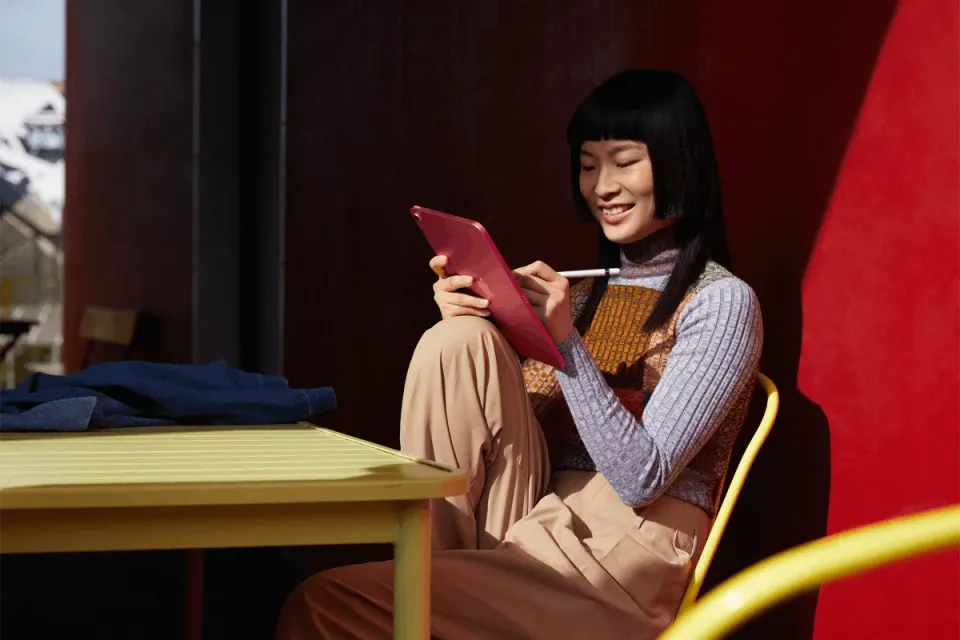 Apple's 10th-generation iPad updates almost every aspect of the tablet. It's a great device, but its greatness comes with a price increase and a couple of questionable design choices.
10th-generation iPad at a glance
| | |
| --- | --- |
| For: | Performance, battery life, screen and screen size, speakers and camera are all improved over the 2021 9th-generation iPad. |
| Against: | Expensive. Bulky keyboard. Limited keyboard choice. |
| Maybe: | 64GB storage on the base model feels lightweight in 2023. Only pairs with first-generation Apple Pencil. |
| Verdict: | A great update that brings the iPad up to date. The 10th generation update delivers a lot more iPad, but comes with a significant price increase and a couple of questionable design compromises. |
| Price: | NZ$900, add $300 for a Sim slot and $300 for 256GB storage. |
| Web: | Apple |
From the outside Apple's new 10th-generation iPad resembles a recent iPad Air. It has a 10.9-inch screen that stretches closer, but not all the way, to the device's edges.
The 9th-generation iPad's screen was 10.2-inches and left bezel space at the top and bottom for the front-facing camera and the home button.
The new iPad looks good. Its design feels solid and comfortable in my hands.
There is one other obvious external difference between the 10th and 9th-generation iPads: colour. There are blue, pink and yellow models alongside the more traditional silver.
The older 9th-generation models limited your colour choice to silver or space grey.
Prices for the 10th-generation iPad start at $900 for the model with 64GB of storage and climb to $1200 for the 256GB option.
Apple continues to sell the 9th-generation iPad with prices starting at $650. That's likely to be a better option for certain readers.
10th-generation
Despite the larger screen, the 10th-generation iPad is small and light enough to fit into almost any bag you might carry. It weighs around 480 grams.
When it is on its own, you almost won't notice it is there.
Apple's A14 processor is a step up from the A13 use in the earlier iPad. The same chip was used in the iPhone 12.
Benchmarks show the A14 is about 20 percent faster than the A13 although you won't notice the extra power unless you use a more demanding app like photo or video editing.
The A14 doesn't support Stage Manager, a feature in the iPadOS 16 operating system making it easier to run multiple apps at the same time. More expensive iPads use a processor that accelerates video encoding and decoding, the A14 doesn't support this either. That's not going to be a problem for everyday iPad buyers. If you need acceleration you should look at an iPad Pro.
A14 is snappy in practice
What you need to know is that the A14 is more than enough to cope with any task a normal consumer iPad buyer might throw at it. It handles web browsing, word processing and media consumption with ease. I found it coped with heavyweight media production tasks without flinching.
If you think you need more power, there are plenty of other iPad models to choose from.
Bigger screen
The larger screen jumps out as a major improvement. Moving from 10.2-inches to 10.9-inches might sound incremental, but thanks to Pythagorus' maths, the small increase in diagonal measurement means a screen that is one-eight larger.
Because the home button has gone, you use the wake-sleep button for Touch ID. The camera has moved from one of the short sides to one of the long sides, which is fine if you plan to use your iPad mainly in the landscape format.
In the past iPads were considered to be large iPhones, Apple is getting used to the idea many people use them like small laptops.
Battery life is excellent. I consistently managed to get more than ten hours from a single charge. I'd spend half the time watching streaming videos or using heavy duty media apps and half the time browsing or writing. The time drops when using the iPad with a keyboard.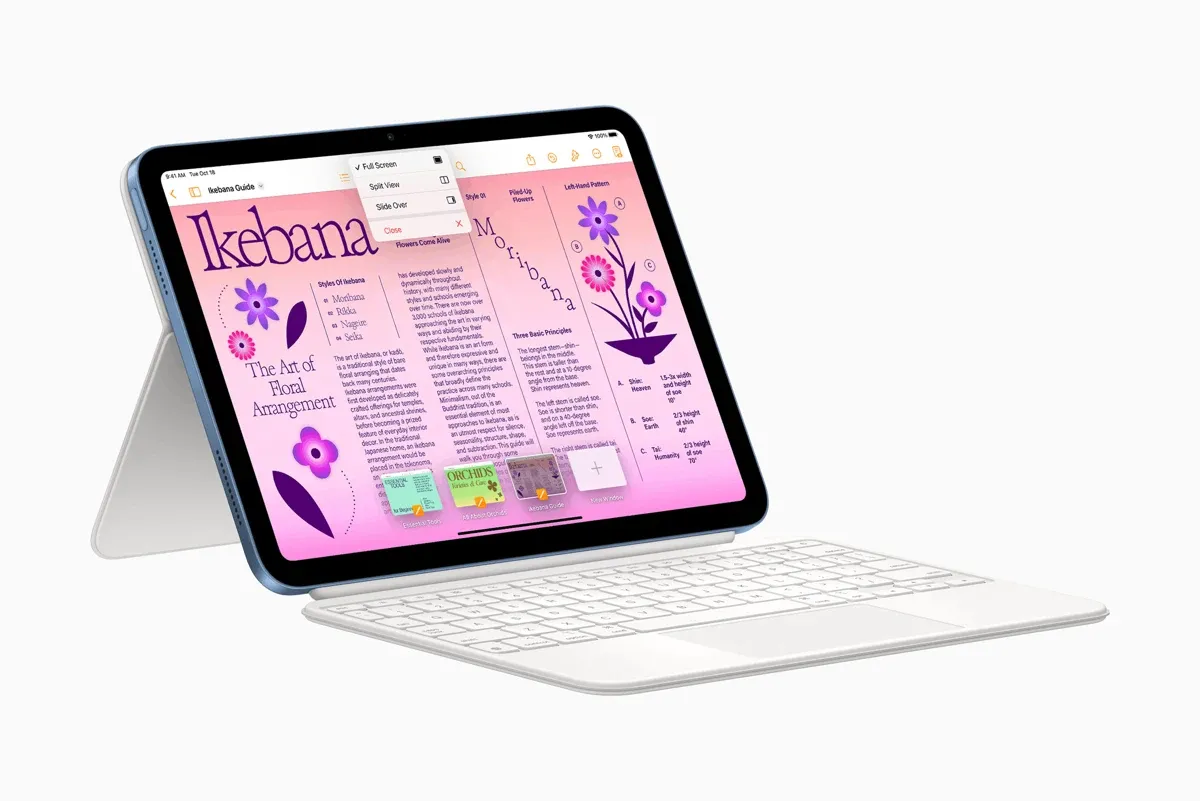 Paired with a keyboard it becomes a solid, lightweight computer
You can pair your 10th-generation iPad with the $530 Magic Keyboard Folio. That's it. Apple offers a single option for the 10th-generation iPad, although Logitech offers three keyboard options from prices running from NZ$190 to $320.
Apple's option is likely to be a more expensive option than many potential iPad customers are comfortable with. It's more than half the price of the base model iPad.
The Magic Keyboard Folio uses a Smart Connector on the side of the iPad to connect. Other recent iPads have moved the Smart Connector to the rear. This means you can't use the 10th-generation iPad with the Magic Keyboard which turns an iPad into a laptop. Nor can you use it with the less expensive, but light, Smart Keyboard Folio.
When it comes to typing, the Magic Keyboard Folio is good, although it's not as good as the Magic Keyboard. This blog post was tapped out using the device and it feels fine. The keys aren't backlit, but unlike other Apple iPad keyboards, there is a row of function keys across the top. The trackpad is excellent.
It has a two-piece design with an adjustable kickstand – that idea is borrowed from Microsoft's Surface tablets. I'm not convinced the kickstand adds anything other than bulk. It might come in handy if you want to prop the iPad up to watch streaming video or make a Zoom call.
The keyboard paired with the iPad is thicker and heavier than I'd like. Indeed, at close to 600 grams, the keyboard weighs more than the iPad.
That's one of two places where the 10th-generation iPad misses a beat. The other is the way it handles the Apple Pencil.
iPad needs a first-generation Apple Pencil
Other new iPads work with the second generation Apple Pencil, which is vastly superior to the first generation Pencil used by the 10th-generation iPad.
While the second generation Apple Pencil charges magnetically and automatically pairs, the first generation Pencil charges through the old Lightning port. The iPad has a USB-C charging port, which means you need to spend $20 buying a dongle to charge and pair the first generation Pencil on a new iPad.
That's an ugly compromise and not what we expect from Apple which built its reputation on attention to detail.
Prices and comparison with other iPads
As mentioned earlier, New Zealand prices for the 10th-generation iPad start at NZ$900 for a tablet with 64GB of storage.
Increasing the storage to 256GB adds a further NZ$300 to the price. Adding a SIM card slot also adds NZ$300.
If you want an Apple Pencil you'll need to budget a further $200. Make that $220 because you are going to need the USB-C adaptor dongle.
By the time you've purchased a NZ$530 Magic Keyboard Folio, a fully-loaded 10th-generation iPad could set you back NZ$2246.
It's a lot of money. You can buy a lot of laptop for the same amount. An M2 MacBook Air with 256 GB of storage costs NZ$2150. You can buy an M1 MacBook Air for $1750.
MacBooks and iPads do different things. They offer different experiences. Yet, if you are weighing the two up, you might consider the MacBook a better choice.
The 10th-generation iPad can't use the Stage Manager multitasking system that Apple introduced in iPadOS 16.1. That's unlikely to bother the typical iPad buyer.
Value?
Technology value is in the eye of the beholder. A 10th generation iPad will last you years, people hang on to Apple tablets for a long time. Apple supports software on eight-year old iPads, older models continue working. And the fully-loaded set-up will do a lot more than the cheaper option, but it could be more iPad than you need.
In comparison, prices for the 9th-generation iPad start at NZ$650. Add all the trimmings and it will cost NZ$1417, more than $800 less than the 10th-generation iPad. If you need the iPad for learning or for everyday work, it could be a better choice. Spend more for the 10th-generation model if you plan to get creative with your iPad.
It's worth considering the iPad Air which has a better screen and can use Apple's Stage Manager in iPadOS 16. That'll make it easier to run multiple apps at the same time. The Air is better for video creation and supports the Apple Pencil 2, which is noticeably better than the Apple Pencil 1 used by the 10th-generation iPad.
The Air offers a handful of other small benefits for its NZ$1200 price. By the time you are shopping for an Air, you may want to think about an iPad Pro. That's another story, I have a new iPad Pro review coming soon.
Verdict
If you are in the market for a new tablet, the 10th-generation iPad should be on your shortlist. It is powerful and well designed. I've used it for the last six weeks as my main machine and thrown everything at it without running into problems. That might be different if I wanted to make more use of the Pencil.
It is ideal for my work as a journalist because it is more portable than a laptop. The bulky keyboard is an irritant, not a deal breaker.
I can't fault the iPad for video calls, watching streaming video, browsing the web, email or reading documents. The range and quality of available apps is outstanding.
The are arguments for spending more to buy the iPad Air or less to buy a 9th-generation iPad. It depends on what you intend to use the iPad for, but the 10th-generation is a choice in its own right.