Parliamentary Service picks Spark as technology partner
Spark is to replace Datacom as the Parliamentary Service information systems and technology partner. The deal is for a six-year term with one right of renewal for an additional three years.
Parliamentary Service is the state-owned agency handling administration and support services to MPs and New Zealand's House of Representatives. Its technology enables Parliament to function. Among other services, one of its jobs is recording, broadcasting, and communicating parliamentary information.
While Parliamentary Service employs around 110 staff, William de Vos, the Parliamentary Service acting chief executive, says: "The IST team supports around 1,200 people around New Zealand. This includes staff from Parliamentary Service, Office of the Clerk, Ministerial Services, as well as Members of Parliament.
"The Parliamentary Service is dedicated to having the best people supporting the best Parliament in the world, and of course technology is a big enabler of our vision".
He says changing over to Spark will help it deliver the IST (information, systems and technology) strategic direction and future technology roadmap for Parliament. "Key strategic priorities for Parliamentary Service are to modernise our technology and provide an exemplary customer experience to our users. By partnering with Spark we are hoping to accelerate this work and utilise Spark's particular expertise."
---
Vodafone One rebrand bumps against TVNZ opposition
Vodafone's plan to rebrand as One New Zealand early in 2023 bumped up opposition earlier this month. TVNZ moved to protect its One brand by filing an opposition claim against Vodafone's attempt to trademark the name.
When Vodafone announced in September last year its plan to rebrand, marketing experts warned of a potential dispute with TVNZ. Yet at that time a spokeswoman told the NZ Herald that it was not fussed.
TVNZ has since changed its tune. Speaking after the court filing a company spokesman told RNZ that TVNZ 1 and One News were reputable and valuable brands, and it was keen to protect them.
Comment As of this week the Vodafone website remains online at vodafone.co.nz but without any visible branding. The old logo isn't there, nor is the new one.
While this is likely to be a short-term problem, the episode shows the danger in choosing a bland, generic brand name without first taking care to scope possible sources of friction. Until it is fixed, Vodafone will struggle marketing new products or services.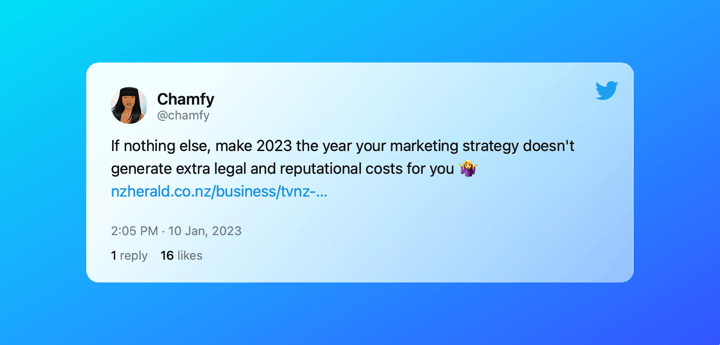 ---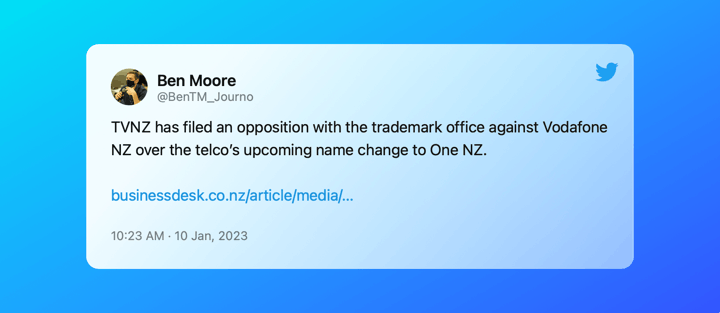 Sky Sport price rises as Spark Sport departs
Sky has increased the monthly price of its Sky Sport Now streaming service 12.5 per cent to $45. Satellite subscribers face an eight per cent price rise from $35 to $38.
While the company says the higher cost is down to a significant increase in the cost of rights, the sizeable price jumps come as Spark Sport winds down. Spark says it left the market because of those rising rights costs.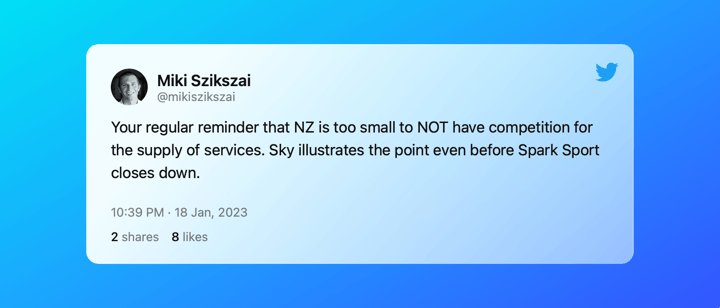 ---
Vodafone reports rise in Christmas customer data use
Vodafone says its customers used 16 per cent more data during Christmas 2022 when compared with the previous year. IT says 2054 TB of data moved across its network on Christmas Day and Boxing Day. This compares with 1777 TB in 2021.
The most popular times were between 8 and 9pm on both days with data peaking at 65 TB and 72 TB.
---
Notable increase in privacy breaches
The Office of the Privacy Commissioner says it saw a notable increase in reported data breaches in 2022. It says the number of breaches which meet its serious harm threshold increased 41 per cent in the first half of the current financial year when compared to the same period a year earlier.
Privacy Commissioner Michael Webster says: "The industries reporting most serious breaches are (in order): health care and social assistance, public administration and safety, services (professional, scientific, technical, administrative and support services), education and training, finance and insurance.
While this is a slight increase in the percentage of serious breaches caused by malicious activity, most breaches are caused by human error. The most common human error are related to email and unauthorised sharing.
Webster says emotional harm is by far the most common impact of a serious privacy breach. Harm to a person's reputation, identity theft and financial harm are also common.
---
Handset market continues to shrink
Canalys says phone handset shipments fell 17 per cent in the third quarter of 2022 when compared to 2021. Phone shipments for the 2022 full year were down 11 per cent to a total of under 1.2 billion.
Apple shipped the most handsets in the fourth quarter and recorded its highest ever market share of 25 per cent. Samsung shipped more phones over the entire year despite having a 20 per cent market share in the fourth quarter. Xiaomi, Oppo and Vivo are in third, fourth and fifth place with all three losing market share to Samsung and Apple during the year.
The phone market is forecasted to stay tough in 2023. Canalys expects flat or marginal growth.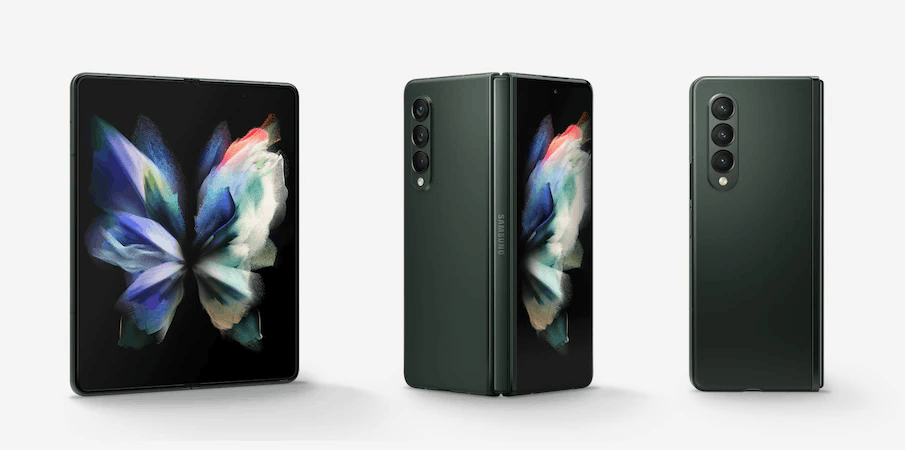 Foldables a bright spot
It's not all gloomy for phone makers. Canalys says shipments of foldable phones will grow 52 per cent in 2023 to 22.7 million units. In 2022 14.9 million foldable phones were shipped.
Foldable phones remain a niche market at around one per cent of all phones shipped during the year.
The market is almost exclusively Samsung, although Canalys expects Chinese Android phone makers to offer foldable models in 2023. Apple is noticeably absent from the market.
---
Netflix beats forecast
Streaming video giant Netflix added 7.7 million subscribers in the fourth quarter, well ahead of analyst forecasts of 4.6 million. This is the first quarter since the company added an ad-supported service.
---
In other news...
Twitter continues to dominate international technology news. The Verge has an excellent overview of what has happened to the social media company and where things could go in Extremely Hardcore. It's a stunning tale of failure piled on failure. At one point a Twitter employee enthuses about the Musk takeover saying the man has a Midas touch, while a colleague reminded him that the Midas story doesn't end well.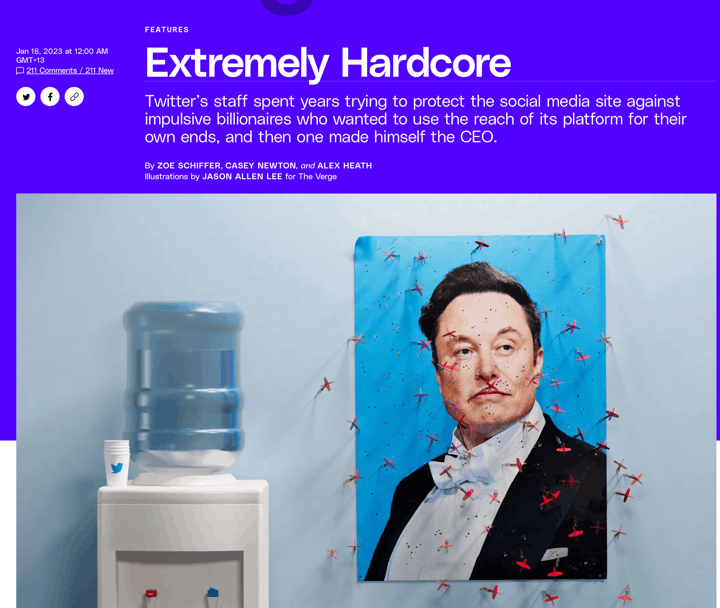 On a related note, the FT reports (behind paywall) that social media companies operating in the UK "expect age verification measures in the UK's Online Safety Bill will reduce user numbers, hitting advertising revenue on platforms including TikTok and Instagram." This comes at a time when they already face falling ad revenue because of the economic slowdown. Of course, the users concerned are all under age, but social media companies don't enforce their own age limits.
PC sales are back in the doldrums. Two analyst reports have similar gloomy figures. Counterpoint Research says the fourth quarter of 2022 saw shipments decline by a record 27.8 per cent. Figures for the full year are down 15 percent year on year. Counterpoint doesn't expect growth in 2023.
Canalys puts the drop at a steeper 29 per cent in the fourth quarter and the annual fall at 16 per cent. It points out this is seven per cent higher than the last pre-pandemic year. Notebook shipments dropped 30 per cent. Calalys expects flat sales in 2023, but picking up towards the end of the year and returning to growth in 2024.
The Download Weekly is supported by Chorus New Zealand.
Download Weekly is a free wrap of New Zealand telecommunications news stories published every Friday.
All it requires is an email address. Your address is only used to send out the newsletter. I won't sell it to anyone.