Top telecommunications stories of 2022
A recap of the year's New Zealand telecommunications headlines including the 2degrees merger and the end of the UFB fibre build.
A new 2degrees
In June 2degrees completed its merger with the Orcon Group. Mark Callandar was appointed as CEO of the new business.
While at first sight the merger doesn't make a huge difference to the shape of the local telecommunications market, its impact will be felt most outside the spotlight.
Before the merger, 2degrees was the third largest telco. It was less than a third of the size of Spark and around 40 per cent of the size of Vodafone.
It is still the third largest telco, now close to 40 per cent the size of Spark and around half the size of Vodafone. More importantly, the merger filled the gaps in the companies' portfolio, it is now a more complete telco and has a far more compelling story for business customers.
The business telecommunications market may not grab the headlines, but it has better margins. 2degrees hasn't wasted time integrating its components. There may not be a huge impact for consumers, but commercial customers can expect to see fiercer competition for their business.
UFB completes
Earlier this month the last strands of UFB fibre were laid around the edge of Hokianga Harbour. Now 87 per cent of the population can get a fibre connection.
Crown Infrastructure Partners' last quarterly update put the national fibre uptake rate at 70 per cent. Which means a shade over 60 per cent of New Zealand homes now have fibre. There are indications the uptake rate will go past 80 per cent in the near future, which means around 70 per cent of New Zealanders will have first class broadband.
This is showing up in international tables of broadband speed. New Zealand now ranks in the top ten connected nations. And yet much of the rest of the world is moving on towards 100 per cent fibre coverage and we risk falling behind again.
A question remains over further extension of the fibre network. With an election looming, it's likely at least one of the major parties will promise to connect more of the nation.
Starlink fills the gap for well heeled rural connections
Starlink's Low Earth Orbit satellite broadband service gathered momentum in 2022. A story in the NZ Herald suggests there are more than 10,000 users nationwide. That number is likely to climb.
Many Starlink customers I've spoken to are happy with the service. It may not meet fibre performance standards, but it is more than good enough for many users and outperforms the slower rural fixed wireless broadband services.
Starlink costs about twice the price of a fibre connection and requires an upfront payment for the satellite dish. This is normally more than $1000, but until the end of the month is discounted to $550. Even so, the cost puts it out of reach of many rural New Zealanders.
Telcos sell mobile towers
All three of New Zealand's mobile network operators sold their towers during 2022. They raised billions from the process. Some of the money will be returned to shareholders, some of it will be used to finance 5G network builds and other investment opportunities.
Elsewhere Vodafone has rebranded as One New Zealand. Another of the company's brands was in the spotlight earlier in the year when the Commerce Commission returned to court over Vodafone's controversial FibreX brand.
Southern Cross Cable Network lit up the Next trans-Pacific submarine cable and average broadband speeds leapt after the fibre companies bumped the basic plan speed from 100 Mbps to 300 Mbps.
---
Ookla says NZ eighth in world for 5G speeds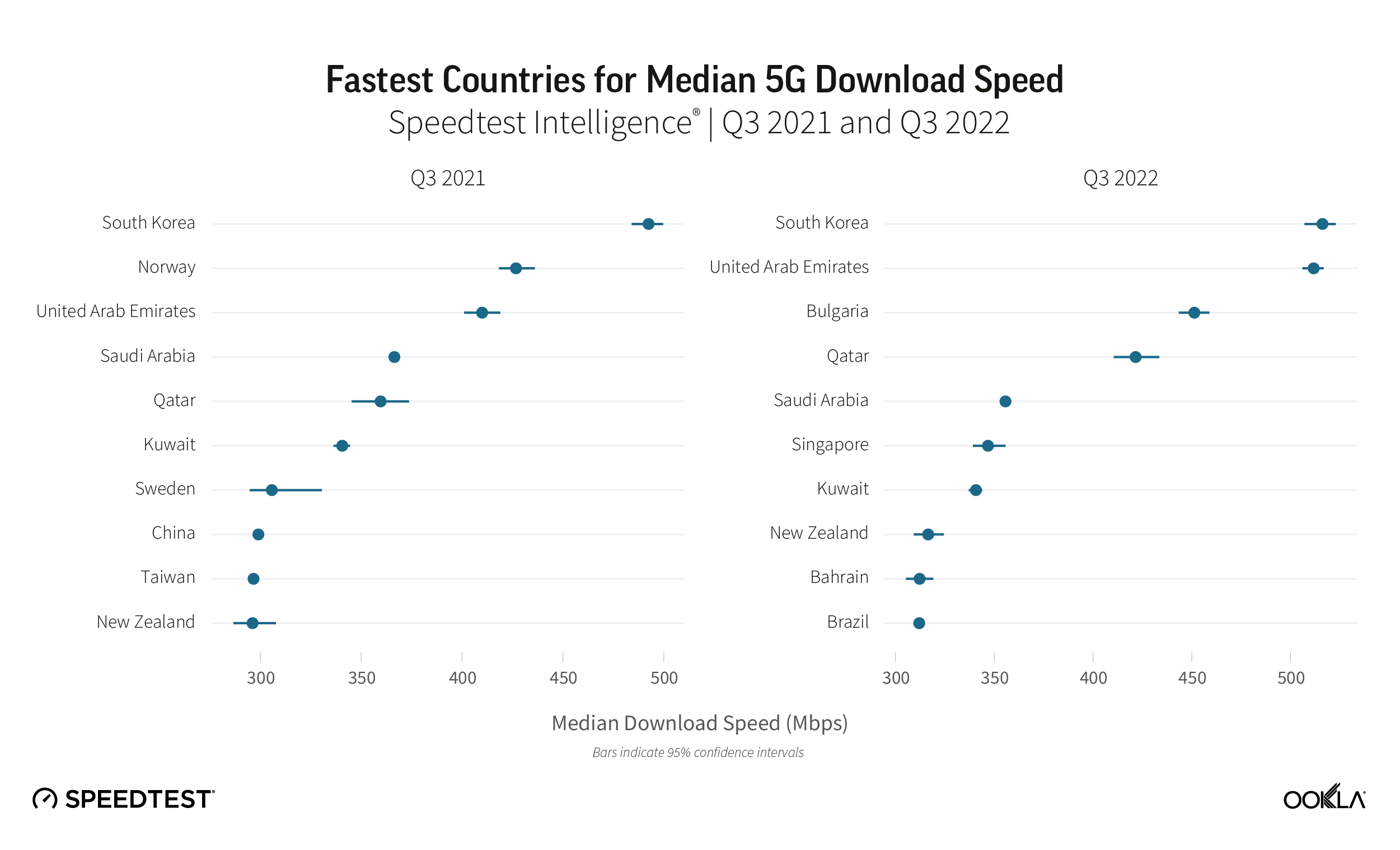 Network performance measurement analyst company Ookla says New Zealand was eighth in the world for median 5G download speeds in the third quarter of 2022. New Zealand 5G download speeds were above 300 Mbps, which puts the nation a long way behind South Korea where the median speed is 516 Mbps.
Ookla consumer marketing senior director Isla McKetta says that last year's table showed that an expansion of 5G access led to declining speeds at the global level.
She says: "This year showed a stabilisation in overall speed, even as 5G access broadened, with a median global 5G download speed of 168.27 Mbps in Q3 2022 as compared to 166.13 Mbps in Q3 2021. Median upload speed over 5G slowed slightly to 18.71 Mbps (from 21.08 Mbps) during the same period."
---
Connexa asks ComCom for tower purchase clearance
The Commerce Commission says it has received an application from Connexa Limited to buy 2degrees' mobile network towers. The proposed acquisition will see Connexa acquire leases, licences and other property rights, as well as infrastructure located on 2degrees' sites such as towers, masts, poles and fences. Connexa and 2degrees will enter into a long-term agreement under which Connexa would sell infrastructure services to 2degrees.
---
In other news this year…
A wrap of 2022's biggest international tech stories. You can hear me talking about this with Kathryn Ryan on RNZ Nine-to-Noon.
Twitter has been on a wild ride since Elon Musk overpaid $44 billion for the business in late October. A lot has happened in less than two months.
Within days of taking over he sacked more than half the staff. Then the next day he realised he had sacked too many and asked many to come back.
Advertisers have bailed and many high profile users have decamped, yet Twitter continues to roll on.
One consequence of Musk buying Twitter is the effect it is having on Telsla his electric car company. Tesla's core market are the people most likely to take offence at Twitter reinstating the account of far right extremists. Some reports say Tesla sales and orders are down, although other news reports say this is overstated.
Either way, Tesla shares have lost about 40 per cent of their value in the two months since the Twitter acquisition. Investors are spooked. The company has laid off staff and there is a freeze on new jobs and say more job cuts are coming.
Key investors want Musk to stand down as the Tesla CEO.
This is all happening at the same time the other car makers are catching up with Tesla in the electric car sector.
Meta, Facebook's parent company, laid off more than 11,000 workers. The business struggles because Apple changed the privacy settings on its iPhones allowing people to opt out of being tracked. Many did and that cost Meta billions.

Meanwhile Meta is attempting to shift its focus from Facebook to the metaverse. The company has spent billions on the project and that investment has yet to show much return. The Guardian puts it at $100 billion.
Meta's market capitalisation fell $750 billion in 2022. It has lost 64 per cent of its value.
Amazon lost 47 per cent of its value. The online shop expanded too fast during the pandemic and is pulling back. It's still growing but not as fast. Amazon hasn't cut as many staff as Meta or Twitter, although the cuts number in thousands. It has halted plans to build and staff new warehouses.
Harsh Covid-19 lockdowns and resulting social unrest in China have hampered production at the key facility where Apple's iPhones are assembled. Elsewhere the company faces pressure in the EU to allow users to download apps outside of the company's App Store. Apple is down 24 per cent on the year.


Last year crypto was booming with a healthy trade in coins and NFTs. Then in May this year, a popular cryptocurrency called Luna collapsed. This had a knock-on effect across the crypto sector as people realised how vulnerable their investments were.

As a result many crypto companies filed for bankruptcy.
At the start of November, FTX, one of the largest crypto exchanges in the world, also filed for bankruptcy. FTX owes about $8 billion to its customers.
FTX founder Sam Bankman-Fried was crypto's golden boy. Crypto is filled with crooks, FTX was supposed to be at the clean end of the business, it turned out to be one of the worst.
The details of what happened at FTX will come during bankruptcy hearings and criminal proceedings.
It's the latest in a long line of crypto projects that has gone spectacularly wrong.
The long term consequence is that crypto's credibility has been dealt another severe blow just as traditional institutions and governments were finally warming to crypto. Now many of these will lose interest.
---
Last mile connectivity: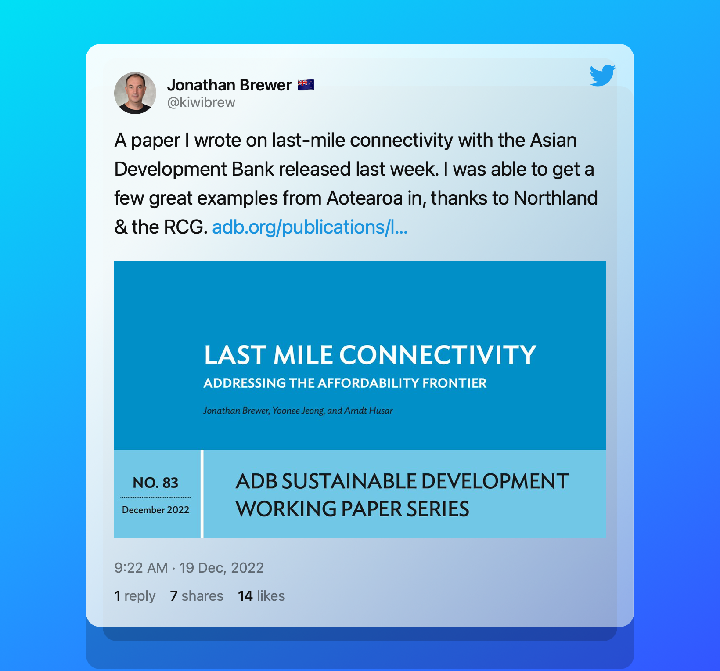 The Download Weekly is supported by Chorus New Zealand.
Download Weekly is a free wrap of New Zealand telecommunications news stories published every Friday.
All it requires is an email address. Your address is only used to send out the newsletter. I won't sell it to anyone.
I'm not collecting the data for anything other than sending out the newsletter. Your name isn't going to be sold anywhere.