What is going on with Microsoft Surface?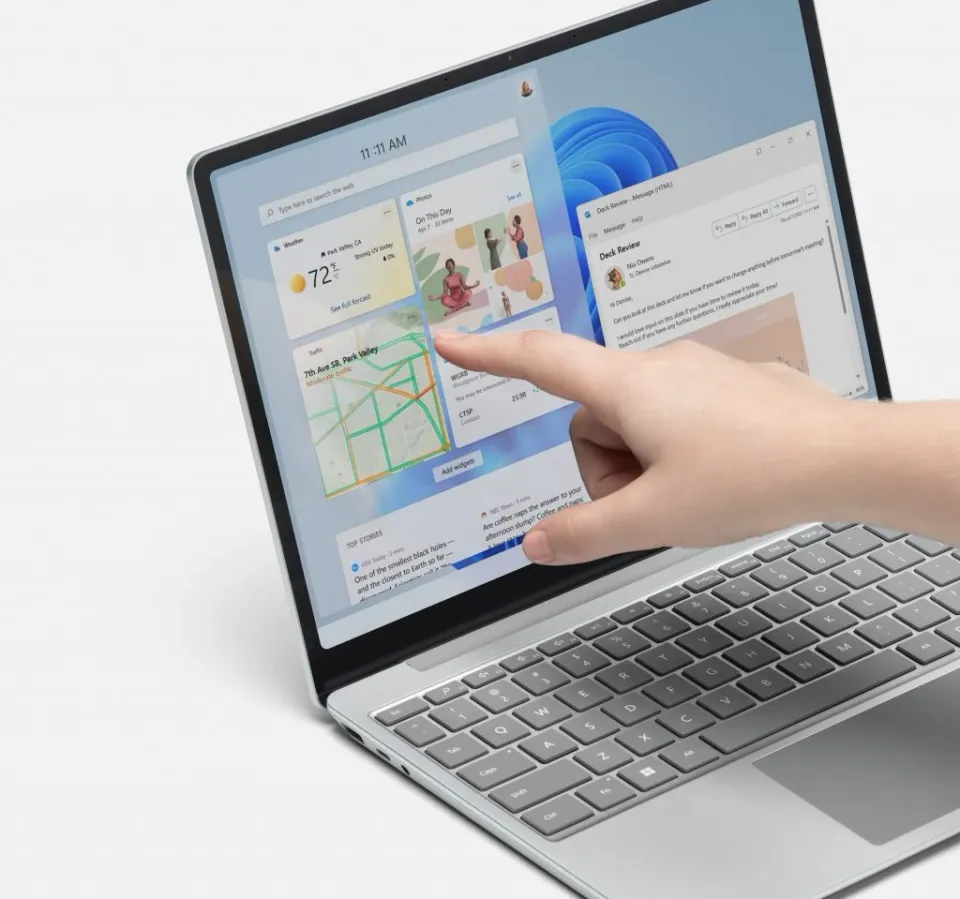 Almost overnight demand for Microsoft's Surface range of devices has dried up. What is going on?
To understand the present, let's start by looking at the past.
In 2012 Microsoft announced its first ever in-house designed and made personal computer: the original Microsoft Surface. The devices hit the streets at the end of the year.
Surface arrived two years after Apple's first iPad. It was similar to the iPad in as much as the main part of the hardware was a tablet computer.
Surface is distinct from iPad
Yet, at the same time, it was distinct. The iPad was, in its first incarnation, very much seen as a tablet to be held in the hands and used for media consumption. It was as much a huge iPhone as a cut-down laptop.
Surface was, from the outset, much closer to the laptop end of this spectrum. Microsoft sold a separate keyboard and the overwhelming majority of Surface buyers also forked out for the keyboard.
Moreover, Surface felt like it was made to function mainly in the landscape or wide-screen format while iPads are equally at home when used in the portrait mode, much like a large phone.
Windows is the key to Surface
What's more, Surface came with Microsoft Windows. The original devices may have used a cut-down version known as Windows RT, but it was sufficiently Windows-like nevertheless and it came along with versions of Microsoft Word, Excel and Powerpoint.
In other words, Surface was more of a PC play that the original iPad. We can argue about Apple moving the iPad, especially the iPad Pro models, more into this space, but that came later.
The original Surface was quickly followed by a flood of similar devices. Months after the first model launched Microsoft rolled out the even more laptop-like Surface Pro.
Tablets, laptops
It's been a little over a decade since the first Surface. In that time there have been six generations of the basic Surface. Another is due to drop in the next few weeks. There have been 12 Surface Pro models in a decade.
Microsoft expanded the range with the Surface Laptop. There have been 11 models in six years. And then there is the Surface Book, which is a laptop with a detachable keyboard. Depending on how you count there were three or four models between 2015 and 2020. There hasn't been a new Surface Book since.
Elsewhere there are Surface Studios, Surface Hubs and the wacky Surface Duo which is a phone. All up there have been more than 40 distinct Surface models.
Partners
One aspect of Surface not yet mentioned in this essay is that the devices compete directly with computers made by what Microsoft likes to call "partners". A more accurate term might be "prisoners" because they don't really have anywhere else to go. If they did, they would have walked away from Windows when Microsoft started building its own devices..
These are the companies that pay Microsoft a licence to use Windows on their hardware.
After a slow start, Microsoft has sold a lot of Surfaces over the last 11 years. It never ranked among the top five computer makers in terms of unit sales, but, given Surface devices are at the top of the price range, the company would have captured a sizeable slice of PC hardware profits, although not as much as Apple.
In 2017 Surface devices and Apple iPads were selling in equal numbers in New Zealand.
A big business, but maybe not by Microsoft standards
A year ago Microsoft made close to US$7 billion from Surface hardware. Incidentally, it no longer reports Surface sales in a form that makes the number easy to extract from the company's finances.
Meanwhile, traditional PC sales have been falling for most of the Surface era. That trend paused for a moment during the height of the Covid work-from-home lockdowns.
If anything Surface sales fell faster than PC sales in the most recently reported year. And reports from overseas suggest sales continue to fall.
Falling revenue
In the first quarter of 2023, Microsoft reported better-than-expected revenues but the company's More Personal Computing division saw revenue fall 9 per cent to US$13.3 billion. A break out of the numbers shows Devices revenue (that's the various Surface products) fell by 30 per cent. The wider PC market dropped 29 per cent during the same period.
During a call following the result Microsoft's chief financial officer Amy Hood explained the weak sales were down to "elevated channel inventory levels". Which is the industry's way of saying shops and warehouses were full of unsold devices. She went on to say this is unlikely to change. In other words, Microsoft expects Surface sales to fall further.
One thing no-one in the Microsoft camp is talking about at the moment is that the Surface ranges have run out of room for improvement. The last product refreshes have been little more than incremental speed improvements.
If Apple is the competition then Microsoft is not winning
This is not always a problem, but at the moment it is because the performance of Apple's devices is pulling well ahead thanks to Apple's own processor chips. Not only are they more powerful than Microsoft hardware, Apple devices go for far longer on a single battery charge.
No-one in the know thinks the sudden defection of Microsoft's chief product officer Panos Panay to Amazon is unrelated to this turn down. Panay was Surface's champion in Microsoft senior management. Reports say he was unhappy with cuts to the Windows and Devices division, but the division's poor performance would not help.
Last week Microsoft launched its latest two devices: Surface Laptop Studio 2 and Surface Laptop Go 3. A Surface Go 4 is due in the next couple of months. The company talked a lot about its AI offering, Co-pilot, which is being folded into Windows.
Microsoft has a strong, entrenched position in the Enterprise sector. It is making a fortune from cloud computing, but it seems that, for now at least, it is no longer putting as much energy into devices. There are fears the company could lose interest in non-game hardware altogether.
That's a shame because Surface acts as spur to the wider PC sector. It keeps the pressure on the likes of HP, Dell and Lenovo to produce better products, which was one of the goals the company talked about when it first introduced Surface. The PC sector will be a worse place if Surface drops out of site.