Mighty Ape swings into mobile market
Mighty Ape opens MVNO on One NZ network. Commerce Commission to renew Chorus Price Quality Path, OneWeb launches enterprise satellite option.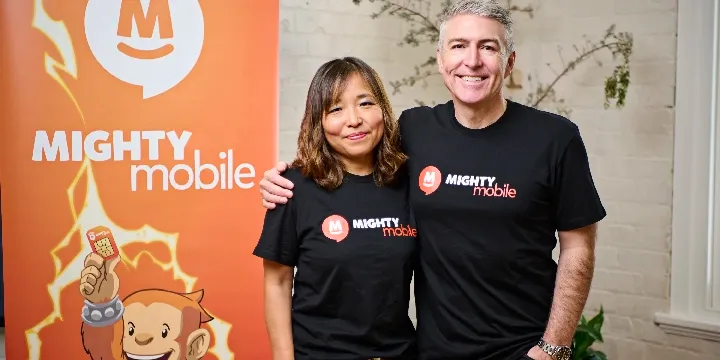 Mighty Ape swings into mobile market
Online retailer Mighty Ape has launched Mighty Mobile, a mobile phone business, on the back of a MVNO agreement with One New Zealand.
Mighty Mobile offers three prepaid unlimited voice and data plans that are priced in speed tiers labelled fast, faster and fastest. Customers can pay monthly and there is discounted annual prepaid option.
The Mighty Mobile 'Fast' plan costs $40 a month or $400 a year. Customers get unlimited data at 10 Mbps. The plan includes unlimited voice calls and txts messages in New Zealand and Australia.
Mighty Mobile's 'Faster' plan costs $50 a month or $500 a year and promises 50 Mbps speeds while the top-of-the-line 'Fastest' plan runs at maximum network speed for $80 a month or $800 a year.
Customers on all three plans can use tethering.
Focus on gamers, high end users
New Zealand's MVNO market is tiny by international standards, it has never accounted for more than two per cent of the market. Mighty Ape says it has the potential to change that. CEO Gracie MacKinlay says her business has 500k customers in New Zealand and many of them are gamers. The mobile plans have been designed with gamers in mind and the company plans to target them with its marketing.
Mighty Ape was acquired by Australia's Kogan Group in 2020. That business now also owns the Dick Smith brand. Kogan is one of the few other New Zealand MVNOs offering low cost plans for less demanding mobile users. Kogan's MVNO is on the One New Zealand network.
Both Mighty Mobile and Kogan have access to One New Zealand's 5G network.
MVNO market in New Zealand
When he was communications minister, Simon Bridges wrote to the Commerce Commission asking the watchdog to investigate competition in the mobile market. That was in 2017.
In his letter, Bridges pointed out that, unlike many other countries, New Zealand does not have a thriving market for mobile virtual network operator. At the time MVNOs made up around 10 per cent of the Australian mobile market. In New Zealand they were less than 2 per cent.
If anything the MVNO market has gone backwards. The Vocus group of companies was New Zealand's largest reseller of mobile phone services before the company merged with 2degrees.
MVNO customer numbers falling
In the 2022 Telecommunications Monitoring Report, the Commerce Commission notes: "In 2022, there were 77,000 MVNO subscribers, down from 106,000 in 2021. This drop is largely due to the Vocus-2degrees merger."
The Commission puts this at 1.3 per cent of the mobile market down from 1.8 per cent.
There is no notable buzz or energy about New Zealand's MVNO sector. This is curious, because MVNO activity acts to extend the market into new areas and can act as a lucrative income stream for mobile network operators.
Aside from Mighty Mobile and Kogan, there are few other MVNOs of note. The most visible is Warehouse Mobile which operates on the 2degrees network but does not have access to the company's 5G technology.
Trustpower has an MVNO on Spark's network that does have access to 5G. While the MyRepublic broadband business has been wrapped into 2degrees, the company's mobile operation remains on the One NZ network.
---
Chorus revenue limits, service quality in ComCom sights
The Commerce Commission is preparing to renew the "Price Quality Path" it uses to manage Chorus's business.
As part of the fibre regulatory regime, the PGP is used to put a limit on the revenue Chorus can earn while setting a series of minimum service standards. This include investments in service quality to meet reliability and resilience targets.
The aim of the PQP is to give Chorus an incentive to act in the best interest of consumers and to promote competition in the market.
A PQP is currently in place, but it expires at the end of next year. Before that happens the Commerce Commission needs to put a new PQP in place for the following four years from the start of 2025 to the end of 2028.
Making the right investments
Telecommunications commissioner, Tristan Gilbertson, says the Commerce Commission wants to see Chorus make the right investment at the right time. This is with a view to the wholesale network company being able to extend the fibre network further in rural areas.
Today, the fibre network covers 87 per cent of the population, but it could extend further, taking its footprint beyond 90 per cent coverage.
He says: "It is vital that Chorus has a robust long term asset management plan in place and provides the Commission with the information it needs for the PQP to be set to deliver the intended outcomes for Kiwis who rely on this infrastructure every day."
---
OneWeb set to challenge Starlink for enterprise LEO business
CommsDay reports OneWeb, the UK-based low earth orbit satellite operator, has launched commercial services in Australia and New Zealand. OneWeb has partnered with Perth-based Sat.One.
The CommsDay report says the newcomer is targeting the enterprise satellite communications market with a focus on agriculture, marine, resources and emergency services.
As an enterprise-grade provider, OneWeb's parter Sat.One says it will offer guaranteed links, committed information rates and service level agreements.
---
ComCom: "We need to keep regulating mobile roaming"
The Commerce Commission is to continue regulating national mobile roaming. The watchdog says national roaming remains important for market competition.
National roaming is when a phone company's customers can use a rival's network when they are outside their own company's coverage area.
Every five years the Commerce Commission has to reconsider whether it needs to continue regulating a series of areas such as national roaming.
Roaming has played an important role in the past. When 2degrees began operating, national roaming meant its customers were able to get a connection when outside the company's small early mobile footprint.
Leave the roaming door open
Telecommunications Commissioner, Tristan Gilbertson wants to leave that door open to keep the market competitive.
He says: "Coverage is a critical feature of being able to offer competitive mobile services at the retail level and national roaming is a valuable regulatory backstop against which commercial negotiations for wholesale access can take place.
"At this stage, we don't consider the telecommunications market has developed to such an extent that roaming regulation is no longer necessary to safeguard new entry and promote competitive outcomes".
---
---
21k fibre sign-ups in June quarter
Crown Infrastructure Partners notes there were 20,963 new UFB connections in the June 2023 quarter.
With the UFB complete, the nationwide UFB uptake is now sitting at 73 per cent. While growth has slowed, uptake numbers are likely to tick up once more as Chorus moves to decommission its copper network.
The experience to date suggests that fibre uptake in areas where the technology is available will go past 80 per cent with the remainder of potential connections choosing fixed wireless broadband.
---
Spark to offer Radware cybersecurity
Spark will sell Radware's portfolio of application and network security products and services in New Zealand. These include Cloud Application Protection Services, Cloud DDoS Protection Service and DefensePro DDoS Protection.
In an associated move, Spark will use Radware's Cloud DDoS Protection Service to protect the company's IT systems. The technologyuses "advanced behavioural algorithms" to detect and mitigate layer 7 DDoS attacks.
---
In other news…
The New Zealand Telecommunications Forum says its Re:Mobile phone recycling scheme has collected 770,000 phones since it began operation in 2014.
Research company Omdia says Apple's iPhone 14 Pro Max was the "most shipped" phone in the first half of 2023. The company's iPhone 14 Pro was in second place. They are Apple's two most expensive handsets.
"Most shipped" is an interesting term. Research companies can reliably measure how many phones a company moves from its factories to retail outlets. This is the closest they can get to knowing what sells.
The company stopped making its once-iconic phones in 2016, but BlackBerry lived on as software and security business. Now the remnants of the business are up for sale. Reuters reports private equity firm Veritas Capital has made an offer to buy BlackBerry.
Another name from the past, Huawei, has renewed its patent cross-licensing deal with Ericsson. The deal covers intellectual property for cellular technologies including 3G, 4G and 5G. Huawei may be out of Australia and New Zealand, but it remains dominant in China and many developing nations.
---
The Download Weekly is supported by Chorus New Zealand.