NetHui 2013: Quinn Norton internet vision
Keynote speaker Quinn Norton connects what is happening in today's society as a result of the internet revolution and what happened 400 or so years ago when the printing press arrived.
In itself that's not a particularly original observation. We've heard it a dozen times before. However, Norton brings the idea up to date comparing the way authorities, not just the United States, treat whistleblowers like Bradley Manning, Edward Snowden and Julian Assange with their print revolution counterpart William Tyndale.
Tyndale upset the establishment translating the Bible in to English. Norton notes the parallels between Tyndale's escape from England to continental Europe and today's asylum-seeking whistleblowers.
And she hints at the ultimate fate: Tyndale was burnt to death for his so-called crimes. It's a high price, but Tyndale's work is still with us today. His Bible translation still has a huge resonance for Christians, but beyond the religious sphere his influence on the English language compares with Shakespeare.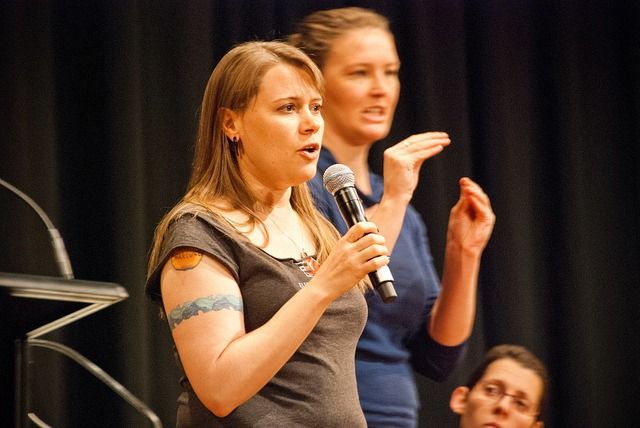 Quinn Norton and sign interpreter at NetHui 2013.
Let there be light
Norton points out "let there be light" was one of Tyndale's lines. It could be the motto of today's whistleblowers.
Tyndale and the printing press didn't just change the way people got information, they changed the way people think. The renaissance and the enlightenment were direct consequences. Fast forward 400 years and we're seeing much the same. Norton's message is an open and chaotic internet is now changing the way today's people see the world.
It's not all positive and it's not all high-minded. We get to see a lot more cat pictures.
More ideas
Two important ideas. Today we, potentially, are all publishers and there are no leaders in the movements which are swirling about in the wake of the free and open internet. She says: "Leaders themselves only last as people if they lay down leadership quickly", and that means something fundamental is going on with the way people relate to government and political leadership.
Events in places like Egypt and Turkey illustrate the way political control is moving away from power elites towards a connected population. Norton describes this as an "emergent and feral collective". It may not sound promising, but it works.
Slime mould of humanity
Norton has an ability to encapsulate complex thoughts in a series of tweet-like statements: "slime mould of humanity" is a fabulous metaphor.
Apparently this low form of life operates an underground network in the US linking forests across a wide area and acting as a communications medium. It is, of course, entirely leaderless. Slime mould isn't bright either, but collectively it still manages to find a way out of mazes.
Governments and other establishment organisations struggle to deal with the changes, in part that because they don't speak the same language. She says: "An incompetent networked organism is meeting a competent but confused and powerful system that would just like it to all go away."