NetHui 2013: GCSB bill too important to rush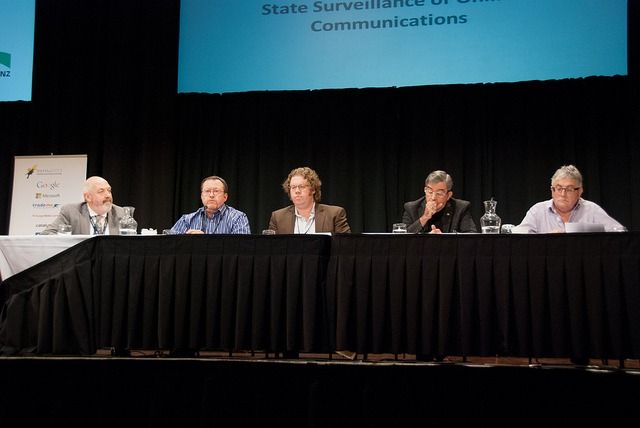 Legislation proposing to extend the powers of the Government Communications Security Bureau is too important to rush through Parliament without more debate. That's the consensus of the panel discussing state surveillance and the GCSB at NetHui 2013.
Significantly the panel included former GCSB director Sir Bruce Ferguson who told delegates there's a need for an apolitical, but robust debate about this kind of legislation. Ferguson says it's not possible for a completely open debate, but some of it could be transparent: "The current bill requires proper research."
He says there's a genuine need for intelligence agencies and, generally, New Zealand has the right balance between the right to live freely and he need for security.
Ferguson says he didn't agree with the prime minister's appointment of the new GCSB head. He says it should be an independent appointment, not an old school friend of John Key's. He says that, previously, for the GCSB to spy on a New Zealander, the director needed a warrant from the head of police or the SIS.
The panel also included cloud consultant Ian Apperley, solicitor Michael Wigley and security expert Paul Buchanan.
Fig leaf
Buchanan won applause from the audience when he described terrorism as "a fig leaf used by the intelligence industry to legitimise what they do". He says the reality is that 90 percent of their work involves spying on other states and agencies. And anyway, "with Prism and all the other intelligence at their disposal, the US government couldn't stop the Boston bombings".
He also says terrorism is a terrible thing, but it isn't a threat to any state or democracy. Buchanan thinks fighting terrorism should be treated as a criminal matter, not a war, and dealt with by Police.
Not just governments
Apperley describes targeted spying is "a necessary evil", but says wholesale surveillance of a population is unacceptable. However, it pointed out these days it isn't just government keeping an eye on the population, big corporations and rogue actors like hackers are watching too. He says privacy becomes an individual's responsibility and it isn't something that can be left to ISPs.
As a cloud consultant, Apperley would like New Zealand to become the "Switzerland of the south", a place people everywhere could trust to look after information. He says this is incompatible with the connection to the five eyes surveillance program.
Legal objection
Prime minister John Key says the NZ Law Society's criticism of the GCSB bill is completely wrong. This annoys Michael Wigley who says: "Well Mr Key, you know best, we're just lawyers with a concern for civil liberties, the rule of law, due process, we've studied this for years, but you're the boss".
Wigley is concerned about the serious risk of extra-judicial overreach and says the idea that the existing GCSB law is unclear is patently false. He says: "Any second year law student could understand the law."