New Zealand falls behind 5G availability pack
Download Weekly: New Zealand languishes near the bottom of OpenSignal's table for 5G availability. ComCom moves on surcharges. 2degrees mobile market share improves.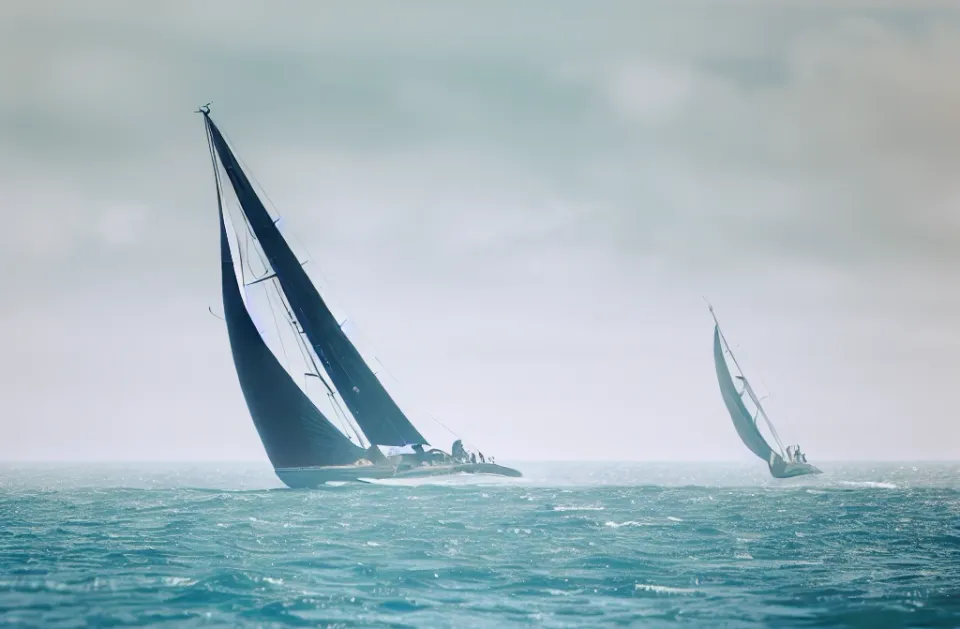 New Zealand behind the 5G availability pack
OpenSignal's June 2023 worldwide experience survey notes that New Zealand has 6.8 per cent 5G availability. That's the proportion of time a mobile phone user is connected to dedicated networks rather than other wireless technologies.
This puts New Zealand at 49 out of 56 of the world's advanced and developing countries.
That is a long way behind Puerto Rico, the top nation for 5G availability at 48.4 per cent or South Korea where 5G availability is 42.9 per cent. Australia sits at 15 in the table on 20.5 per cent.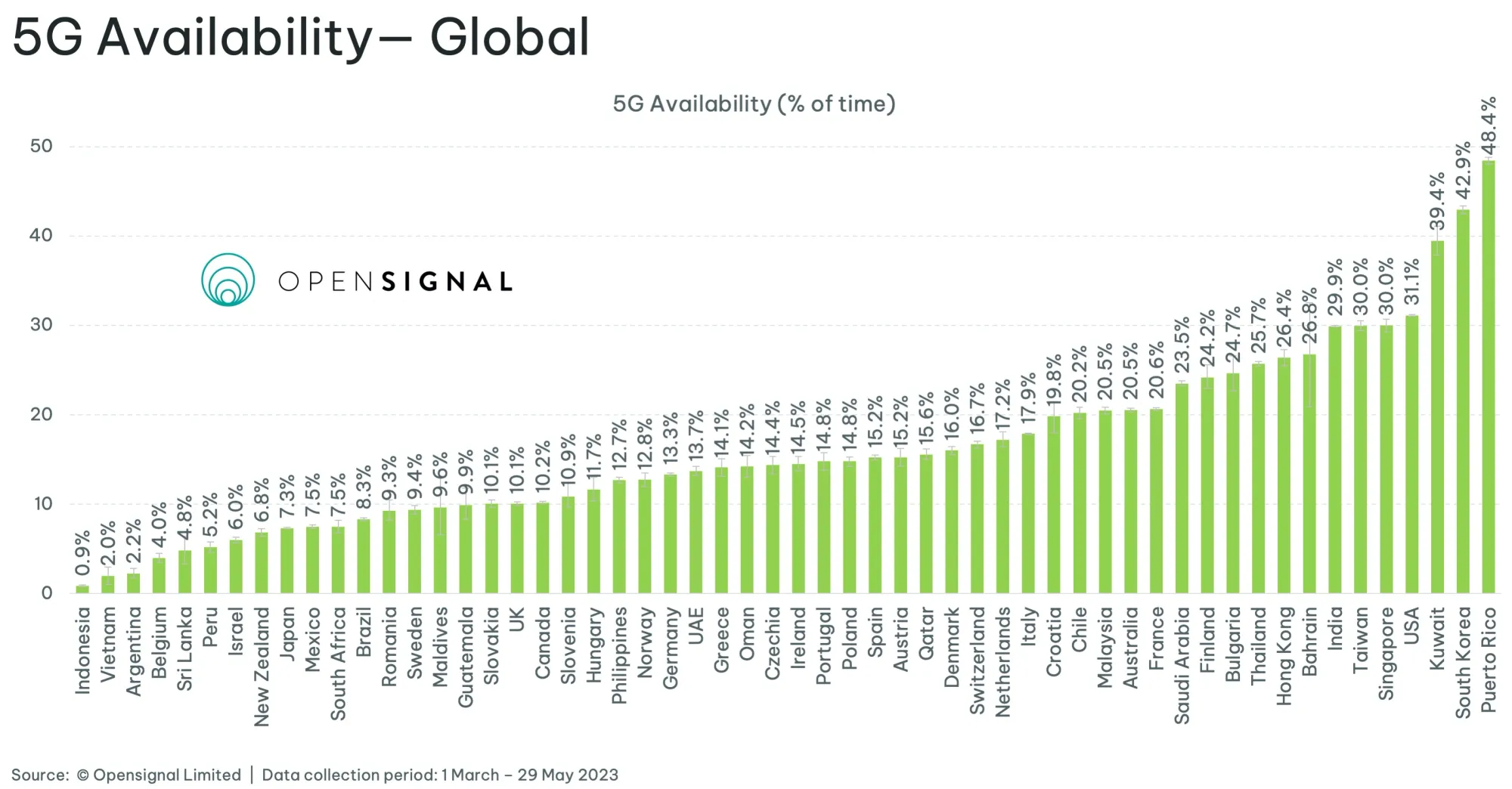 A recent story in the Financial Times quotes analysts and executives who say the UK risks becoming a 5G also-ran, despite starting in 2019. It identifies limited investment and the effects of the Huawei ban as key factors. The report treat's the UK's 10.1 per cent 5G availability as something of a crisis.
The Commerce Commission's 2022 Telecommunications Monitoring Report says that last year the 5G network covered one per cent of New Zealand's land mass.
Thanks to the uneven population distribution, that's enough to cover 18 per cent of New Zealanders although the Commerce Commission notes this data comes from an industry questionnaire.
This is in stark contrast to measured user experience where the Commerce Commission calls on OpenSignal data to create the graph shown here.
Better at download speed
New Zealand does better on over 5G measurement. OpenSignal found the average 5G download speed is 251.6 Mbps putting the nation at 13 out of 56. The top nation is South Korea where users can download at 432.5 Mbps. That is something of an outlier.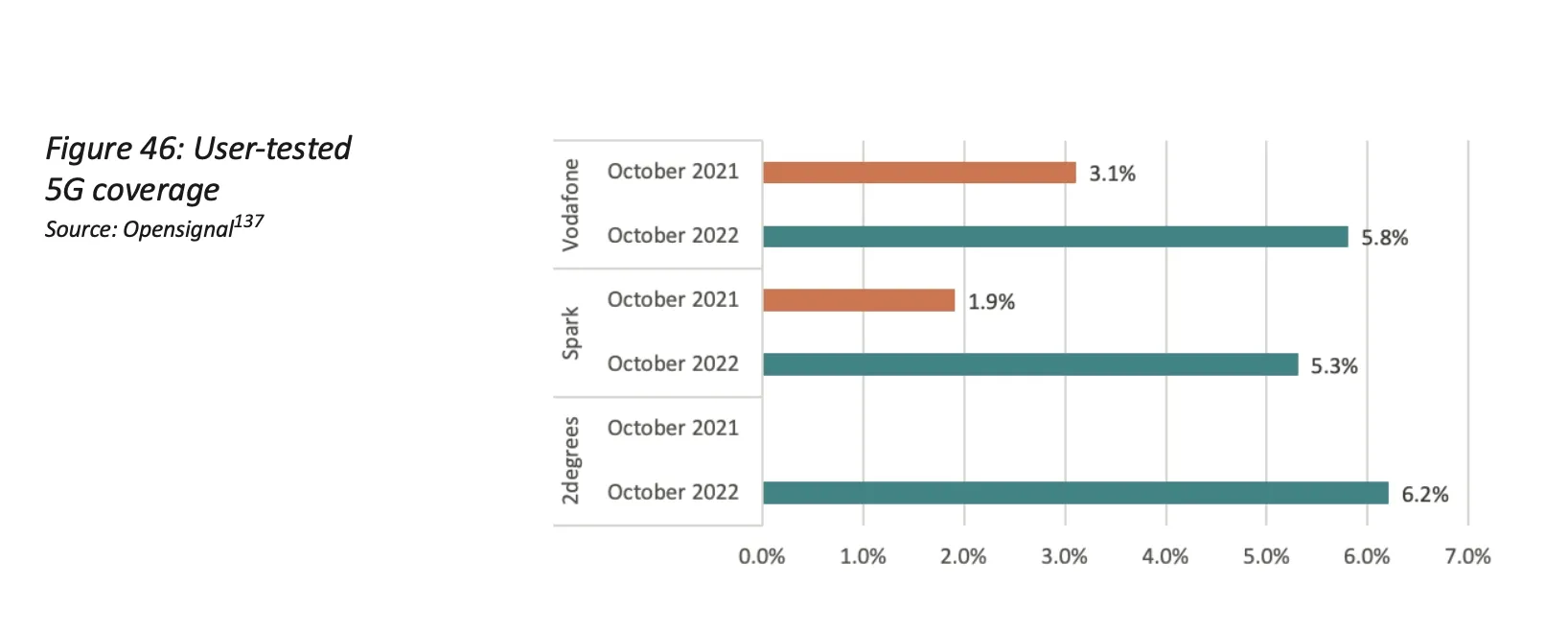 We come out well ahead of Australia on 182.3 Mbps or the UK on 124.4 Mbps.
Upload speeds are ordinary in New Zealand. OpenSignal clocked local 5G uploads averaging 23 Mbps. That's a long way behind South Korea's 42 Mbps but still well ahead of Australia (15.7 Mbps) and the UK (14.7 Mbps).
---
ComCom sets out expectations on surcharges
An open letter from the Commerce Commission calls on businesses to be more reasonable about surcharges.
John Small, who chairs the Commerce Commission says: "…our intent is not to promote or discourage surcharging but to focus on ensuring that where merchants do surcharge, that they do so at no more than the cost of accepting the payment."
The Commission has been working on this project with a number of larger companies. Small says in general businesses have
"engaged positively with the Commission" and have taken measures to reduce their surcharges or have provided reasons as to their current surcharging practices.
He singles out mobile operator 2degrees as a company that reviewed and reduced its surcharges. The company will cut its surcharge from 1.75 per cent to 1 per cent later this year.
For now, the Commission says it has not decided if regulation is necessary.
---
Spark's CCL scores VMware Sovereign Cloud status
CCL, Spark's cloud subsidiary, says it has earned VMWare's sovereign cloud status, which means the company is able to meet geo-specific hosting requirements.
It means CCL has the necessary specialist skills and capabilities to make sure classified data is protected, compliant, resident within a national territory and subject to the laws of that country.
---
---
One NZ to offer eSim for wearables
One NZ has launched OneNumber for the Samsung Galaxy Watch 6. The company says it is an 'affordable' eSim for wearables. The eSim shares an existing mobile number, which means customers can leave the phone at home and make calls and perform other tasks using the watch.
The eSim is free for the first three months, then costs $5 a month for customers on Pay Monthly or Business mobile plans.
One NZ says it expects to offer OneNumber for other watches. Spark has offered eSims for the past four years.
---
2degrees business survey shows firms absorbing inflation costs
A survey conducted by 2degrees found 87 per cent of New Zealand businesses had seen costs increase in the past year. While 63 per cent of companies report they were able to increase prices during that period, this suggests many companies face having to absorb the cost of inflation.
The survey found larger firms are doing better than small businesses. Those with more than 51 employees are more inclined to describe their business as 'thriving' and more are optimistic. The number of larger businesses expected revenue growth over the next year is also higher.
---
Telcowatch notes an uptick for 2degrees' market share
Datamine's Telecowatch reports 2degrees increased its share of New Zealand's mobile market one percent to 23 percent in the second quarter of 2023. The company remains the smallest of the three mobile network operators. One New Zealand has a 35 percent market share while Spark is on 34 per cent while Skinny, Spark's second brand is on 8 per cent giving the company a total of 42 per cent.
---
In other news…
IDC says Asia-Pacific IoT spending will hit US$277 billion this year. That's up 11 per cent year-on-year.
A report from Gartner forecasts call centre spending on conversational AI will grow 16 per cent this year. Conversational AI and virtual assistants are the fastest growing part of the call centre market.
The Cyberspace Administration of China wants to limit young people's mobile phone use to less than two hours a day. It has proposed a law that would require phone makers to add a "minor mode". This would be used to limit a child's use and stop them from using the devices at all between the hours of 10pm and 6am. China already has strict laws governing the amount of time young people can play video games.
News reports of the CAC plan triggered a fall in the share price of Chinese tech companies.
The Register reports the Australian Senate plans to ban Chinese social media apps. The justification is that the Chinese government uses homegrown social media to spread targeted propaganda and misinformation.
The Download Weekly is supported by Chorus New Zealand.