The changing shape of New Zealand's telecoms market
The Commerce Commission has released its final decision on the 2021–22 Telecommunications Development Levy. Phone sales recovery delayed. NZ Compare Award winners.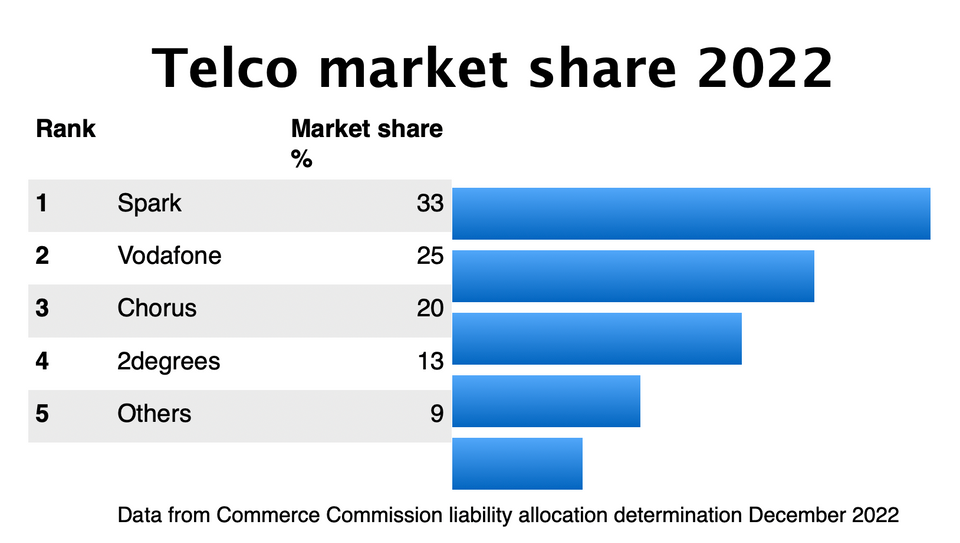 Final TDL decision shows market competition
The Commerce Commission has released its final decision on the 2021–22 Telecommunications Development Levy. It is unchanged from the draft decision released at the end of October.
The TDL is a fund used by the government to pay for the infrastructure and services that are not commercially viable. This includes a relay service for the deal, 111 services and rural broadband projects.
This year's levy is $10.484 million. Carriers contribute towards this fund based on their share of qualified market revenue.
It's a complex equation that means the largest carriers pay the bulk of the levy while smaller telcos contribute. Spark pays almost one third of the total, while the four largest telcos, Spark plus Vodafone, Chorus and 2degrees, pay 90 per cent.
Shifting market share
The TDL allocation table published by the Commerce Commission is a good measure of the relative market share of New Zealand's telcos. And the end of 2022 is a good time to take stock of what has happened to the structure of the New Zealand market.
In 2011 Telecom, now Spark, and Chorus emerged. Before that time Telecom accounted for over half the market, Vodafone was a quarter of the market. TelstraClear, which is now part of Vodafone, accounted for around 10 per cent of the market.
Today Spark is a third of the market. Vodafone remains at around a quarter. Chorus is the third largest with around 20 per cent and 2degrees with 13 per cent. Chorus is a wholesale business, it doesn't compete directly with the retail telcos.
In the official levy allocation table 2degrees and Orcon are listed separately with 9.96 and 2.78 per cent respectively. As the two companies are now merged, they are counted together in this analysis.
Which means the last decade has seen the retail market go from one dominant company and one other large player to a less dominant market leader followed by two challengers each with a healthy share of the total.
---
IDC says phone shipment recovery will take longer
IDC has updated its phone market forecast saying shipments are set to fall 9.1 per cent this year. That's 2.6 per cent below its earlier forecast. The analyst company expects the market to ship 1.24 billion units in 2022.
A recovery is expected next year, but IDC has revised its 2023 numbers down saying the growth will be 2.8 per cent.
It says rising costs are likely to depress consumer demand.
There is a demand for 5G capable phones, more than half of all phones shipped this year support the standard. IDC says 80 per cent of phones will be 5G capable by 2026. There is a small momentum building behind foldable phones, but from a small base. They account for between one and two per cent of the market in 2022. IDC that will only grow if costs decrease.
---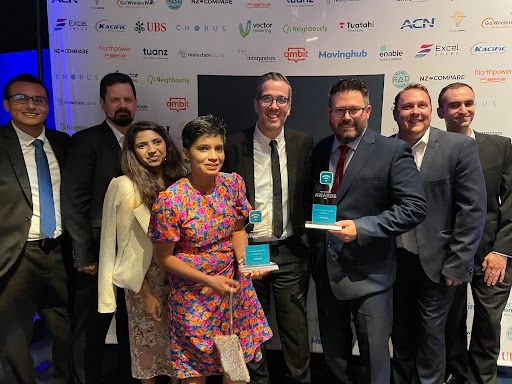 NZ Compare award winners include N4L
Network for Learning picked up two awards at last week's Compare Awards 2022 ceremony in Auckland. The crown-owned school connectivity company was named as the Broadband Provider of the Year and Best Customer Support - Broadband. N4L was previously Broadband Provider of the Year in 2018.
Other broadband winners include;
Best Rural Service Provider - Lightwire.
Best Value Broadband Provider - MyRepublic.
Best Wireless Service Provider - UBB - Ultimate Broadband.
Best Fibre Broadband Provider - Orcon.
Best Business Broadband Provider - Vodafone.
Best Digital Innovation - Wow Internet.
Best Bundled Plan - Contact Energy.
People's Choice Award, Broadband - Voyager.
2degrees dominated the mobile categories winning the Best Value Mobile Provider, Mobile Network of the Year and Best Network for Business categories. Skinny Mobile took out the People's Choice Award.
---
Datagrid lodges consent application
Stuff reports that hyperscale cloud company Datagrid lodged a resource consent application with Southland District Council in mid-October.
Datagrid was co-founded by Remi Galasso who founded and sold
Hawaiki Cable and Callplus founder Malcolm Dick.
The application reveals plans for 10 10 MW data halls and a 33 kV electricity connection to the existing grid along with a substation.
---
Spark offers more generous, more inclusive parental leave
Spark says it will top up government payments so that employees who are primary carers can get the equivalent of their full salary for 26 weeks during parental leave. Secondary carers get four weeks paid leave. There is also a phased return to work policy and a new parents' support network.
---
Apple adds iMessage verification
Apple has announced new security features including iMessage Contact Key Verification which allows users to verify the person at the other end of a communication. It works with any Apple device, including iPhones and iPads.
The company says the feature will alert uses if someone infiltrates its cloud services and attempts to access the users' iMessage conversations. If necessary users can take this a step further and compare a Contact Verification Code either in person or using Apple's FaceTime video calling.
---
International: Overseas carriers wait for 5G pay off
Writing at the Financial Times, Anna Gross reports on a lack on consumer interest in 5G mobile technology. In particular, carriers in the US are finding it hard to get consumers to pay a premium for 5G services.
She writes:
"The hype for 5G has dwindled, and demand has shifted to more practical aspects of smartphones such as battery life, storage, processor speed, and camera quality," says ​​Chiew Le Xuan, an analyst at Canalys. "Everyone is feeling the pinch and the practical uses of 5G have yet to be seen." He argues that, in the vast majority of cases, 4G speeds are sufficient for everyday use.
Gross reports sales of 5G capable handsets are falling, although she says the slowdown in demand is partly temporary with soaring inflation dampening interest in more expensive phones and plans. Another problem is that few carriers offer standalone 5G.
---
EU to allow phone use on flights
A recent European Commission ruling says that airlines will be able to provide 5G and slower mobile data connections for phone users. The deadline for making 5G frequency bands available for planes is June 30, 2023.
The new rules will, in effect, mean the end of airplane mode with flyers able to make voice calls, surf the web and even stream music or video while in flight.
In the past there have been concerns that mobile phones could interfere with plane electronics and, in some cases, upset altitude measurements. The US still worries about this, but Europe uses a different set of frequencies and lower power settings than are allowed in the US.
---
In other news…
New legislation modelled on Australian and Canadian laws will force tech giants like Google and Meta to negotiate deals with local media companies.
The Dell'Oro Group says broadband equipment spending hit record levels in the third quarter of 2022. The total broadband access market was up 17 per cent. Growth overall was driven by investments in new fibre networks: passive optical network equipment spending was up 27 per cent on a year earlier.
At Reseller News Rob O'Neill reports Microsoft NZ storms past $1B in revenue for 2022. That's up from $774.9 million in 2021.
Texas has banned TikTok on devices used by government workers. The state's governor says there are concerns they app shares potentially sensitive data with the Chinese government.
CommsDay reports that a joint Telstra Ericsson and Qualcomm project managed to download at a record 7.3 Gbps on a commercial 5G network in Queensland.
The Download Weekly is supported by Chorus New Zealand.
Download Weekly is a free wrap of New Zealand telecommunications news stories published every Friday.
All it requires is an email address. Your address is only used to send out the newsletter. I won't sell it to anyone.
I'm not collecting the data for anything other than sending out the newsletter. Your name isn't going to be sold anywhere.