New Zealand wireless rural broadband hits key milestone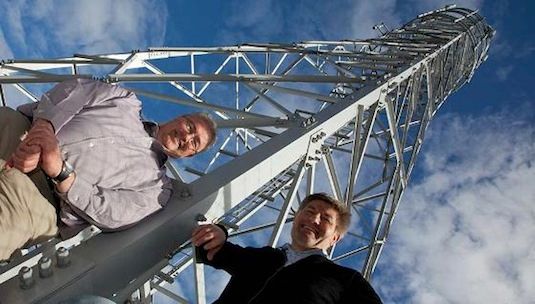 After a slow start New Zealand's Rural Broadband Initiative has hit its stride.
RBI is a government-subsidised scheme to give farmers and people living in rural areas a broadband network.
Communications minister Amy Adams says the first stage is now complete with 154 new cellular towers now built. The towers serve 3G and 4G fixed wireless broadband as well as conventional mobile phone services.
She says 300,000 rural homes and businesses can use RBI wireless services.
Towers of power
The towers also increase mobile coverage in rural New Zealand. Before the RBI began, mobile services reach a little over one-third of New Zealand's geographical area. Today mobile services cover half the area.
In addition to the 154 new cellular towers, Vodafone will have finished upgrading a further 387 existing towers by this time next year.
Vodafone won the original contract to build new mobile towers. Chorus, which was then still part of Telecom NZ, won the contract to connect fibre to the towers.
Despite building the towers, the RBI contracts insisted Vodafone allowed other carriers to install their equipment. This proved a smart move.
3G RBI not up to much
Early Vodafone RBI services using 3G technology were slow, expensive and had low data caps. This meant there was a pitiful take-up. One year ago the total number of customers signed for Vodafone's RBI was officially around 8,000, although insiders insisted the number of active user was lower.
In May 2015 Labour communications spokesperson Clare Curran called for an inquiry into the low take-up numbers. Tuanz CEO Craig Young said his organisation was disappointed with the low uptake of RBI services.
At the time Vodafone RBI customers paid $95 a month for 30 GB of data and free calling. The 3G broadband speeds could be lower than 1 Mbps and were rarely faster than 5 Mbps.
Spark enters
Things picked up. A few months after the complaints, Spark entered the market with a competitive fixed wireless broadband offer. Spark's rural wireless broadband was 4G from day one, offered a higher data cap and had user-installed hardware making it easier to get started. Vodafone responded in kind and numbers picked up.
Today many rural users can get fibre-like speeds for little more than the price paid by urban broadband customers.
Spark and Vodafone offer similar packages where customers get 80 GB of data and local calling for $106 a month, or an 80 GB naked broadband plan for $96 a month. RBI users with a 4G connection could see speeds go as high as 80 Mbps, although typical peak speeds are more often in the 30 to 40 Mbps range.
In comparison urban residential customers can get unlimited data at fibre speeds of 100 Mbps for around the same price.
Competition
Adams says; "This agreement has been very successful, with approximately four out of every five new cell towers hosting a mix of competing operators."
RBI doesn't stop with the 154 new and 387 upgraded towers. The now completed first phase of RBI was subsidised with $300 million of government funds — some of this from a tax imposed on telecommunications companies.
In the 2015 budget the New Zealand government earmarked a further $100 million to extend the RBI's reach. There's a further $50m to fill in mobile network black spots. The government says this will improve safety on highways and better serve remote tourism locations.
Adams set down ambitious goals for rural broadband, in May she issued a statement saying: "By 2025, I want to see 99 percent of New Zealanders able to access broadband capable of 50 Mbps, and the remaining one per cent in the hardest to reach locations able to access broadband of 10 Mbps."