Samsung Galaxy S4 or Nokia Lumia 920?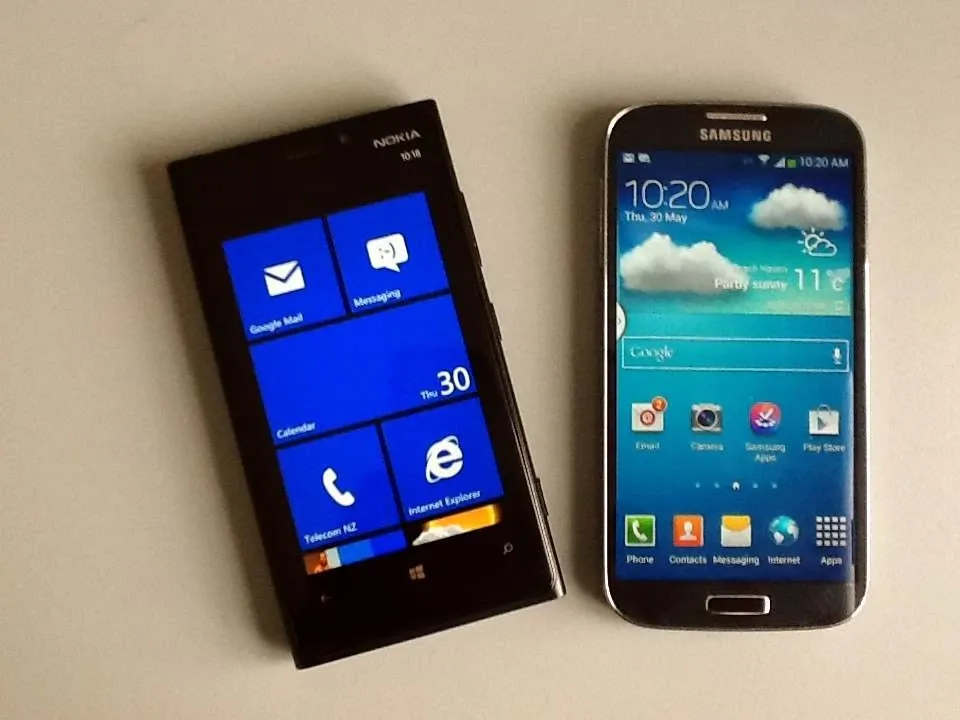 It took Samsung a month to sell 10 million Galaxy S4 phones.
That's a great start and goes to show even a wrong-head, cheesy show business launch can't stop the momentum building behind Galaxy's brand.
How does the Galaxy S4 compare with Nokia's Lumia 920 as a business device?
The Galaxy S4 is six months newer than the Lumia 920, so you'd expect it to have an edge. Yet the difference is less than you might expect.
Phone innovation is slowing
That's partly because the pace of phone innovation is slowing and partly because while the extra stuff packed in the Galaxy S4 looks good on paper, it doesn't amount to much in practice.
Feel: There's no question the Lumia 920 feels better. It's solid. It could probably stop bullets. In comparison the Galaxy S4 is flimsy. Although both are made of plastic, Samsung's S4 feels cheaper and less substantial. It's also, well, boring.
On the flip side, the Galaxy S4 weighs almost one-third less and is much slimmer. It's so slim and light that you barely notice if you are carrying it. When it comes to feel, the two phones tie.
Screen: On paper the Galaxy S4 has a better screen – much higher resolution and half an inch bigger. Both look wonderful compared with other phones. Again this is a tie.
Grunt: Samsung's phone is faster than the Nokia. Direct comparisons are hard because of the different operating systems.
Both phones are work horses
In use, it's rare for the Lumia's power plant to stumble over a normal workload. Most of the time you wouldn't know one is faster than the other. Even so, we'll give this round to Samsung, because there may be, as yet undiscovered, applications where the extra computer power is useful.
Included software: The Galaxy S4 comes with more software than you can shake a stick at. Most of the bundled apps are things you will probably never use. A lot are for photo-editing. It's fair to say most handsets will end their useful lives without every last included app being explored. Overall, this is a tie, but you might have other ideas if you like the idea of photo manipulation.
OS: We could argue the toss over the merits of Android versus Windows Phone 8. The S4 has the latest Jelly Bean version of Android with Samsung's software overlay.
There is no obvious winner here. If you need something on one OS that's not on another, then your choice is made. Otherwise, it's unlikely to make a difference. Another tie.
Camera: Nokia's Lumia 920 has an outstanding camera that takes stunning pictures, even in adverse conditions. Samsung would need to do something outstanding to beat that. It has gone for a huge bump in the pixel count with 13 megapixels compared with 8 megapixels on the Lumia.
More pixels doesn't always mean better pictures
Throwing more pixels at photography isn't necessarily a smart move. The Lumia takes better shots most of the time. Nokia wins this comparison.
What else? The Lumia 920 battery lasts longer than the S4's. Expect to get a couple of hours more from the Nokia before needing to recharge. Again there's not much in it, but the bigger screen and more processing cores gulps down more power.
Telecom NZ lists the Galaxy S4 at $1150 while the Lumia 920 is $900. Prices for the Galaxy are the same elsewhere, the other carriers don't list the Lumia 920.
Overall: Comparing specs makes sense, but what matters is how the phones work and feel in practice. Windows Phone 8 seems to power through work as quickly as the Android device. I'd say the Samsung Galaxy S4 has more fun features. If you just want to play then it is a better choice. For work, the six month older Lumia 920 is at least as good as the S4.
Of course Samsung will sell many more Galaxy S4 phones than Nokia will manage with the Lumia 920 – there's a lot to be said for hunting with the pack when it comes to technology.
The S4 is clearly the most advanced phone on sale today, but its lead over the rest of the market is slim.