Galaxy Note 7 woes see Apple regain NZ phone crown
Thanks to problems with the Galaxy Note 7, Apple sold more phones than any other company including Samsung in the last quarter of 2016.
IDC says it is the first time Apple was New Zealand's top selling phone brand since early 2012.
During the quarter phone sales hit a record high. Some 672,000 phones shipped1 between October and December 2016. That's up from 614,000 a year earlier.
Apple shipped 221,000 phones. Samsung shipped 176,000. Third-place Huawei closed the gap on its rivals shipping 143,000 phones.
The three brands accounted for almost 80 percent of total phone sales.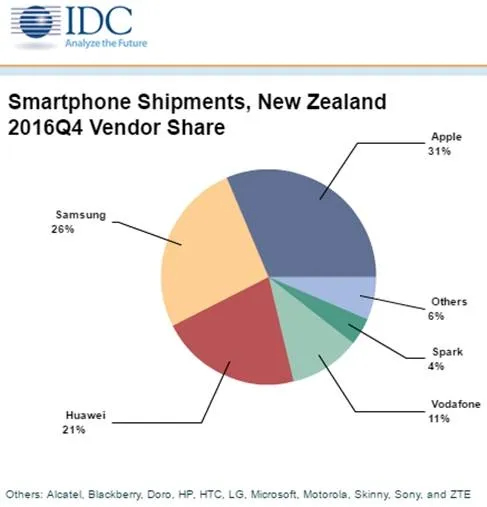 Samsung's Galaxy Note 7 recall after dozens of fires and explosions only goes part of the way to explaining Apple's success.
IDC New Zealand client device analyst Chayse Gorton says:
"…even with some consumers expected to be holding off upgrading their smartphone until the release of the 10th anniversary edition iPhone, forecasted in late 2017, the demand for iPhone 7 has been stronger than anticipated".
Gorton says the iPhone 7's updated specifications were enough to entice Apple users.
He says: "It's hard to say with confidence that a single feature drove customers to upgrade, such as increased durability. It is likely a combination of improvements leading to consumers perceiving the iPhone 7 models as superior".
Samsung loyalty
That explains why Apple users upgraded, not why customers of other phone brands switched to Apple. Gorton says the Note 7 problems meant some consumers questioned their loyalty.
It looks as if Apple's surge is greater than upgrades and Samsung refugees alone might suggest.
Also interesting is Huawei's rapid growth. Until late 2016 Huawei phones offered similar features and style to Samsung models at a sharp discount.
Samsung faced a battle on three fronts:
self-inflicted wounds,
Apple at the high end and
Huawei cutting the price ground from under Samsung's feet.
Despite all this Samsung stayed in the top spot for the year. IDC New Zealand puts its market share at 32 per cent, while Apple and Huawei were at 27 per cent and 14 per cent.
This year will see added competition from Oppo. At the same time, Huawei is moving upmarket into Samsung territory with the NZ$1400 Mate 9 Pro.
---
Vodafone phones
IDC's chart shows Vodafone has an 11 per cent market share with its own branded phones. Some of these are excellent value, in extreme cases they have much of the function of phones costing eight or ten times as much.
---
IDC counts phone shipments, a measure of how many phones leave warehouses. That's not quite the same as sales. ↩︎