Satechi's 165W charger powers devices faster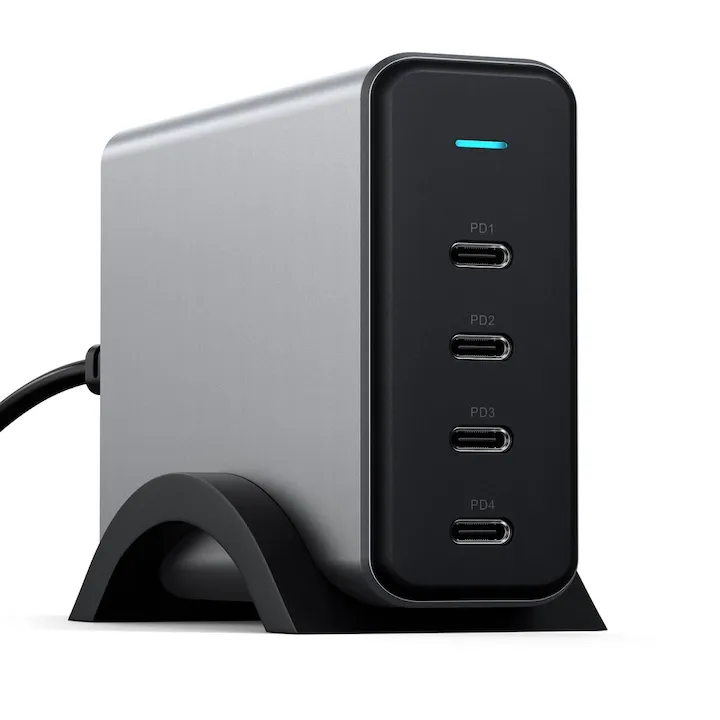 If you need to charge a handful of devices at the same time and in a hurry, Satechi has the answer.
The product's name, Satechi 165W USB-C 4-Port PD GaN Charger, spells out what it does and how.
From the top: There's 165 Watts of power. That's a lot. In comparison the 2023 16-inch MacBook Pro includes a 140W charger which is considered a lot by modern laptop standards.
More power means faster charging or charging more things at once. We'll get back to that in a moment.
USB-C means it works with almost every modern device. Today's laptops, tablets and Android phones use USB-C. Apple's' iPhone is one notable exception although reports suggest it will switch with the next generation.
Not that it matters in this case, because the iPhone's current Lightning connector cable has a USB-C port at the end that plugs into a charger. My Apple Watch is harder to accommodate. It has a USB 3.0 plug. There are compatible USB-C cables, but in my case I used a USB 3.0 to USB-C adaptor.
The review Satechi charger has four ports which means you can charge your laptop, tablet, phone and smart watch at the same time. It automatically configures the power output depending on what is connected and can use one of these schemes:
100W, 100W/60W, 60W/60W/45W or 100W/30W/30W, 60W/45W/30W/30W, up to a total of 165W.
Satechi uses Gallium Nitride (GaN) technology which replaces silicon-based semiconductors. This is used to make blue LEDs, there's one on the case to drive this point home.
Gallium Nitride can work at higher temperatures and higher voltages than traditional power semiconductors. In practice the charger doesn't tend to heat up as much as conventional chargers, even when it is working at full capacity.
Satechi's marketing is understandably geared towards selling the 165W charger on the back of its fast charging and power efficiency. As we've seen, it delivers in both departments.
There's another less obvious benefit. Peek under the desk in many home offices and there will be a rats' nest of cables, charging plugs and distribution boards. They can be the worst places for collecting dust and quickly become unsightly and unhealthy.
The Satechi four port charging hub can replace more than four traditional cables. You can rationalise your cables and chargers, sweep away the distribution boards and simplify the home office.
Talking points:
Apple and a handful of other manufacturers no longer include chargers with phones, which means a third-party charger capable of doing more can be a smart purchase.
It takes about 90 minutes to charge a 16-inch MacBook Pro from zero to full using the Satechi charger. That's roughly the same time as Apple's charger. I found an iPhone charges much faster than with the official charger. (The next two times it gets to empty I'll benchmark that).
It is handy to take when travelling as hotels, motels or Air BnBs rarely have multiple spare sockets for charging devices.
If you go overseas it can automatically adapt to voltages between 100 and 240V.
The list price is NZ$185, but while writing this review I noticed local retailers selling it for $150.