Skinny shines in ComCom rankings
Skinny performed well in the first ComCom customer service rankings while One New Zealand is the clear under-achiever. Tuanz puts digital divide on the election agenda. Phone sales plummet.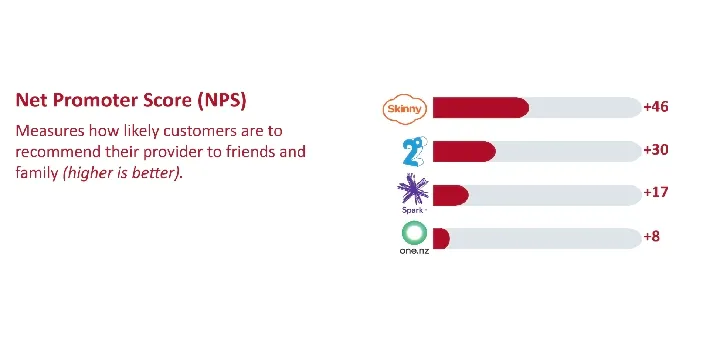 Skinny tops every mobile customer service category
Spark's low-cost, low-customer touch Skinny brand came out top in all four categories in the Commerce Commission's first Residential Mobile Rankings.
One New Zealand took the wooden spoon coming last in each category. In cases One NZ sits well behind its three rivals.
The company formerly known as Vodafone, fared marginally better when it came to the rankings for broadband providers. Of the seven companies ranked, One New Zealand was second to bottom in three of the four categories.
Commissioner wants to raise service quality
Telecommunications Commissioner Tristan Gilbertson, says the publicised rankings are part of the ComCom's work designed to improve telco retail service quality.
For years telecommunications has been one of the most complained about industries. Vodafone was often the most complained about company.
The Commerce Commission's new mobile and broadband customer service rankings measure mobile phone companies in four departments.
Would you recommend your service provider?
When it asked consumers how likely they were to recommend their service provider, One New Zealand scored 8 on a scale that runs from 0 to 100. Skinny scored 46 while 2degrees came in at 30. Spark scored 17. You can see the other comparisons in the table below.
The Commerce Commission plans to publish these tables every six months which will give consumers a clear indication of how the companies track over time.
While Skinny's mobile business fared well, the company did not score as high in the broadband tables. The company was ranked lowest when it comes to staff knowledge and helpfulness.




Broadband performance narrower
There is far less of a range between the companies' broadband customer performance. Contact Energy turned in a respectable result across most departments. It beats all the telcos when it comes to the number of issues customers face.
Two of New Zealand's three largest broadband retailers, One New Zealand and Spark were consistently in the bottom half of the broadband table.
The results in the first Commerce Commission rankings are broadly in-line with the commercially conducted customer service rankings from Consumer and Canstar which also placed Skinny in first place.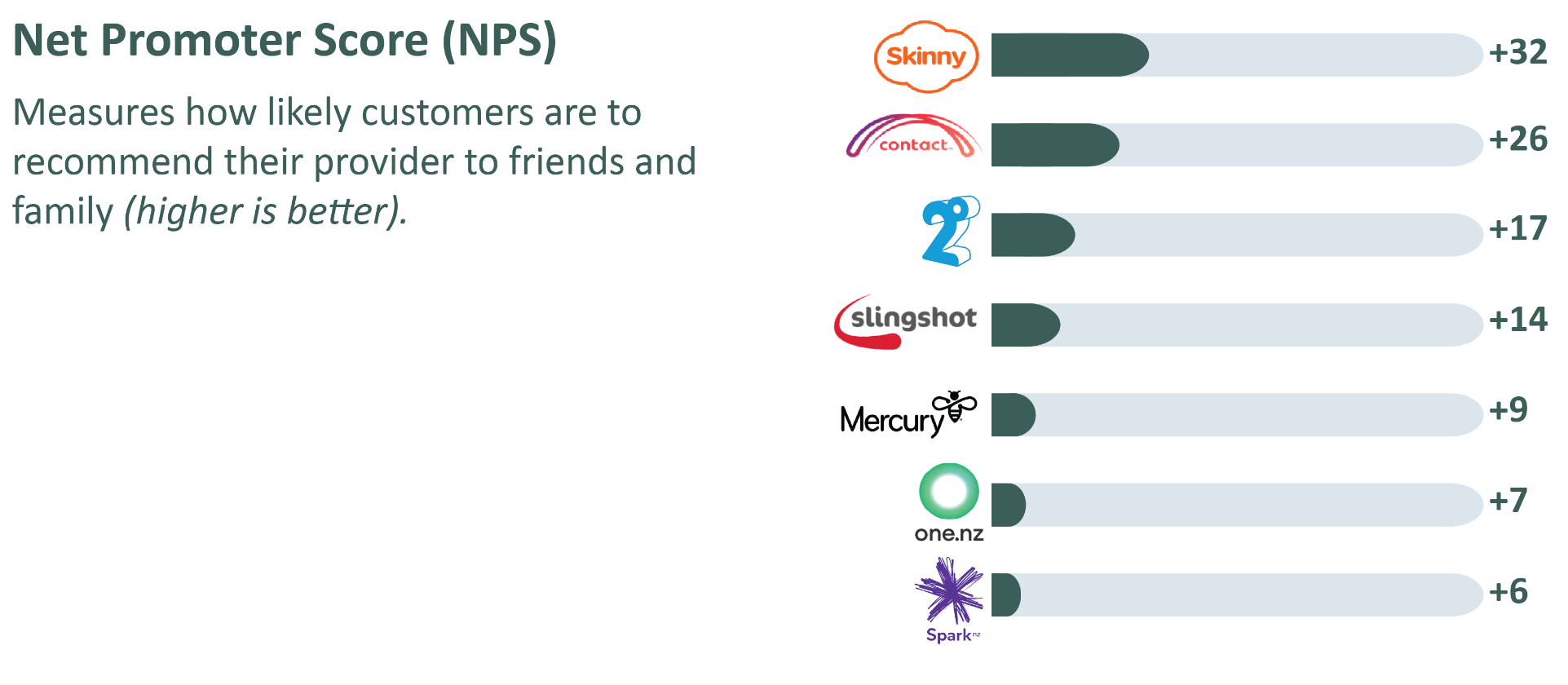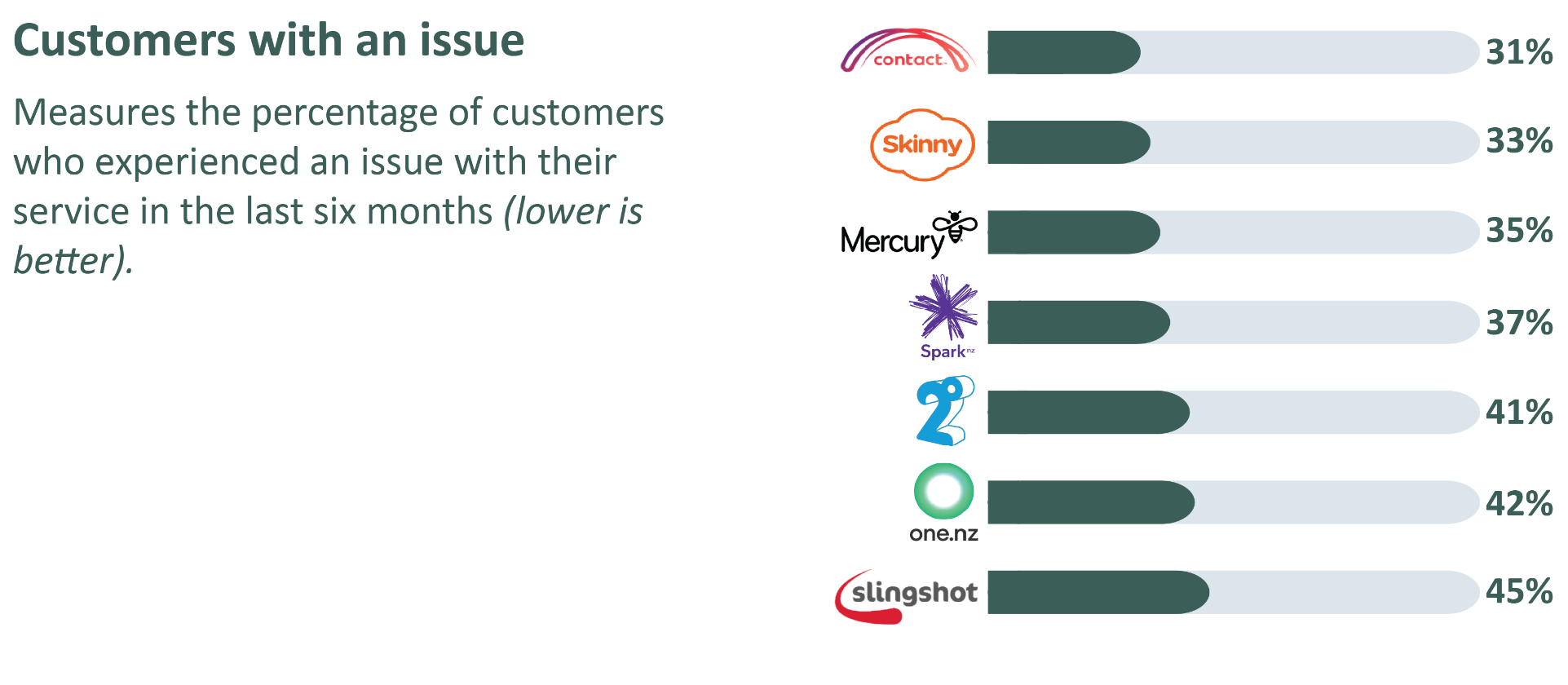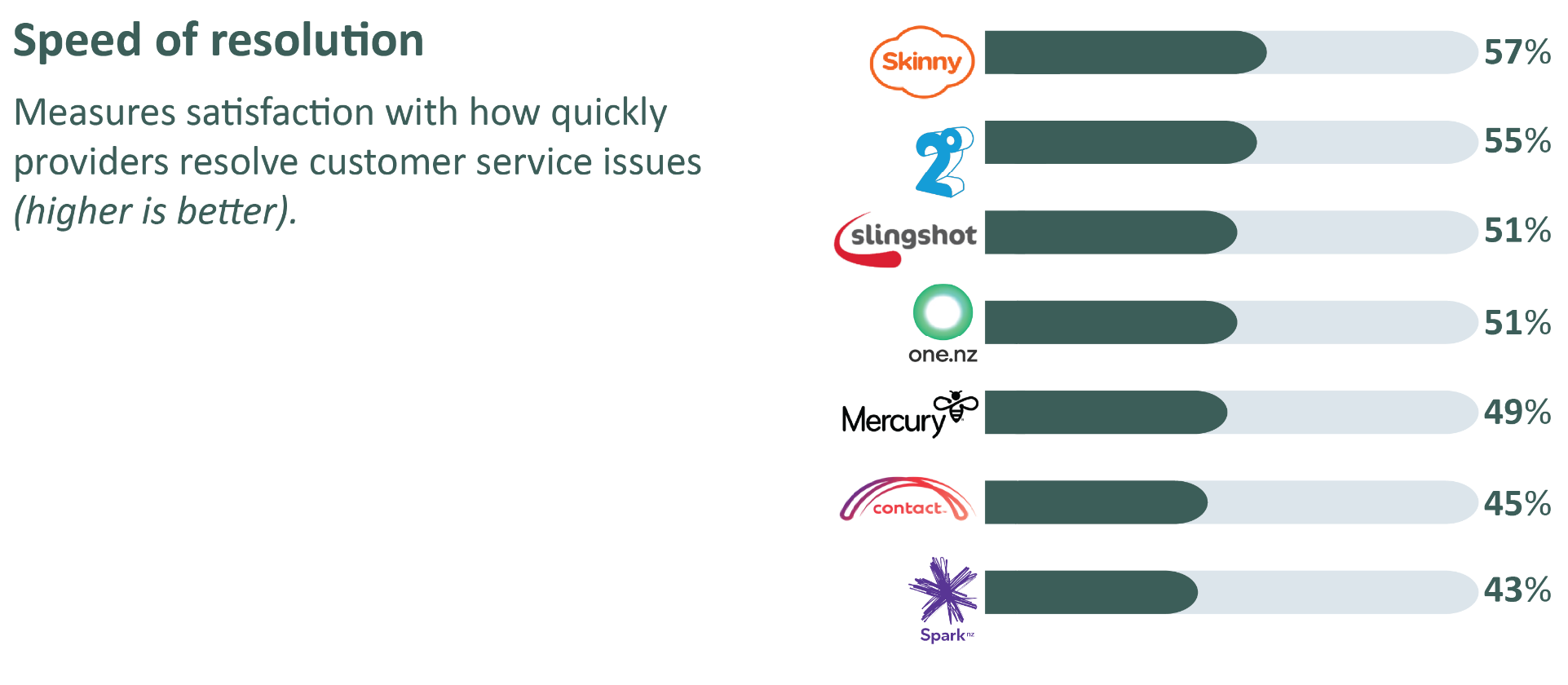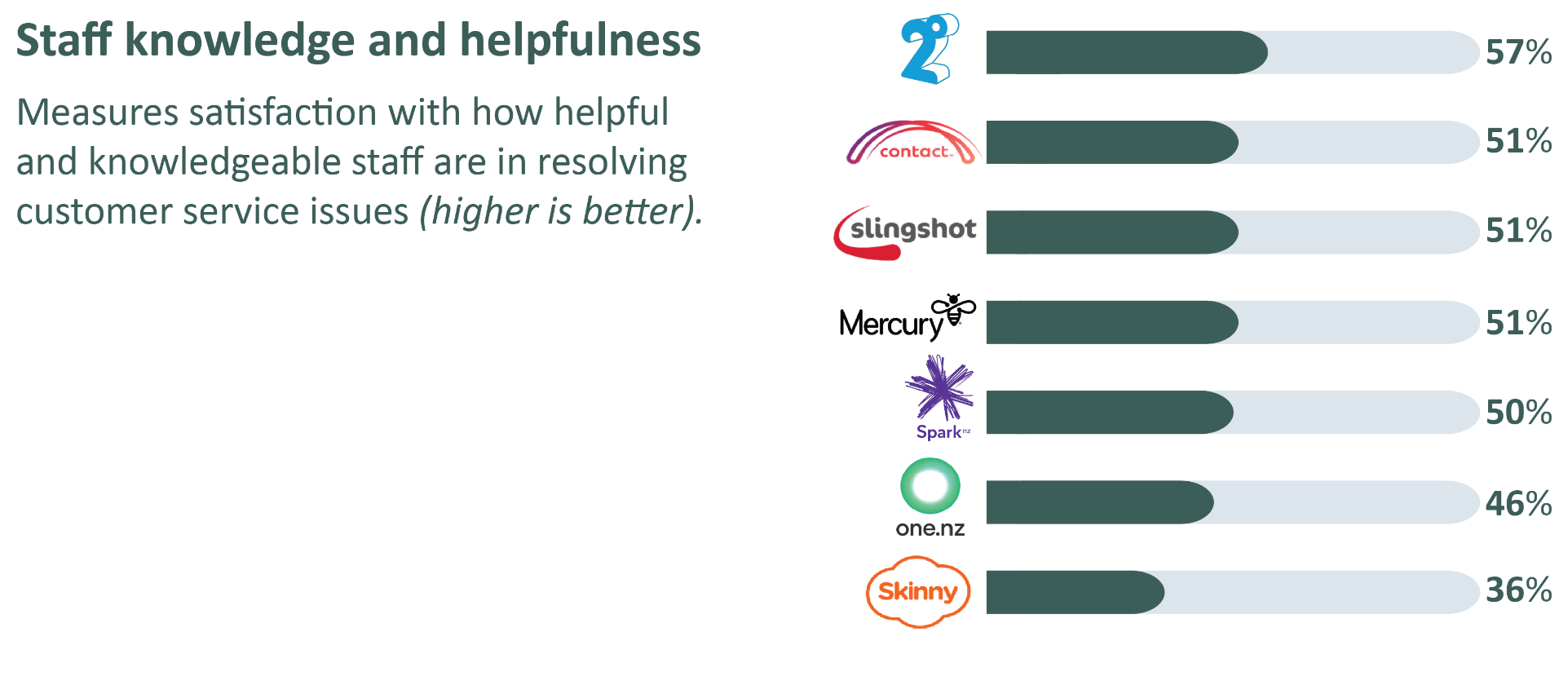 Comment: Skinny gets a gold star
Skinny, the brand that promises less personalised customer support than its rivals, has the customers who are happiest with the support they get.
You could view that as irony. Yet it could be down to lower customer expectations or that customers who choose the low-touch service provider are more confident with their ability to manage the technology themselves.
Either way, the Skinny mobile model works and the company gives the rest of the industry a benchmark to measure performance against.
---
Tuanz puts digital divide on the election agenda
The Tech Users Association (Tuanz) wants the next government to commit to bridging New Zealand's digital divides. The organisation says Covid-19 highlighted the digital divides and it needs to be addressed.
There are 130k households that don't have internet access. These are mainly lower income households.
Tuanz says the cost of living crisis makes it worse, so does the cost of devices needed to access the internet along with a lack of digital skills in some households.
Missing digital skills another divide
Craig Young, who heads Tuanz, says as many as 20 per cent of the population lack the necessary skills. He says we need to direct our limited resources on those with the lowest incomes.
"To do this we need to have a joint agreed definition on the size of the current affordability issue as well as any eligibility criteria. To help calculate how many households can be supported, we suggest using the upcoming DECA (Digital Equity Coalition Aotearoa) research in this area to determine the cost of the basic package of meaningful digital access (internet access at home, access on the go, devices and basic skills)".
Comment: Message needs repeating
There are multiple digital divides. The obvious gulf between rich and poor is one. The gap between rural and urban broadband services is another. If anything, the arrival of LEO networks makes that gap worse because, for many, satellite broadband looks like a solution to rural connectivity. Yet it is priced beyond the reach of low income families.
A third divide is between those with and without the necessary skills.
This would be harder for officialdom to deal with, but community organisations could do much more given back-up support.
A Venn diagram of the three digital divides would show plenty of overlap.
The divides aren't going away. Up to a point, the main problem is more about poverty than technology. The services are there, not the money to pay for them nor the devices to take advantage of them.
There is a lot of good will and a willingness to address digital inequity issues by government, government agencies and the telecommunications sector. That's great, but it needs to be turned into action. An election is a good time to turn the screw on politicians to get resources and attention. Tuanz is doing good work here.
---
Sharp drop in New Zealand handset sales
IDC reports a 12.1 per cent year-on-year decline in New Zealand phone shipments for the second quarter of 2023. It is the third quarter in a row that numbers have declined. This compared with a 4.7 per cent drop in worldwide phone shipments (see next story) and a 10 per cent drop in Australia.
The analyst company blames the fall on what are now the usual suspects: weak consumer demand and tough economic conditions. IDC adds vendor activity in the local market including portfolio consolidation and inventory control activity.
IDC notes: "Promotional activities were paradoxically combined with conservative shipping of smartphones, largely by vendors preparing to launch updated models, and to avoid getting stuck with excess stock of older models."
Things are expected to be brighter in the second half of 2023 with new phone launches ahead of the Christmas period, traditionally a strong time for phone sales. Apple is days away from launching a new iPhone that should revive the top end of the market.
Comment: What IDC doesn't say in its latest report is that Kiwis are hanging on to phones for much longer than in the past.
This is in part because there are fewer compelling reasons to upgrade a mobile phone because these days hardware changes incrementally from one year to the next.
At the same time, phone makers support their software for longer. The latest version of iOS can work with six-year old Apple iPhones, while Android phone software updates now often extend to three years.
---
International phone sales at lowest level for a decade
IDC says it expects worldwide phone shipments to drop 4.7 per cent in 2023 to 1.15 billion units. That's the lowest level for a decade. The research company blames a weaker economic outlook and ongoing inflation for the fall.
This forecast is an update on IDC's early estimate of a 3.2 per cent drop. IDC says it expects the market to recover next year and grow 4.5 per cent year on year.
Local PC sales down as businesses slash costs
It's not only phone sales that headed south in the first half of 2023. IDC reports PC sales were down 10.3 per cent in the second quarter. Consumer PC purchases were up 2.8 per cent while business PC shipments plummeted 18.1 per cent.
---
---
In other news...
Globalstar will use Elon Musk's SpaceX to launch the satellites it plans to use for Apple's iPhone emergency calls. The service lets iPhone 14 (and presumably iPhone 15) users connect to satellite networks to send messages or calls if they are out of reach of cell towers.
Chip designer Arm Holdings has gone on the road ahead of an initial public offering of American depositary shares (ADSs). The company plans to sell 95.50 million ADSs, at an indicated price range of US$47-51 per ADS. Which puts the value of the IPO at close to US$5 billion.
Horace Dediu at Asymco analysed data on iOS and Android use to find Apple's App Store generates US$10.40 monthly revenue per user while Google Play manages US$1.40 per user. That means iPhone customers are 7.4 times more valuable than Android customers.
---
The Download Weekly is supported by Chorus New Zealand.