Southern Cross lights up Next cable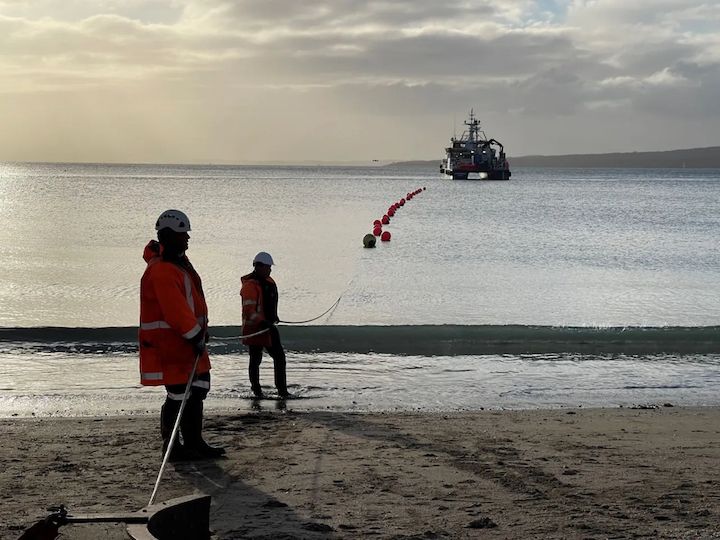 Southern Cross lights Next cable
Southern Cross Cables hit the switch on its 72 Tbps trans-Pacific Next cable on Thursday. The move doubled capacity on routes between New Zealand and the US.
The new 15,840 km cable connects Los Angeles to Auckland and Sydney with links branching to Fiji, Tokelau and Kiribati.
It joins the existing Southern Cross, Hawaiki and the Tasman Global Access cables to give New Zealand further resilience. There are now five cables connecting the island nation to the rest of the world.
The original Southern Cross, which has two connections on New Zealand's east and west coasts, is scheduled for decommissioning in 2030.
Spark remains the largest shareholder in Southern Cross Cable, its holding was diluted when Australia's Telstra joined as an investor in order to finance the US$350 million Next cable. Today Spark owns a fraction over 40 percent, while Singtel-Optus owns around a third and Telstra owns a quarter. US-based Verizon owns the remaining 10 percent.
Laurie Miller, Southern Cross Cables CEO, says the Next cable is the first of the replacement cables for the existing network.
Spark CEO Jolie Hodson says the new cable provides a lower latency connection to the US. She says: "We're excited to be able to offer this additional capacity to our wholesale customers and see this investment as an important enabler of the growth of emerging technologies like 5G and IoT."
---
Chorus joins wholesale fibre price rise pack
Chorus will raise wholesale prices on its fibre plans later this year following similar moves from Enable, Northpower and Tuatahi First Fibre. The company's price rises are structured to nudge users in the direction of the faster, more expensive plans.
At the bottom of the mainstream product line, the wholesale cost of a Chorus 50 mbps connection will rise 6.9 percent to $47.30. Chorus is offering its retail service providers incentives to move customers from this to the 300 mbps service which it says is better value.
The wholesale price for Chorus' 300 mbps down, 100 mbps plan will rise 5.5 percent to $50.50 a month. This is the company's most popular service, accounting for about 70 percent of residential connections.
FibreMax, that's a nominal 1 Gbps connection, prices rise 3.6 percent to $58.
Hyperfibre wholesale prices will fall. The wholesale cost of Chorus' most expensive product, the Hyperfibre 8000 service, will fall 26 percent from $150 to $110.
Chorus will not change the wholesale price of its 50 mbps Home Fibre Starter service which will remain at $38. This option comes with the condition that a retail service provider charges no more than $50 for the service.
Retail service providers have made noises about needing to pass on any wholesale fibre price increases to customers. It will be interesting to see if they are in line with the wholesale price changes or if they attempt to go higher.
The three largest service providers who now all offer fixed wireless broadband say prices for these services will not change.
---
Sky box misses launch date
Writing at Stuff, Tom Pullar-Strecker reports that Sky's new Sky box is running behind schedule. He says the target was to get it into homes by the end of June.
In Sky's defence the company says it had to cope with events that were beyond its control such as global chip shortages, supply chain disruption and even the war on Ukraine.
Pullar-Strecker says the delays mean problems for Vodafone which is set to withdraw its Vodafone TV service at the end of September. The company planned to help many of its 100,000 customers move to the Sky box.
---
Gartner: PC Sales set to resume long-term decline
After a brief revival when a Covid pandemic that sent workers and students home saw booming laptop sales, the long-term PC sales decline looks set to resume.
Gartner reports worldwide PC shipments are on track to fall 9.5 percent in 2022. The research company puts the drop down to a "perfect storm" of geopolitical upheaval, high inflation, currency fluctuations and supply chain disruptions.
You might add the fact that almost everyone who needed a work from home computer now has one.
Gartner says consumer PC demand looks set to drop 13.1 percent this year while shipments of business PCs will fall 7.2 percent.
---
In other news….
Spark and Qrious, its data analytics business, are running a pilot 5G Multi Access Edge Computing pilot project for EnvironNZ. The AI computer vision project uses Amazon Web Service's Snowball Edge for health and safety at resource recovery centres. It can detect when people are in dangerous, no-go areas where excavators are working and alert workers when they get too close.
Commsday reports that former Internet NZ CEO Jordan Carter will join Australia's .au Domain Administration Limited as policy director and custodian of internet governance.
Gartner's Market Guide for 5G Enterprise Data Services says one percent of enterprise sites worldwide uses 5G for primary or backup fixed wireless connectivity today. That will rise to 10 percent by 2025.
Small Business minister Stuart Nash says over 30,000 companies have taken part in the government's Digital Boost programme. The programme is a public-private partnership set up to train small businesses to prepare for digital transformation.