Microsoft Surface Laptop Go 2: Well built mobile
Many Microsoft Surface devices push boundaries. The Surface Laptop Go 2 doesn't. It's a solid, well-made laptop for everyday tasks with a decent specification and a couple of well thought out details.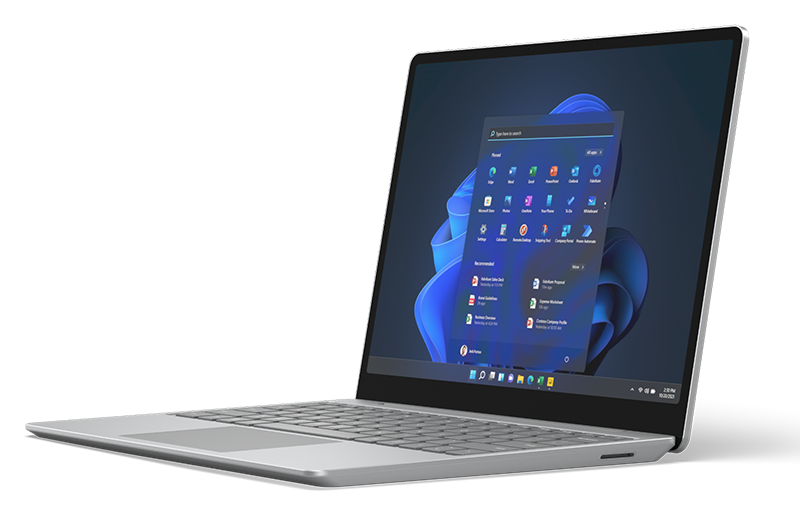 Microsoft Surface Laptop Go 2 at a glance
| | |
| --- | --- |
| For: | Well-built, robust design, competitive performance, good keyboard and trackpad. |
| Against: | Battery life, screen resolution lacking by 2022 standards |
| Maybe: | Fingerprint scanner on some models, reasonably value when compared with similar priced laptops. Sage green case. |
| Verdict: | A great option if you need a Windows laptop for moving between home and work. |
| Rating: | 4 out of 5 |
| Price: | NZ$1100 for the basic model, reviewed model costs $1500 |
| Web: | Microsoft New Zealand |
Many Microsoft Surface devices push boundaries. The Surface Laptop Go 2 doesn't. It's a solid, well-made laptop for everyday tasks with a decent specification and a couple of well thought out details.
It is better built than other laptops in the same NZ$1100 to NZ$1500 price range. The case is robust enough to take school bag knocks or to sit in a satchel on the bus ride to work.
An aluminium laptop cover gives it a MacBook feel. It is roughlythe same size as Apple's 2015 MacBook (not the Air or the Pro, the plain MacBook) and in ways has the same vibe. Although, at 1.13 kg it weighs more than the MacBook's 900 g.
Microsoft says the computer's base is made of polycarbonate composite resin with glass. It feels tough enough for an active life.
The review model is what Microsoft describes as Sage green. It's a pale shade of green that is almost indistinguishable from grey. I had to check the box details to make sure about the colour: it does not leap out.
Premium feel
It looks good and feels good. In practice it feels like you are using a premium laptop. If you are moving to Windows from Apple, you won't get that short-changed feeling that you can get with other Windows laptop brands.
The Surface Laptop Go 2 is small by 2022 laptop standards. That makes it more portable, but it means a smaller screen and keyboard.
Microsoft's 12.4-inch LCD touchscreen offers less viewing area that larger displays, but unlike many other laptops in this price range the designers have opted for the 3:2 screen ratio. That is, it sits taller than most screens. This makes it better suited to word processing and similar tasks than, say, running spreadsheets.
Display
While the display looks good and offers plenty of contrast, the 1536 by 1024 pixel resolution means it is not great for detailed work. It's close to full HD resolution, but falls short. If you prefer to work with small text sizes, you may find some characters appear blurry compared with higher resolution screens. This doesn't have to be a problem, but it is something to be aware of.
You wouldn't choose this device for Photoshop or other apps that demand high resolution. Also, the screen suffers from being less bright than the display on many rival laptops.
It's fine for sorting through snaps or non-serious photographs, but if precision is important to you, spend more on a laptop with a higher resolution screen.
The webcam is 720p which is the bare minimum needed for video calls, but you'll be hard pressed to find an inexpensive laptop with better. Speaking of video calls, the speakers are more than adequate for the job, you should be able to hear Zoom calls without problems. That said, the speakers are too tinny and feeble for music. If you want to play songs without offending your ears, you'll need to add an external speaker.
Keyboard
The smaller case size means the keyboard is a fraction smaller than full-size. The difference is not enough for everyday users to notice. You could happily write a book or a company report on this laptop.
In testing I found I could touch type with ease. One niggle is that the keyboard is not backlit. You will find other laptops in this price range that offer backlighting. The touchpad is big and comfortable to use, perhaps the best I've seen on a recent Windows laptop.
Tucked away at the top of the keyboard is a fingerprint sensor. This is not included on all Surface Laptop Go 2 models. If it is important to you, check before you buy.
Performance
The review model has an 11th-generation Intel Core i5 processor. It's feeble compared with the processors on recent MacBook models, but zesty enough for everyday computing tasks. You'll find the laptop will run most apps, even multiple apps, without getting hot. I don't remember hearing a fan kick in during the review.
In practice you'll find it's more than enough for word processing, browsing, dealing with emails and running web applications.
It can struggle when editing large image or video files, but we established earlier this is not the best computer for that work. Likewise it may not be the best choice if games are important to you.
Battery life
Battery life is a disappointment. Microsoft's marketing claim you can get up to 13.5 hours is a heroic leap. In testing it came nowhere near that.
The battery managed a fraction under six hours when using the laptop for writing and browsing, nothing heavy. A 45 minute Zoom call on the Surface Laptop Go 2 used half the available battery.
This affects the, otherwise good, portability. Either you need to carry the charger when working away from home or you need to ration computer use.
In comparison a 2021 MacBook Air can run for 15 or more hours on a single charge and even will deliver more than eight hours video conferencing.
Microsoft Surface Laptop Go 2 verdict
The Surface Laptop Go 2 comes with Windows 11 installed. Like every other Surface device, there's no bloatware or other unwanted software although it does come with Office pre-installed.
You can get up and running almost immediately with no nagging apart from Microsoft's reminder to pay for an Office subscription if you don't have one.
New Zealand prices for the Microsoft Surface Laptop Go 2 start at NZ$1099. That buys a basic model with the Intel Core i5 processor, 4GB Ram and 128GB of storage. You don't get the fingerprint reader or the fancy Sage green case.
The same configuration, but with 8GB of Ram costs $1299 and a Sage coloured model with 8GB of Ram and a 256GB SSD drive costs $1499. This was the review model and if you can live with poor battery life and the less than HD screen you'll struggle to find a better Windows laptop in this price range.
If I was in the market for a Windows laptop for work, this would be my choice at the time of writing.