Stuff Fibre a strange move for struggling Fairfax
A struggling media company moves into another unprofitable market with Stuff Fibre.
At Business Day Fairfax journalist Tom Pullar-Strecker writes Stuff to enter the broadband market with Stuff Fibre. It's a clumsy headline, but a safe bet managers would not allow the sub-editor to write a better one.
He says:
"Stuff is entering the broadband market, launching an internet provider that will compete with Spark, Vodafone and dozens of smaller providers".
The announcement is for a run-of-the-mill offering. At first sight it is indistinguishable from existing fibre services.
Stuff Fibre a lookalike
Pullar-Strecker says the service launches in three months. It will offer uncapped 100 Mbps ultrafast broadband. that's just like every other service provider.
Pullar-Strecker quotes Fairfax NZ chief executive Simon Tong, who says pricing will be competitive.
Every broadband provider in New Zealand says the same thing.
Tong also says Stuff Fibre's customer service will "stand-out". He also promises high-quality broadband routers.
There's not a broadband provider in the country who doesn't say the same.
Unsavoury filter
"Stuff Fibre managing director Sam Morse said parents would be able to filter out "unsavoury" internet content and reduce exposure to social media by changing account settings."
This is a departure from the usual broadband sales pitch, but not by much. Any tech savvy parent can already do the same.
Offering to filter on behalf of those parents not able to track kids' online activity may be a draw card. It's also something rival broadband providers can do at the drop of a hat.
Broadband is a strange move for Fairfax. Everyone knows the newspaper business is in trouble. Industry problems are so deep Fairfax New Zealand wants to merge with rival NZME.
Both companies told the Commerce Commission they don't make much money. They say margins are razor thin.
It makes sense to try something new.
Tough market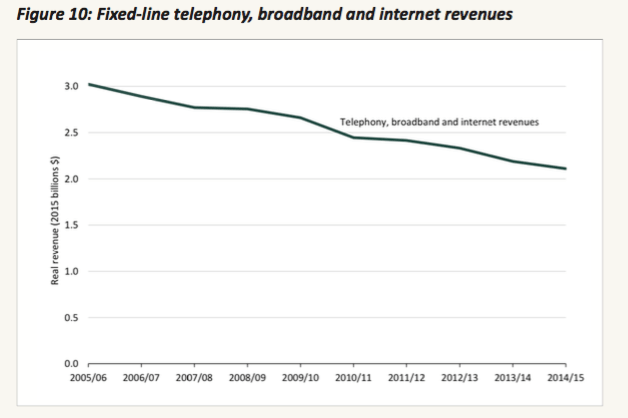 Yet as anyone in the telecommunications sector will tell you, there's not much money in selling dumb pipes. There's some money selling broadband with value-added services to business customers. The residential market is a bear pit.
Broadband margins are as hard to find as media profits. Maybe harder for a newcomer. Getting into the market means a big investment.
It's tough and crowded. There are around 90 internet service providers in New Zealand.
The big three
Three companies dominate. Spark, Vodafone and Vocus have 92 percent of the market. None of them make a lot of money from selling broadband. At best the entire sector breaks even.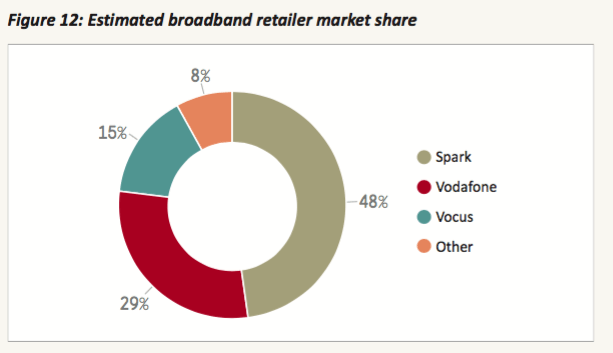 At least one of the players among the remaining eight percent, TrustPower, sells fibre services well below cost.
Fairfax will play in that eight percent. Although it may be able to use its marketing clout to prise customers away from their providers, at this stage it doesn't seem to have anything special to offer them, other than, maybe, sharpening the price pencil. Which means even lower margins.
Overheads
In the photo above a second Pullar-Strecker story Stuff Fibre a risk worth taking are five executives who will run the new business. You can rest assured these are not on minimum wage. Their salaries alone will be a large overhead for a start-up ISP.
Back to Stuff to enter the broadband market with Stuff Fibre, where Pullar-Strecker writes:
"Only 240,000 of the 1.5 million homes and businesses that are currently scheduled to get UFB have upgraded to fibre so far, leaving the bulk of the market up for grabs."
While this is true, it's not going to be easy pickings. Every single one of the homes and businesses already using broadband will have a service provider who will work to hang on to the business. Many will be happy with what they have.
Waiting for churn
There is customer churn. So there are sales opportunities for Fairfax. Yet as other market entrants have already found, winning them is hard. We've seen other big launches that have failed to dent the grip of the big three service providers.
Fairfax has one major advantage over broadband rivals. It is a media company. Most New Zealand visitors to the Stuff website will be broadband customers. It can carpet bomb compelling offers to this audience at next to no cost. Any unsold advertising inventory on its site can now earn its keep.
If Fairfax thinks the Stuff brand on its own is strong enough to attract customers to a broadband service, it is out of touch with reality.
On the downside, if Stuff Fibre fails despite wall-to-wall online marketing, it sends a negative message to the company's advertisers about the effectiveness of its advertising.
There's a real possibility Stuff Fibre will be an embarrassing flop.
Online reaction to Stuff Fibre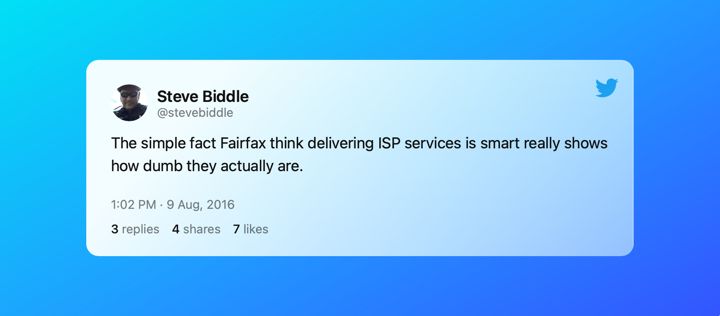 https://twitter.com/TroyRF/status/762798811672563712
https://twitter.com/ScottWNesbitt/status/762894932545712128