Unisys Security Index: World worries, Kiwis relax
Identity theft, bank card fraud and hacking top New Zealanders' security concerns according to the 2018 Unisys Security Index.
On the whole, we're more relaxed than people in most other countries. Unisys publishes its security index year. The index is a snapshot of how people feel about security issues.
This year Unisys surveyed 13,000 people worldwide, 1000 in each of 13 countries including New Zealand. The result is a comprehensive picture of how ordinary people around the world feel about security.
Concern high, not rising
The top line figure, a single index number, is a score out of 300 which shows the overall level of concern. This year's worldwide index sits at 173 points. It's the same as last year's number, but a long way up from a decade ago when it stood at 130 points.
When it comes to major security worries, New Zealanders are not remarkably different from the rest of the world. But our overall level of concern is far lower than elsewhere.
With a security index of 138, New Zealand is third from the bottom of the 13 nations surveyed. Only Germany and the Netherlands are less concerned than us. People in the UK, Australia and the US are more concerned than those in New Zealand.
Philippines people are the most concerned. The index in that country sits at 232.
This year, last year
New Zealand recorded the largest security index drop. Last year the New Zealand security index stood at 154. During the year it fell To 138, a fall of 16 points. Only the Netherland's number fell by the same amount. Most other countries, including top-of-the-table The Philipines, saw their index fall.
Columbia saw a huge rise. It was up 47 points year-on-year. Things also took a turn for the worse in Argentina which is up 23 points. The UK was a touch more fearful with its index climbing 5 points, albeit off a low base, to reach 149. Last year it was comfortably below New Zealand.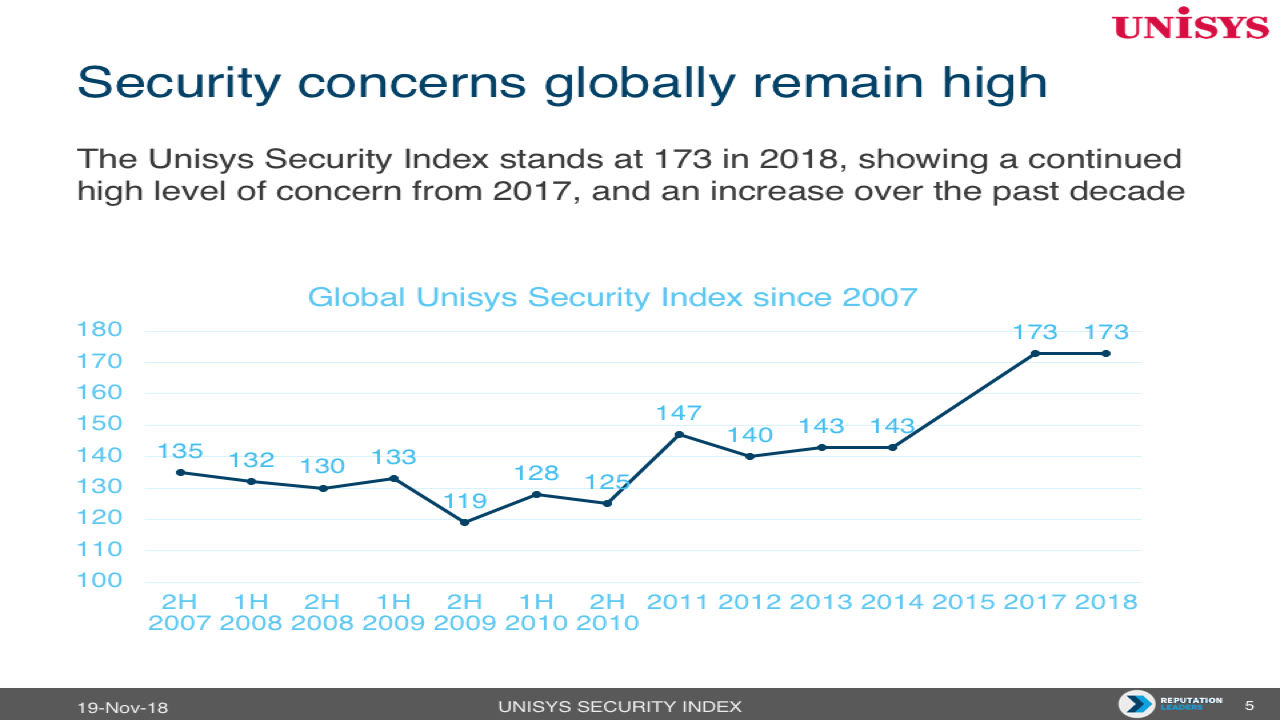 We're more comfortable, but our fears are in line with everyone else
While there are nuances, it turns out our main concerns are the same as everyone else's.
As Unisys puts it:
"The highest personal concerns are where people feel they have least personal control: identity theft and bankcard fraud
Globally, people surveyed were more concerned about losing their identity or financial information than they are about war, terrorism or natural disasters."
The survey data shows around eight in ten New Zealanders are extremely or very concerned about at least one aspect of online security. The worldwide figure is nine in ten, so we're a little more relaxed but not out of line with international opinion.
Identity theft tops Unisys Security Index
Identity theft tops the list with 53 percent saying they are extremely or very concerned. This compares with 68 percent of respondents worldwide.
Bank card fraud worries half the New Zealand sample while 47 percent say they are extremely or very concerned about hacking and viruses.
In general women are more concerned about security issues than men and younger people are more concerned than older folk.
This is one of a series of sponsored posts about the 2018 Unisys Security Index. Over the next few days we'll explore the index in more depth..