Vodafone climbs onboard eSim train
Vodafone has launched its first eSim. New Zealand's top 200 technology companies grew 9 per cent in the last year.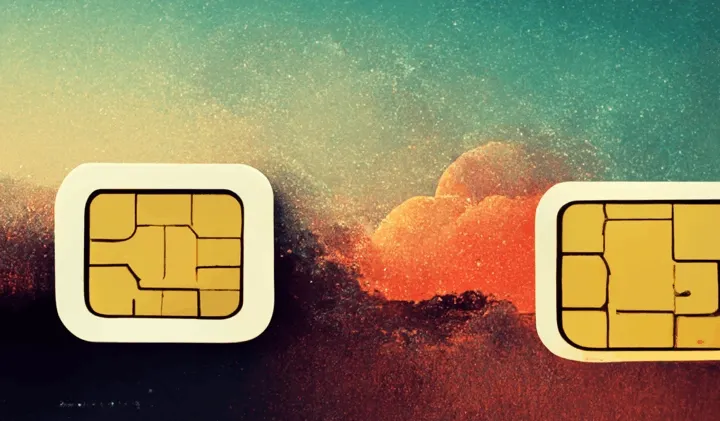 Vodafone climbs onboard eSim train
Vodafone has launched its first eSim. The move comes more than three years after Spark introduced New Zealand's first eSim and four years after phone makers began shipping compatible devices. Rival 2degrees offered its first eSim earlier this year.
An eSim is hardware embedded in a mobile phone that replaces the physical Sim card linking the device to a carrier account.
While eSim technology has been included in many phones and other mobile devices since 2018, it requires network support from the carrier in order to work.
In some markets, not New Zealand, Apple's recently launched iPhone 14 series no longer has a physical Sim slot, it only supports eSims. This is seen as a watershed for the technology and carriers who don't support eSims can expect to lose market share.
Juniper Research says there were 1.2 billion eSims installed worldwide last year and that will grow to 3.4 billion by 2025.
In many cases, phones can have both an eSim and a physical Sim. This arrangement makes it easier for customers to move between carriers or to operate more than one account from a phone. You could have, say, a Vodafone physical Sim for a work account and a Spark eSim for private calls. Or, you might switch to a local eSim when travelling overseas.
For now, Vodafone eSims are restricted to a limited range of phones from Apple, Samsung and Oppo. They can work with newer iPads. Spark customers can use eSims with Apple Watch, neither 2degrees or Vodafone do this yet, but both say they are working on it.
From this week Vodafone postpay customers can use eSims. Existing customers need to visit a store to make the change. New customers will be able to use an eSim when they sign up.
Vodafone says it will extend eSims to prepay customers soon.
---
NZ tech growing faster than general economy
New Zealand's top 200 technology companies grew 9 per cent in the last year to record NZ$15 billion in revenue.
The annual Technology Investment Network (TIN) says technology earned NZ$11.5 billion in export revenue, that's up almost a billion ($960 million) on the previous year.
It says that extending the current trajectory indicates tech exports will pass $20 billion by 2027, but the industry faces challenges attracting, training and maintaining the talent needed to continue growth.
The top 200 companies invested $1.8 billion in research and development during the year.
---
Zoom shares down 90 per cent from pandemic peak
This week the Zoom Video Communications share price dropped a further 10 per cent when the company cut its annual sales forecast and posted slower than expected quarterly growth figures.
Zoom shares are now 90 per cent down from their October 2020 peak. Revenue climbed more than 300 per cent in 2020 as the pandemic sent workers and students home.
Since then Zoom has faced a slowdown in video conferencing along with increased competition from alternatives such as Microsoft Teams, Cisco Webex and Slack.
Now the business is attempting to re-invent itself with a greater focus on business services with its cloud-calling Zoom Phone service and the conference-hosting Zoom Rooms.
---
UK regulator investigates mobile ecosystems
The United Kingdom's Competition and Markets Authority has launched an investigation into cloud gaming and mobile browsers.
It says: "Apple and Google have an effective duopoly on mobile ecosystems that allows them to exercise a stranglehold over operating systems, app stores and web browsers on mobile devices."
"Browsers are one of the most important and widely used apps on mobile devices. Most people use their browser at least daily to access online content such as information, news, videos and shopping. 97 per cent of all mobile web browsing in the UK in 2021 happens on browsers powered by either Apple's or Google's browser engine, so any restrictions on these engines can have a major impact on users' experiences.
The glaring flaw in this investigation is that there are few alternatives. Should the CMA force Apple to allow alternative browsers on iPhones, the most likely outcome is that will increase Chrome's market share and turn a duopoly into something much closer to a Google monopoly.
---
Wu and Archer join Network for Learning board
Network for Learning, the Crown-owned school internet connectivity company has appointed Ming-chun Wu and Elle Archer, to its Board. The appointments follow the retirement from the Board of Deputy Chair, Dame Karen Poutasi.
Wu is a qualified teacher who works as a public sector consultant, specialising in relationship and stakeholder management. She has extensive public sector experience.
Archer is currently Chair of Te Matarau, The Māori Tech Association; Kaiārahi Iwi Digital Strategies; Chair of Canterbury Regional Digital Equity Joint Committee; Board Trustee for Ako Ōtautahi, Learning City Christchurch; and a board member of GovHack NZ 2022. She owns ELG Global, a consulting business and lectures at the University of Canterbury.
---
Cope to head Nokia in Australia, New Zealand and Pacific
CommsDay reports that Nokia has appointed Andrew Cope is the managing director for Australia, New Zealand and the Pacific Islands. Cope starts in the Sydney-based role on January 1, 2023.
---
In other news…
At Reseller News, Rob O'Neill reports on solid revenue growth at Auckland-based Rakon. Last year the company took advantage when a fire destroyed a rival's GPS chip-making plant.
The Dell'Oro Group says the market for Radio Access Network hardware declined for the second quarter in a row. It appears equipment sales are slowing after a period of growth when telcos built 5G networks.
Computer and printer maker HP says it plans to cut between 4,000 and 6,000 jobs as it struggles to deal with the slump in PC sales. The company current has around 61,000 employees, that's up 10,000 on a year ago.
The business division behind Amazon's failed voice-interface device Alexa lost over US$3 billion last year and was in course to lose $10 billion this year. The smart speaker product has never made money. While Amazon says it doesn't plan to drop Alexa, the team working on the device has taken the brunt of the 10,000 job losses the company announced last month.
---
The Download Weekly is supported by Chorus New Zealand.
---
Download Weekly is a free wrap of New Zealand telecommunications news stories published every Friday.
All it requires is an email address. Your address is only used to send out the newsletter. I won't sell it to anyone.
I'm not collecting the data for anything other than sending out the newsletter. Your name isn't going to be sold anywhere.
---