Shipments tumble as NZ phone upgrades slow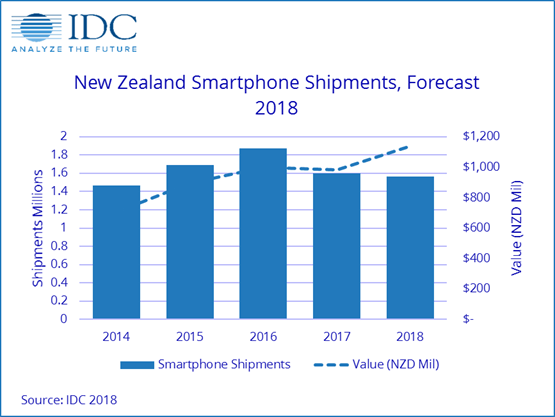 IDC says New Zealand phone shipments dropped 14.5 per cent in unit terms during 2017. This is the first year-on-year decline reported in this country. A total of 1.60 million phones shipped in 2017 compared with 1.87 million in 2016. New Zealand's mobile phone sales first showed signs of slowing in 2014.
A phone shipment is not the same as a sale. Shipments count the number of phones sent from manufacturers' warehouses to retail warehouse. Not all shipped phones are sold. To a degree shipments is a measure of the demand anticipated by phone makers and sellers.
Nevertheless, the fall in anticipated demand is substantial.
Chayse Gorton, IDC NZ market analyst says there are three reasons for the fall: market saturation, changing sales strategies and new features not persuading people to upgrade old phones.
All three are valid, but they are not equal.
Shipments down on saturation
On saturation, IDC says 79 per cent of consumers owned a smartphone in 2017. This leaves only a few users hanging on to dumb phones – or feature phones in the industry's jargon.
Even that number seems too high, you rarely see anything other than smart phones in the wild. There could be a counting problem with older phones being recycled through families and friends that doesn't capture everything. It's possible the carriers would know the approximate number of older, dumb phones on their networks because some are not able to connect to 4G.
Meanwhile phone companies spent 2017 focusing on profitability. In earlier years they were happy to shoot for high volumes and hope everything would be all right later. This change mean the average price of phones from the market leaders: Samsung and Apple, increased 14 per cent in the year.
This is reflected in IDC's graph which shows the value of the market flat or even climbing while numbers fall. Rising phone prices isn't necessarily a form of inflation as more expensive phones offer more capability.
Little reason to upgrade
IDC doesn't emphasis the point, but it seems the biggest reason for the drop in shipments is that users have little incentive to upgrade. If you look after a phone, it should work fine for three or four years.
There were no compelling new phone features in 2017. IDC says people only upgrade when they see a significant benefit from doing so. This point was underlined at Samsung's Galaxy S9 launch earlier this week. The new phone resembles the S8, it has upgraded features including a slow-motion video mode, but that's not enough to tempt the average user to bin or hand down, say, their S8 and spend $1400 plus.
Meanwhile rival research company Gartner reports international smartphone sales recorded their first ever decline in 2017.