Telecom complaints back to pre-pandemic levels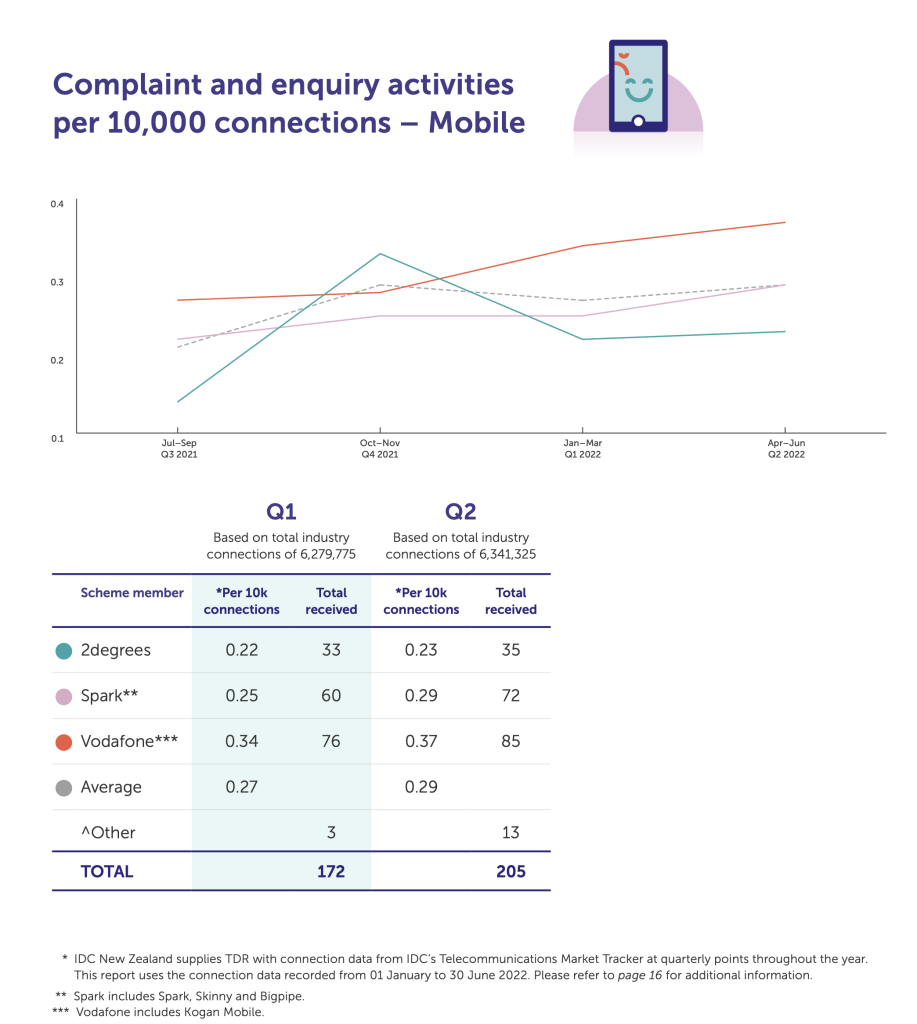 Telecommunications Dispute Resolution service enquiries surged in the first half of 2022. The enquiries were a third (33 per cent) higher than in the previous six months and 34 per cent higher than the same period a year earlier.
The TDR says enquiry volumes are now back to pre-pandemic levels.
Billing continues to generate more heat than any other issue, accounting for 43 per cent of complaints or enquiries. Disputed charges remain the most complained about issue.
In the six months to June 30, a total of 282 people enquired about a charge on their bill. Account errors are the next niggle for disgruntled customers.
Customer service, at 17 per cent, once again comes in second place. Faults are in third place on 13.5 percent having grown by almost nine percent in the period.
Vodafone remains the most complained about mobile company.
The TDR reports the absolute number of complaints and the number of complaints per 10,000 customers. Vodafone tops both tables; with 0.37 complaints for every 10,000 customers in the April-June quarter. That's up from 0.34 in the January-March quarter. 2degrees had the fewest complaints with 0.22 in the first quarter and 0.23 in the second.
All mobile companies saw complaints rise in the second quarter with the average rising from 0.27 to 0.29
The increase in complaints is more pronounced in broadband where the average jumped from 1.35 to 1.84.
Vodafone had the most broadband complaints in the first quarter with 2.31 per 10,000 customers. It was pipped in the second quarter by Vocus, which includes Orcon and Slingshot scoring 2.47 complaints for every 10,000 customers.
Comment While the increase in complaints is significant, that doesn't necessarily mean services are getting worse. The Telecommunications Dispute Resolution Service began a promotional campaign earlier this year which will have attracted more enquiries and complaints. In almost every case, 97 per cent, the issue was resolved after the customer contacted the TDR.
---
Commerce Commission fixes Chorus RAB at $5.4 billion
Chorus' regulated asset base will be fixed at $5.4 billion after the Commerce Commission reached its final decision on its value. This is $12 million less than the transitional value the Commerce Commission set late last year.
The regulated asset base or RAB is an official estimate of the value of the assets Chorus uses to deliver broadband services over the UFB fibre network. The Commerce Commission will use this figure in a complex formula to calculate the maximum amount of revenue Chorus is allowed to earn when the next regulatory period starts in 2025.
Telecommunications Commissioner, Tristan Gilbertson, says the decision will give Chorus certainty as a long-term infrastructure investor.
In a statement to the NZX, Chorus says the final RAB better reflects the costs the company incurred providing fibre services.
---
Agar to lead Spark's Northern region sales
Tony Agar is the new group sales regional lead for Spark's Northern region. The role means leading customer facing teams from Palmerston North to Northland. Michele Wong will move into Agar's old role as the company's IoT lead. Spark's IoT business has been a strong performer for the company in recent times and is identified as a key future market for the company.
---
Growth pace slackens for telecom equipment market
A blog post from the Dell'Oro Group says telecommunications equipment revenues grew at an annualised rate of three per cent in the first half of 2022. This compares with seven per cent growth in 2021.
Dell'Oro reports that while growth rates remain, high in North America and China, conditions are "more challenging" in the Asia-Pacific region. Europe is another story. The blog post says that after two years of healthy growth, revenues declined in the first half the year. It puts that down to the strong US dollar and equipment suppliers exiting the Russian market.
Huawei remains the largest equipment supplier accounting for around 30 per cent of worldwide revenue. Much of this comes from China where the company now accounts for 58 per cent of all telecommunications equipment revenue. Nokia and Ericsson share second place, each has around a 15 per cent share.
---
EU force USB-C on phone and laptop makers
The European Parliament overwhelmingly voted to approve a USB-C charging standard.
Under the new law all phones, tablets and cameras sold in the EU will need to offer USB-C chargers by the end of 2024. Laptops will need to have USB-C chargers by the start of 2026. Further devices may be added to the list.
Government officials and politicians in the US are considering similar legislation.
When the European law comes into force, device makers will have to publish information about charging characteristics on labels. That way consumers will know which chargers will work with other devices.
USB-C is used today by almost every Android phone maker and many other devices. It is, in effect, already the standard on laptops including Apple MacBooks and many iPad models. The main impact will be on Apple's iPhone which continues to use the company's proprietary Lightning Port.
---
In other news…
Spark Business Group (CCL, Leaven, Qrious and Digital Island) has achieved the Amazon Web Service (AWS) DevOps competency status. Competency status means AWS recognises that "the companies in the group are able to help customers understand and develop DevOps culture, practice and tooling to deliver applications and services".
To no-one's surprise, Google is closing Stadia, the cloud-based game streaming service. Stadia launched in 2019 but failed to catch on with gamers. The last games will be played on January 18, 2023. Stadia is one of 274 products closed down by Google. The handful of customers who signed up for Stadia will get refunds on any hardware purchases they made through the Stadia store.
Australian accountancy software company MYOB is offering all its small business focused software as a service products in a single bundle: MYOB Business. It includes two new features, a payroll system and inventory management.
It will take at least until 2026 for folding smartphones to be mainstream says IDC research director Nabila Popal. Three years after Samsung launched the first Galaxy Fold phone, foldable models remain a fringe option. While sales will grow at a compound rate of 38.7 per cent between now and 2026, they are starting from a tiny base and will only account for around three per cent of sales by 2026.
AMC+ is the latest service to join New Zealand's crowded streaming scene. Prices for the service run from $8 to $10 and include Acorn TV, which is mainly made up of undemanding British detective shows, and Shudder, the horror channel. AMC's own channel includes Interview with a Vampire and two Walking Dead spinoffs.
Spark Sport says Warner Brothers Discovery will be its free-to-air partner for the Rugby League World Cup which was due to take place last year but will now run from 15 October to 19 November 2022 in England. All 61 matches, including the men's, women's and wheelchair tournaments will show on Spark Sport. Three and ThreeNow will have delayed coverage of all Kiwi and Kiwi Ferns matches.