Apple AirPods Pro second-gen: Familiar looks, better
They may look the same, but Apple's new AirPods Pro have improved sound, noise cancelling and battery life.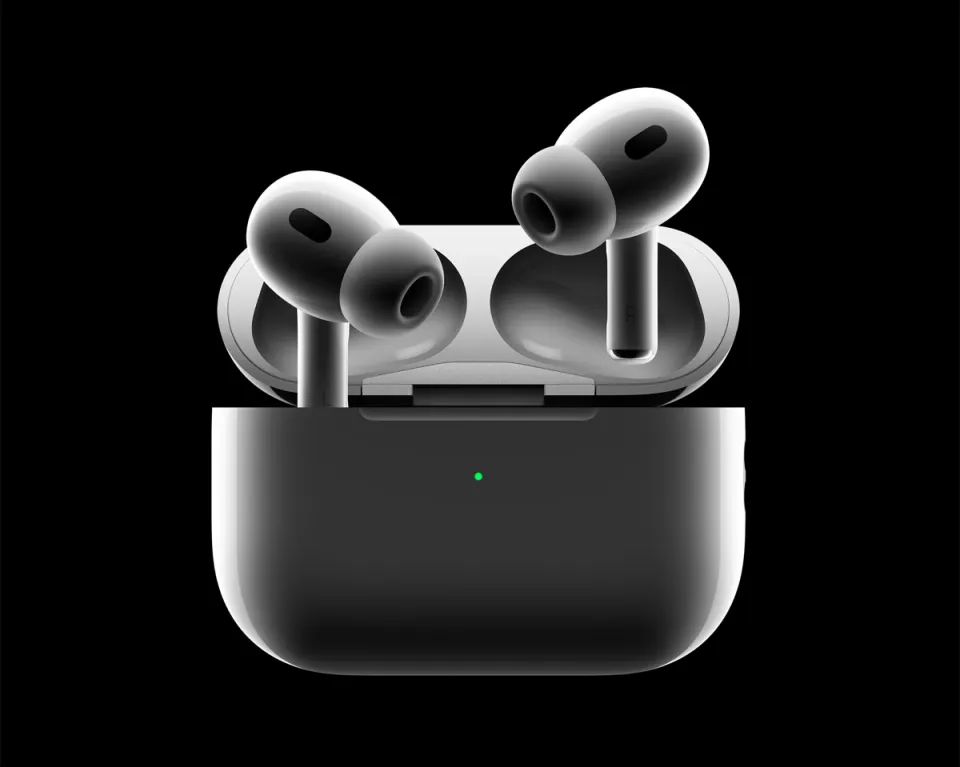 Second generation Apple AirPods Pro at a glance
| | |
| --- | --- |
| For: | Better noise cancelling, sound and battery life, improved controls, integrates well with Apple ecosystem. |
| Against: | You may find better sound quality elsewhere, doesn't support lossless audio. |
| Maybe: | Can't tinker with EQ, Lightning connector |
| Verdict: | If you love AirPods and are wedded to Apple, this is a great upgrade, you can't go wrong. |
| Price: | NZ$479 |
Three years ago Apple's first AirPods Pro hit the streets. The technology has moved on.
The AirPods Pro sound better and have more effective active noise cancelling.
Writing about the improved sound quality and noise cancelling isn't easy. It would be best to experience them for yourself.
That said, it's not a scientific test, but…
…there are seven sets of active noise cancelling earbuds and headphones in our house. They are all effective. Each has been tested on Auckland bus routes and ferry trips across the harbour. They all reduce background noise to the point where you can hear musical nuances when playing digital audio.
With five of those devices I can watch and listen to a streaming video sports match and tell when the lawn mowing contractor is cutting the grass.
That's not the case with the second generation AirPods Pro I can't. The only other set that hits this practical benchmark are the JBL Live 660NC headphones.
While the noise cancelling is effective, enough ambient sound leaks through to stop it from being scary and claustrophobic.
Sound quality
The earlier AirPods Pro had surprisingly good sound quality given the size of the components.
There's a clear step up with the second generation AirPods Pro.
The new AirPods Pro push higher and lower than the old model, but not dramatically so. Clarity and definition are noticeably better.
Apple has crafted a sound profile that works across a wide spectrum of music styles. That approach means you are never going to get the best sound quality in one department, but nor are there any obvious weaknesses.
You can set a broad EQ preset, but can't tinker with the finer details, which is a good thing. Instead, the AirPods Pro use microphones to analyse what you hear along with the ambient sound and adjust sounds accordingly.
Spatial Audio allows producers to create music that sounds like it is coming from all around you. It's strange at first and feels like a novelty until you use it when watching a movie and suddenly it all makes sense.
On the outside
The new AirPods look almost identical to the first generation earbuds. The same white colour, the same stems and while there are the same user selectable ear-tips, Apple has added a fourth extra small option alongside the small, medium and large choices.
An extra black sensor strip sits on the side of each earbud. This is to help the AirPods understand when they are in or out of your ears.
You'll notice a metallic indentation on the right hand side of the case. That's for a lanyard. There isn't one packed with the AirPod Pros, it's an NZ$23 extra from Apple. If that's not for you, there is a thriving market for third party lanyards.
The bottom of the case has holes for a speaker. You can use Apple's Find My app to hunt down a lost case and it will play a loud sound to make your search easier. It's loud, don't try testing it with the case near your ears.
Apple has stuck with the Lightning charge socket over USB-C. Lightning could be on the way out, if it does depart during the life of the AirPods Pro you can use wireless charging. It works with the Apple Watch charger and Qi.
Battery life
The AirPods Pro work for longer on a single charge. Apple says there are six hours of listening with active noise cancelling this drops if you use spatial audio or make voice calls. With the case recharges, you now get up to 30 hours before you need an external recharge. That's enough to fly anywhere in the world.
🍏
AirPods Pro will work with any Bluetooth equipped device, but are at their best paired with Apple hardware like the
10th generation iPod
reviewed in January.
Verdict: Second generation AirPods Pro
Apple has done a good job upgrading the AirPods Pro. This is an area where the company's attention to detail pays off. The sound quality was good before, but is better now. You'll get better sound from over-ear headphones but the best rival earbuds offer a different sound experience rather than something distinctly better.
At NZ$479, AirPods Pro are a pricey, but feature-packed and otherwise complete option. If you can use active noise cancelling then the NZ$130 premium over the price of third generation AirPods is money well spent.
There are rival products chasing your money. You can buy earbuds with, arguably better sound or better active noise cancellation. Yet you can't buy something that beats the AirPods Pro in both departments. Nor will any alternatives slip as smoothly into Apple's seamless ecosystem. If you're deep in the Apple camp they are your best bet.