Satellite royalty bid for Europe's Iris² LEO constellation
A consortium of European space firms has formed to bid for the EU Iris² project. Phone sales tumble. AWS turns on Auckland Local Zone.

Europe's home-grown LEO constellation plan takes shape
A European Union plan to build the continent's own LEO satellite constellation is taking shape.
Last week a consortium that reads like a who's who of European satellite companies stepped forward to bid for Iris² (Infrastructure for Resilience, Interconnectivity and Security by Satellite) contracts. The consortium includes Airbus Defence and Space, Eutelsat, Hispasat, SES and Thales Alenia Space.
The companies say they will work to build the constellation with a group of technology firms including Deutsche Telekom, OHB, Orange, Hisdesat, Telespazio, and Thales.
Europe's plan is to build a home grown LEO constellation like SpaceX's Starlink and Amazon's Project Kuiper.
Sovereign, secure
Iris² (Infrastructure for Resilience, Interconnectivity and Security by Satellite) promises to deliver sovereign, secure connectivity to European governments and defence organisations. At the same time it aims to bridge Europe's rural-urban digital divide and bolster commercial communications.
The European Union has set aside €2.4 billion for the project. It expects further money to come from the European Space Agency and from private investors.  The eventual cost is expected to reach €6 billion.
There's a clear political agenda. Europe wants to be seen as a space power. At the same time it needs a degree of autonomy with its own communications networks, there's a recognition that Europe may not always be able to rely on foreign owned communications networks.
Independence
Europe is not alone in this. China and India both have plans for similar networks that will give them independence from US-based SpaceX and Amazon.
If everything goes to plan, Iris² will have some capability next year. The EU says the full network should be in operation by 2027, although experts say that's ambitious given the lack of launch rocket capacity over the next few years. It took SpaceX four years from its first launch to having a working network and that organisation has none of the bureaucratic overhead that a pan-European operation would face.
China is also developing its own megaconstellation, but Europe clearly did not want to hand over its secure communications to a global rival with questionable intent. That left OneWeb. But this network is partially owned by the United Kingdom—which very publicly exited the European Union a few years ago—and may not have the capacity to meet all of Europe's needs.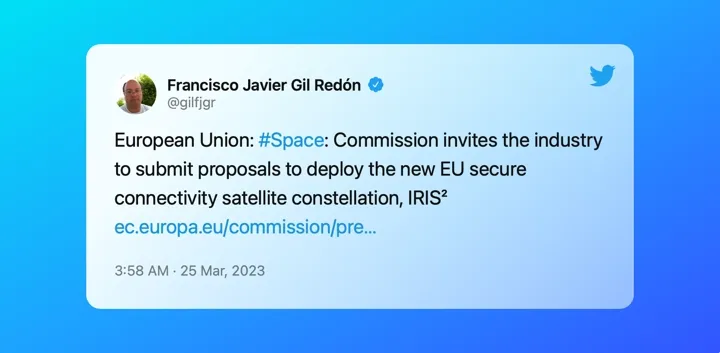 ---
Spark signs C-band spectrum agreement
Spark says it has signed a C-band mobile spectrum agreement with the Crown. The agreement gives Spark access to the spectrum at no direct cost, instead the revenue generated will be invested in network upgrades.
Under the deal, Spark has rights to 80 MHz of 3.5 GHz (or C-band) spectrum from 1 July 2023. This will be used for 5G services.
The telco will then invest an additional $24 million in the Rural Connectivity Group to expand mobile coverage deeper in regions that remain without coverage. It will also further extend coverage on state highways.
In addition Spark will roll out of 5G to 27 regional sites that would not otherwise have been built.
Jolie Hodson, Spark CEO, says: "In addition to our investment in spectrum, we are committing $40-$60 million to the development of 5G Standalone over the next three years, which will unlock new services and support business innovation in New Zealand."
Spark says it aims to offer 5G connectivity in all towns with a population of more than 1500 by the end of June 2026.
---
---
Handset market stumbles 14 per cent
Counterpoint Research says the worldwide market for phone handsets dropped 7 per cent in the first quarter of 2023. As a result, shipments are down 14 per cent year on year.
Analyst Harmeet Singh Walia says last year's 'holiday season quarter', that is October to December, was the weakest since 2013. He notes that major phone brands released fewer new models.
Samsung sold more phones than its rivals in the first quarter, thanks to its mid-tier A Series and the recently launched S23 series.
Apple's shipment decline was lower than the other top brands. This meant the company had its highest ever first quarter market share at 21 per cent. The company accounted for around half of all phone revenue in the quarter.
Apple and Samsung remain the most profitable brands. They are almost the only profitable phone brands, together they account for 96 per cent of worldwide phone profits.
---
Talent, security and privacy top priority list
The third Tuanz digital priorities report says the top priorities for its panel of digital leaders are access to talent, security and privacy, a carbon free future, 'succeeding in a digital world', and the hangover challenges of 2022.
Lower down the list are digital equity, the rise of AI and automation technology and the new ways of working.
The Aotearoa's digital priorities in 2023 report looks at the issues and priorities facing digital leaders.
---
AWS turns on the Auckland local zone tap
This week saw the formal opening of AWS's Auckland Local Zones, a cut down version of the company's cloud for locations that don't yet host a full cloud region; That will be coming to New Zealand next year.
Local Zones offer low latency, in single-digit milliseconds, along with a selection of Amazon's cloud services. The target market are those customers who demand speed above other considerations. This might include companies operating in the media with streaming or online gaming.
AWS lists TVNZ, Air NZ, Toitū Te Whenua Land Information New Zealand (LINZ), Datacom, and Deloitte among initial customers.
---
---
Tablet, Chromebook shipments dive
IDC reports tablet shipments took a dive in the first quarter of 2023. They dropped 19 per cent year on year to 30.7 million units. This is on a level with shipments before the pandemic.
Chromebooks fared worse. The cheap, low specification laptops popular overseas with school students, saw shipments fall 31 per cent year on year.
Apple's iPad remains the most popular tablet. The company has a 35 per cent market share. Samsung is next with a 23 per cent share. Despite its phones being out of favour in western nations, Huawei has moved up to third place in the tablet market with 6.6 per cent, although that is because of its huge strength in China.
---
In other news...
Three quarters of New Zealand organisations worry about 5G network security threats. The 2023 Thales Data Threat Report found 74 per cent are concerned about 5G security threats and 69 per cent are concerned about the security of data moving over the 5G network.
Researchers at the University of Auckland are using artificial intelligence to work out the value of companies based on their profitability, efficiency, growth and risk among other things. A paper written by Business School academics Helen Lu and Paul Geertsema for the Journal of Accounting Research, which sounds like the dullest ever academic journal, says machine learning does a better job of valuing stocks than traditional methods.
Almost half of all YouTube viewing is done on television sets. Insider Intelligence says in 2020 30 per cent of YouTube viewers tuned in via a TV set, this year that number has climbed to 45 per cent. It says what was a digital-only service has become a direct competitor to the world's largest streaming services. While the figures don't say if its research is international or restricted to the USA, there's an element of what happens there today happens here tomorrow.
---
The Download Weekly is supported by Chorus New Zealand.