LEOs trounce fixed wireless broadband
MBNZ shows LEOs perform significantly better than fixed wireless broadband. Starlink backtracks on data caps. 5G will be half all mobile accounts in 2027.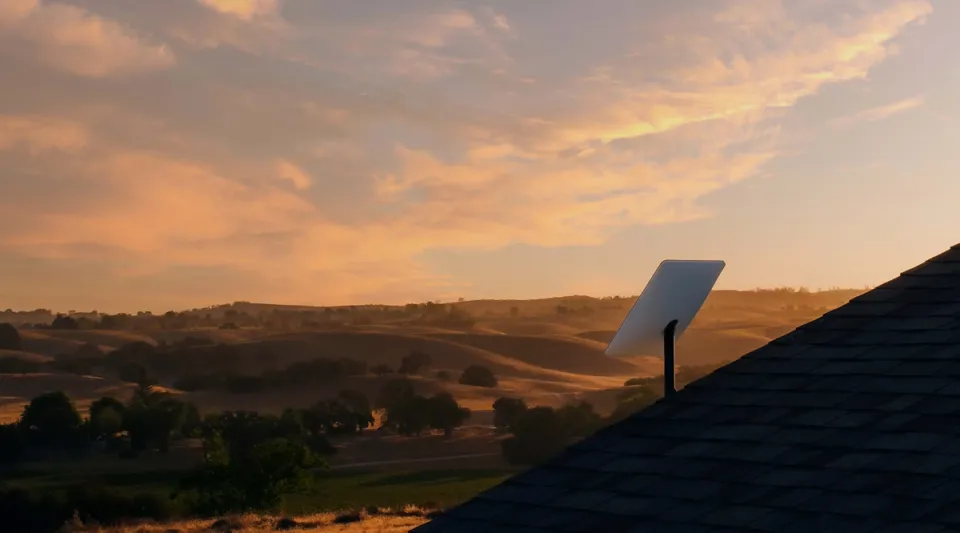 The first Measuring Broadband New Zealand report to include low earth orbit satellite alternatives shows the technology outperforms fixed wireless by a large margin.
Tests show New Zealand customers on the Starlink LEO get average peak hour downloads of more than 120 Mbps. The average equivalent speed on the 4G fixed wireless network is 25 Mbps. Starlink is almost five times as fast.
Starlink compares even better with copper-based ADSL broadband which averages 9 Mbps. Rural customers who can get VDSL see average peak download speeds of 33 Mbps.
To put this in perspective, an everyday fibre connection downloads at 300 Mbps.
Measuring Broadband New Zealand reports are prepared by UK-based SamKnows on behalf of the Commerce Commission.
For now, SamKnows has fewer of its white box probes installed on LEO connections. This means there is more uncertainty, but the data is significant enough to highlight the advantages of LEOs for rural users.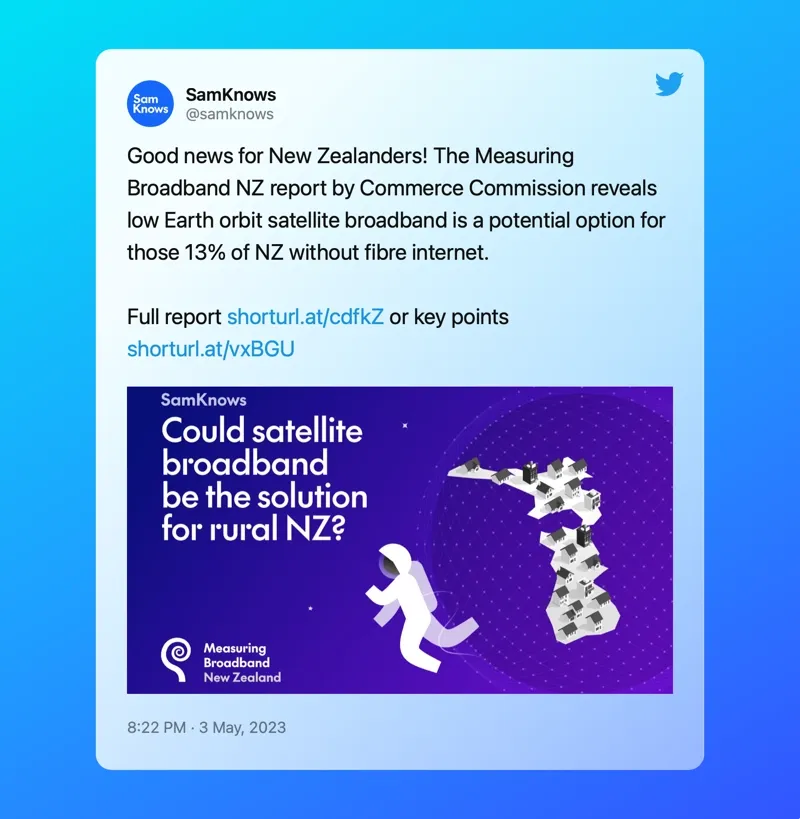 A download speed of 120 Mbps is comfortably more than enough for people to run multiple high definition TV streams or to work while other household members play or relax. Fixed wireless broadband users can push up against limits.
Satellite off-peak speeds average 178 Mbps compared with 35 Mbps for rural 4G fixed wireless connections. At 19 Mbps Starlink upload speeds are ahead of rural 4G fixed wireless uploads (16 Mbps) but behind urban fixed wireless uploads (21 Mbps). It's worth pointing out that the low number of data points means we should accept the three, in effect, perform at the same level as each other.
Satellite latency (42 ms) is better than fixed wireless (~51 ms) but behind VDSL (~19 ms) and ADSL (~25 ms). See: VDSL doesn't get the love it deserves.
There is a considerable gulf between rural and urban 4G fixed wireless broadband performance. MBNZ clocks the nationwide average off-peak 4G fixed wireless connection at 39 Mbps. This plummets to 27 Mbps at peak times. The rural off-peak average is 35 Mbps which drops to 25 Mbps at peak times. Urban fixed wireless users get 50 Mbps off-peak and 33 Mbps when things are busy.
The report goes on to show that rural users are more likely to see below average fixed wireless speeds.
Gilbertson: "Step-change"
Telecommunications Commissioner, Tristan Gilbertson, says the MBNZ results show LEO-based broadband means a performance step change for people in areas beyond the fibre network. It is, but the monthly cost of a Starlink connection is more than twice the price of a basic fibre connection. It is a bargain for well-heeled rural New Zealanders, but a stretch for low-income families.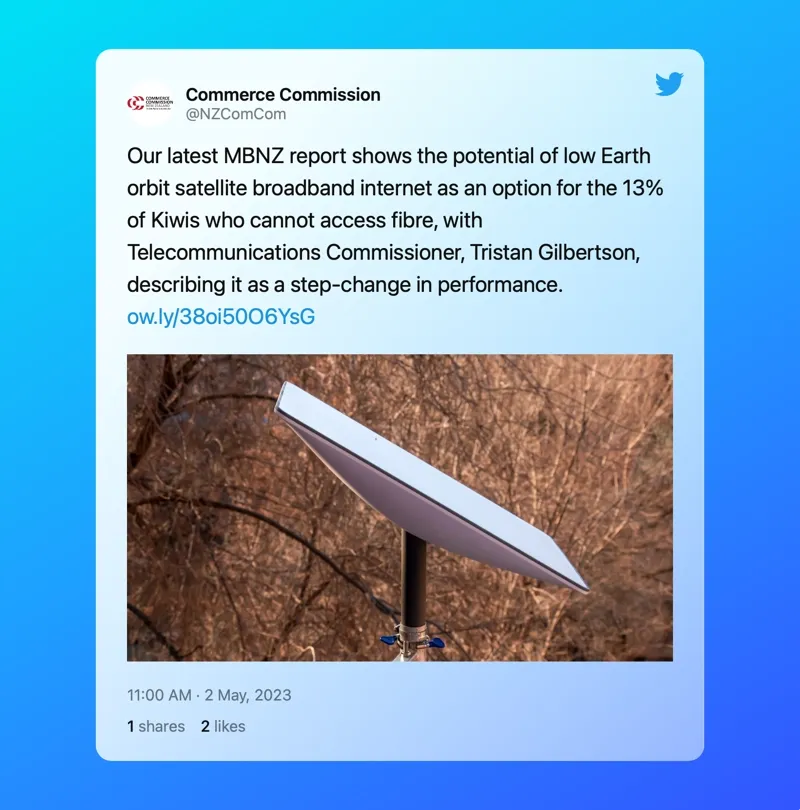 ---
Starlink backtracks on data cap plan
Starlink has abandoned its earlier plan to cap residential broadband accounts at 1TB per month and charge overage fees to customers who use more data.
The data cap was announced in November last year and remained in the small print on the website's support FAQs until earlier this week.
Under the now abandoned terms, customers would have 1TB of what Starlink calls 'priority data' each month. Beyond that they could choose to have their service throttled or to pay US$0.25 per gigabyte for additional data.
The new FAQ page now says standard plan users have unlimited data. It now divides users into 'standard' and 'priority'; previously there were 'residential' and 'business'.
---
Half of worldwide mobile subscriptions will be 5G by 2027
London-based Global Data says there were 1.7 billion 5G mobile subscriptions worldwide at the end of 2022: 18 per cent of all mobile subscriptions. That will rise to 5.5 billion by 2027; 48 per cent of the total.
The technology has not yet taken off as expected and the 5G sector needs to find a strong mass market case for consumer markets beyond fixed-wireless broadband.
Operators have not been able to command a premium rate for 5G mobile. The data analytics company says operators will look to cloud gaming, augmented reality and virtual reality as opportunities.
To date, 5G mobile technology is not yet widely available in its standalone form which promises higher speed, lower latency and higher density. That will change its appeal for enterprise customers.
---
AST SpaceMobile claims first satellite voice call using everyday cell phone
AST SpaceMobile says it successfully completed the first two-way voice calls using its BlueWalker 3 satellite. While a satellite-enabled voice call is unremarkable, the callers used a standard Samsung Galaxy S22 mobile – that is a first.
The call connected speakers in Texas and Japan. They had a continuous connection between the handset and the satellite at the Texas end. In Japan the call was relayed to the receiver using the normal local cellular network. Engineers from Vodafone, Rakuten and AT&T took part in the preparation and testing of the calls.
AST SpaceMobile plans to offer a worldwide cellular broadband and voice service from space using everyday mobile phone handsets. The company says its testing shows the downlink signal strength is able to support cellular broadband speeds and "4G LTE / 5G waveforms".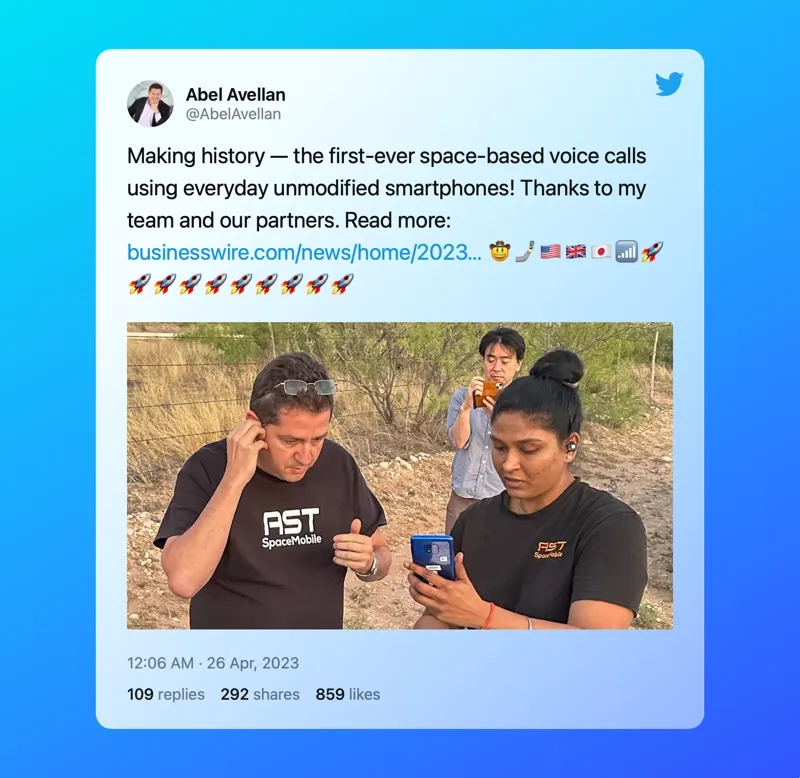 ---
Pearse moves to domain name commissioner role
InternetNZ says the new domain name commissioner is Barbara Pearse. She moves to the Domain Name Commission from the Financial Markets Authority (FMA) where she was head of monitoring and oversight, supervision. Pearse started in the new role on May 1.
Connexa gets CommComm green light
The Commerce Commission says Connexa, the mobile tower company part-owned by Spark, can acquire 2degrees' mobile towers.
---
In other news…
The modern internet was 30 years old last Sunday. The European Organisation for Nuclear Research (CERN) released the World Wide Web into the public domain on April 30, 1993.
Kantar estimates that Netflix's crackdown on password sharing results in over 1 million fewer users in Spain. The market research company says the move had an instant impact on Netflix's bottom line. Kanter points out that Canada went through a similar dip when Netflix changed the rules there. The user numbers later recovered.
The worldwide semiconductor market is stuck in a bad place with Gartner estimating revenues will drop 11 per cent on 2023. The market for memory chips will fall 35.5 per cent this year. There's an oversupply of chips all round and overcapacity in the memory sector. Gartner says the industry faces long-term challenges as innovation in phones, tablets and PCs dries up. Growing tension between China and the west is not helping.
Meanwhile mobile phone chip specialist Qualcomm issued a gloomy forecast saying sales of chips for handsets was down 17 per cent year on year. The company told the Wall Street Journal it sees no immediate recovery in weak demand for new phone handsets.
The Download Weekly is supported by Chorus New Zealand.