Minister Andersen marks RCG milestone
Rural Connectivity Group celebrates 400th tower, Skills shortage delays Chorus installs, public cloud spending will double.
Minister Andersen marks Rural Connectivity Group milestone
This week the Minister for the Digital Economy and Communications Ginny Andersen took part in a formal ceremony at Lake Tarawera to mark the 400th Rural Connectivity Group tower.
The tower, which went live on December 20, marked the point where the RCG met its contractual obligation for the Rural Broadband Initiative 2 programme.
There are 400 towers in the main programme and further towers in the stretch and expansion programmes. That means there were a total of 422 live RCG towers at the end of 2022. Since then additional work has brought the total to 427 towers.
Targets met
RCG CEO John Proctor says: "The Rural Connectivity Group shareholders and staff were excited to achieve our RBI2 contractual obligations with Crown Infrastructure Partners on 20 December 2022, by having 400 sites built and live, meeting our coverage targets and building those 400 sites within budget.
"The last five years has seen us build the RCG organisation from scratch, developing a new network architecture which seamlessly interconnects to the three MNO networks utilising 4G MOCN technology, a first in the world, and working with all the difficulties the worldwide pandemic threw into the mix, our small and dedicated team achieved this ambitious programme. We are very proud of our achievement."
The Rural Connectivity Group is a joint venture set up by Spark, Vodafone and 2degrees to build the RBI2 extension. It uses Nokia's 4G Multi Operator Core Network (MOCN) which means a single RAN (radio access network) connects to the three mobile companies' respective core networks. This allows each of the main carriers to service customers at each site.
Proctor says: "It was excellent to celebrate this wonderful milestone with the new Minister Hon Ginny Andersen, Crown Infrastructure Partners, mana whenua of Rotomahana Parekarangi 6G3B Te Anga Tokiniho at the Tokiniho Tarawera cell site at Lake Tarawera.
Collaboration
"The Tokiniho Tarawera cell site epitomises the successful collaboration that has seen 400 sites built under the RBI2 programme. The landowners worked closely with RCG to position the tower to maximise the coverage and gain access to power and backhaul. Several neighbouring landowners assisted with access, power route and backhaul equipment placement. The backhaul was provided by local WISP Full Flavour, Unison provided power and the site expertly built by Downer.
"The local Lake Tarawera community were in full support of the cell site and supported the resource consent application. This reflects how RCG has worked in local rural communities all over Aotearoa to achieve connectivity for rural families and businesses. It is humbling to acknowledge our achievement and how our work has positively impacted 34,000 rural households, over 1000 kms of state highway and over 100 tourist locations in New Zealand."
Minister Andersen says an additional $43 million earmarked for rural capacity upgrades in the 2022 Budget means the government has now allocated a total of more than $100 million to improving the capacity of rural broadband across New Zealand. This work will be completed within the next three years and will benefit around 69,000 households and businesses.
While the RCG is behind the largest connectivity project, the government partnered with 15 Wireless Internet Service Providers (WISPs) across the country to deliver rural broadband coverage under the Rural Broadband Initiative.
---
Skill shortage behind lengthy wait times for Chorus fibre
Chorus says a shortfall of nearly 200 skilled technicians is behind long waiting times for a fibre connection.
In normal times it takes, on average, 15 days to get from an order to a fibre installation. The company says customers in
parts of the country have waited up to 10 weeks for a connection.
The areas with the longest waiting times are Northland, Coromandel, Rotorua, Taupo, Whakatane, Marlborough, Blenheim, Balclutha, Waikouaiti, and Ranfurly. It's no accident that many of these places are in areas where fibre networks were disrupted during this years severe weather.
Restoration takes priority
Technicians who would normally install fibre were instead fixing breaks. Restoring broadband to existing customers is higher up the priority list than connecting new customers.
Late last year Chorus and its subcontractors were short of around 350 skilled technicians. A recruitment programme has reduced the shortfall to 200. Yet Chorus says a tight job market, the current immigration settings and post-pandemic border reopening are all hampering recruitment.
Another issue is that many immigrant technicians who arrived before the pandemic and have been granted residency in New Zealand took the opportunity to return to visit their families when the border reopened. Many of these will eventually return.
Immigration priority list
Last year the government approved a request from Chorus to have technicians put on the immigration priority list. The details of how this will work have yet to be finalised.
As an interim measure, Chorus is moving its workforce around the country sending technicians to areas with the longest wait times.
Chorus and the service companies it subcontracts are developing programmes to attract new staff and retain existing technicians. A vocational training scheme is being developed to help new workers train as telecommunications technicians.
---
Local public cloud spending to double by 2026
Public cloud spending in New Zealand will climb from $2.7 billion in 2022 to $5.1 billion in 2026, says a white paper commissioned by Microsoft and written by IDC.
The white paper, Public Cloud Services Opportunities and Dividends to the Australian and New Zealand Economies, says public cloud adoption has risen steadily since the pandemic started and is set to accelerate.
It wouldn't be a vendor-sponsored report on public cloud without an heroic estimate of the benefit to the national economy.
IDC and Microsoft don't disappoint. The report claims public cloud adoption in New Zealand will generate $23.9 billion across the nation's cloud customer and supplier ecosystems in 2022. That's equivalent to almost 6 per cent of GDP.
Last month Amazon Web Services published research saying: "workers in Aotearoa, New Zealand who use advanced digital skills – including cloud architecture or software development – contribute an estimated $7.3 billion to New Zealand's annual gross domestic product".
Microsoft's report authors say public cloud will generate 134k new jobs in New Zealand. They write: "Increased adoption of cloud services will drive further spending in the adjacent areas of cloud security, and facilitate broader use of data mining, analytics, and integration of different sources of data to derive business insights, as customers will need to invest in products and services beyond the cloud hardware and software spend.
"...as cloud services suppliers meet demand for public cloud through investment in new local data centres, cloud spending will extend beyond construction and maintenance of data centres to investments in the expanded partner ecosystem, and new staffing demands."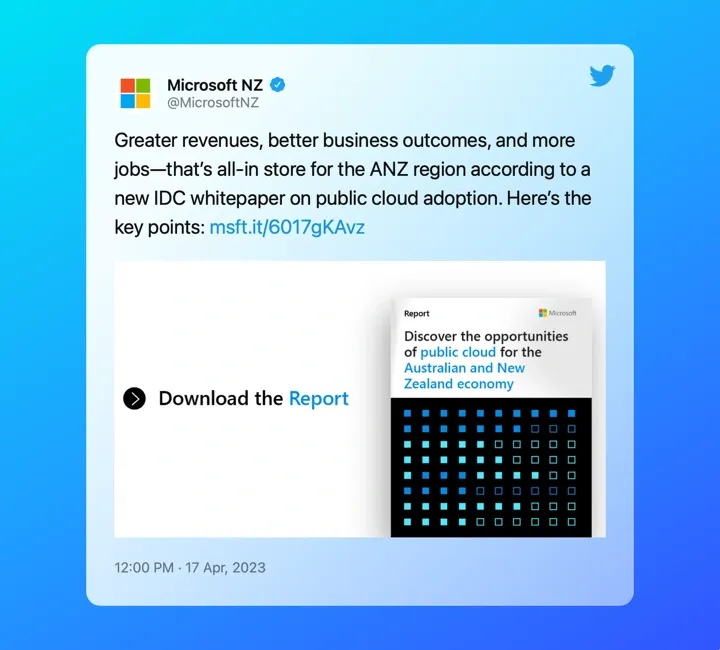 ---
Phone displays getting brighter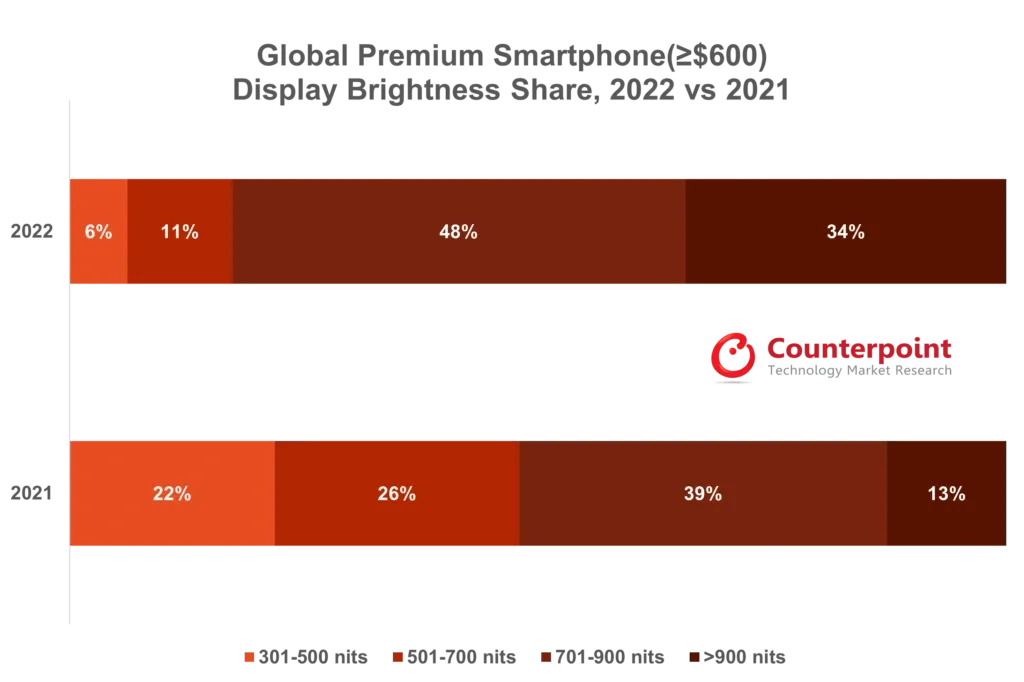 Research from Counterpoint shows phone displays are getting much brighter.
Hannah Jang a research associate Counterpoint Technology Market Research says in 2022 more than a third of premium smartphones had brightness of more than 900 nits.
The nit is a unit of brightness, it measures the luminous intensity over an area. Officially one nit is one candela per square metre.
Brightness is more important for phone displays than for laptops or tablets because they are used outdoors for much of the time. They have to compete with sunlight. And now that high definition video is practical on a handheld, brightness, or to be accurate, the better visibility that comes with a brighter screen, is more important again.
Jang says the number of premium phones with a brightness of over 900 nits climbed 171 per cent last year. In part this was due to Apple's phones and Chinese OEMs boosting the displays on their premium models.
She says the trend is now reaching low-to-mid priced phones. In 2021, 90 per cent of Samsung's low-to-mid price phones had a screen brightness below 450 nits. Last year, 20 per cent of those phones were below 450 nits.
There's a limit to how much brighter phone screens can get. Pump the brightness up too high and people's eyes tire quickly.
---
Ericsson hits targets, battens down for a rough year
Swedish telecoms giant Ericsson reported Q1 results which squared with earlier forecasts. The company reported sales of 62.6 billion Swedish krona (around NZ$10 billion).
Yet the company, which is upgrading 2degrees sites to 5G, faces falling margins and warned of harder times ahead as international demand for 5G deployments declines.
In the official results statement, Ericsson CEO Börje Ekholm said the company expects declining sales for its Networks business as 5G deployment slows as a result of less certain economic conditions. Networks account for two thirds of Ericsson sales.
Ekholm says he expects the mobile network market to recover in 2024.
Earlier this week Ericsson announced updates to its Ericsson Private 5G for industry and manufacturers that will improve visibility and coverage.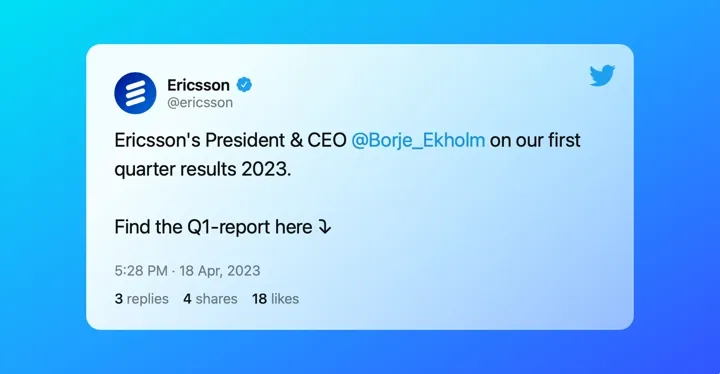 ---
Spark IoT monitoring Avon River water quality
Spark IoT is working with Adroit and Smart Christchurch to install solar powered sensors to measure water quality every 15 minutes at four sites on the Ōtākaro Avon River. The aim is to help Christchurch City Council to respond more quickly if the water is contaminated. The IoT monitoring replaces a more manual system which means there can be a two week delay between taking samples and responding.
---
50 gigabit fibre coming soon
A blog post on the Dell'Oro site from research lead Jeff Heynen says the ITU-T's 50G-PON Standard is evolving quickly and is poised for commercial deployment.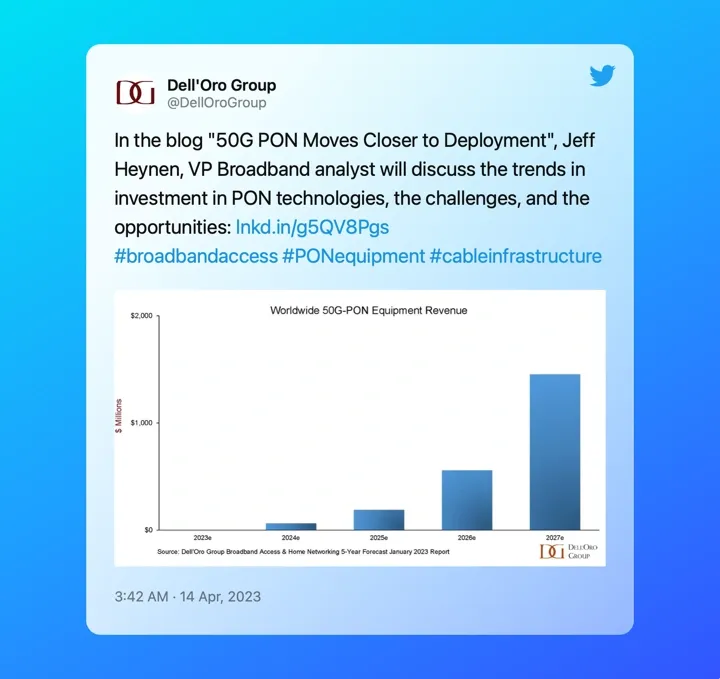 ---
Cellular's role in enterprise networks
Shamus McGillicuddy, VP of Research, Network Management, at Enterprise Management Associates says Fixed cellular services are becoming a critical component of enterprise wide-area networks. He writes: "86 per cent of enterprise IT organisations are using 4G and 5G services to connect corporate sites to a WAN."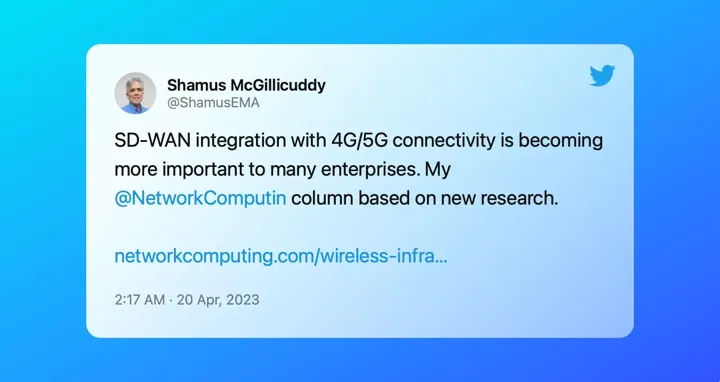 ---
In other news...
A better than expected first quarter for Netflix, but market saturation means the company has downgraded its forecast. The streaming giant's revenue climbed 4 per cent year on year to US$8.16 billion. Netflix added 1.75 million streaming subscribers, which was behind analyst expectations of 2.06 million additions. In the same quarter a year ago Netflix lost 200,000 subscribers.
"Athena" is the name of an artificial intelligence chip that Microsoft is developing. The company says it will power AI chatbots like ChatGPT. Microsoft has been working on the chip since 2019 and is testing the technology internally. Amazon and Google have similar projects in the works.
Reseller News reports that Catalyst Cloud will soon offer GPU as a service. "The service is targeted at customers wanting to run intensive computational applications in fields such as AI, genomics, large language models, image and video analysis, big data analytics, weather forecasting, speech to speech and text to speech translation."
The Financial Times reports that Germany's Interior Ministry is examining the Chinese components that are installed in the country's 5G network. The move comes as Germany reassesses its relationship with China after its support for Russia's invasion of Ukraine.
The Download Weekly is supported by Chorus New Zealand.